Wet tile saws are not as complicated to use as some of them look. However, these cutting tools can be expensive. Meaning that if you need to cut tiles quickly and you do not have one getting one might be a bit impractical.
So what do you do when you want to cut a tile and do not have a best wet tile saw? The obvious answer might be to call a professional. But calling a professional will cost you money, and maybe you just want to make a small cut.
Fortunately, there are several alternatives to using a wet tile saw. In this article, we will be looking at how to cut tile without a wet saw. There are a number of ways of cutting a tile, all of which depend on the type of tile you are cutting.
Cutting Porcelain Tiles Without A Wet Saw Using Glass Cutter
If you are wondering how to cut porcelain tile without a wet saw, there are several ways of doing it. The simplest is using a glass cutter. All you need is a square or anything with a straight edge, a marker and a clothes hanger.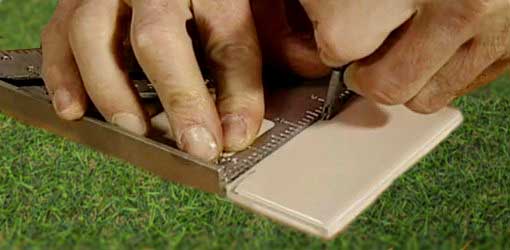 Step one, use a marker and a square to draw a straight line of where you want to cut. Position the square 0.64 inches below the line. This is to allow room for your marker when drawing the line.
Using the glass cutter draw a line across the marked line. Press down on the cutter as you drag it across the marked line. Ideally, you should partially cut through the marked line without cutting all the way through.
When finished place the clothes hanger underneath the cut line uses a sturdy surface such as a workbench for this The long wire part of the hanger should be lined up to the cut line. In this position press gently on either side of the cut line to break the tile in two.
You can get a glass cutter for about $10 at your nearest hardware store. It is cheaper than going for a fully-fledged wet tile cutter. However, this method is only ideal when you want to make straight cuts.
Since you are using a glass cutter here, you can use the same method for how to cut glass tile without a wet saw.
How To Cut Tile Without A Wet Saw : Cutting a Ceramic Tile
Another common question is how to cut ceramic tile without a wet saw. For simple straight cuts, you can always opt for a carbide tipped pen. Though this process can be tedious if you are cutting many tiles for single tiles, it gets the job done.
Similar to using a glass cutter, you will have to draw a straight line across the tile where you want to cut using a square. Then use the pencil to cut the marked line. Once done, you can use clippers to snap the tile in two.
In this process, you may have to use a sander to remove any rough surfaces left after cutting the tile. This can also be a method that can work for how to cut mosaic tile without a wet saw.
Cutting A Tile Around The Toilet
When installing tiles in your toilet, you will need to factor in the toilet itself. Which means you will need to cut the tiles to go around the toilet. There are several ways for how to cut tile around the toilet without a wet saw.
One of the more common approaches is to use sheets of paper to map out the design of the floor around your toilet first. The sheets of paper need to be the same size as the tiles you are installing. For example, if you have 16 by 16 inches tiles, then the sheets of paper need to be the same size.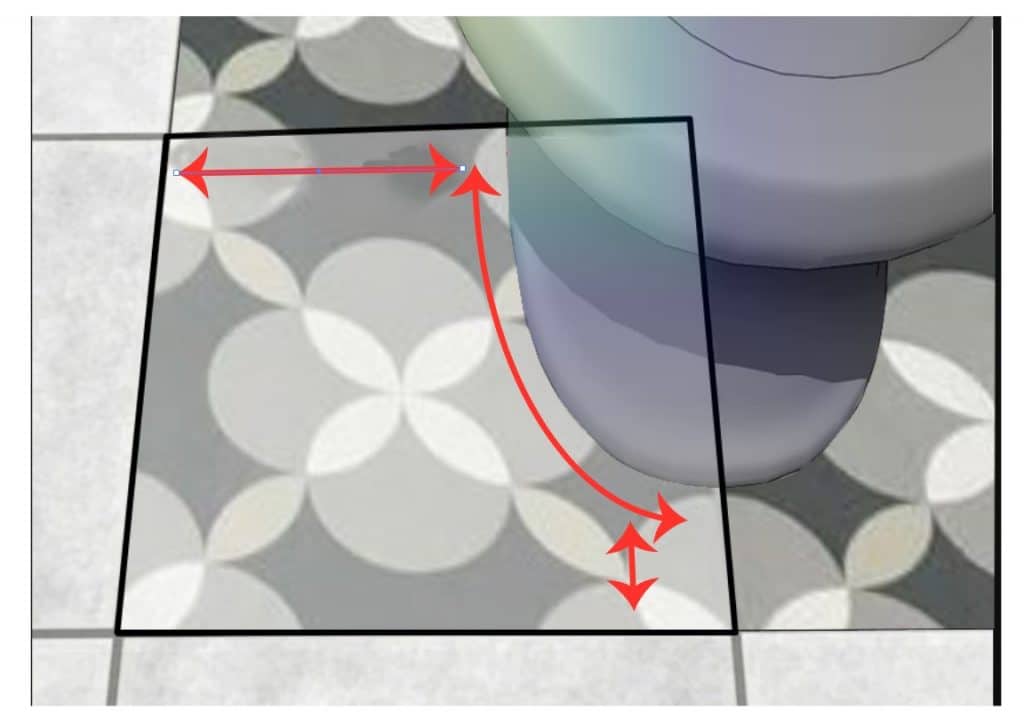 Cut a sheet of paper for every tile you will be installing around the toilet. Using scissors remove the areas that you do not need from the sheets of paper. For instance, if you have a toilet with an angular base, you need to cut a triangular section from the corners of the paper.
Once this is done lay the sheets of paper into the place where the tiles will go. When doing so, remember to factor in space between the tiles. Make sure all the sheets of paper fit snugly against the base of the toilet.
Tape the sheets of paper to the tiles you want to install. Use a pencil to illustrate the cut points on the tiles. Once you have indicated the cut lines, use a tile scribe to draw a 0.32 cm deep cut line on the tiles.
Next, take a pair of clippers and start removing the unnecessary tile section. Be careful not to snip huge chunks of the tile, especially when you near the cut lines. After snipping away the unwanted part use a tile file to sand down any rough edges.
After this is done, you can now start installing them permanently. On how to cut tile with a wet saw without chipping, using a clipper might not be ideal. This is especially if you have never used them to cut tiles before.
Without experience, you can end up chipping away large and important parts of the tile.
Tools used for cutting tiles
Apart from a wet saw, there are other tools that can be used to cut tiles. These tools are ideal for cutting different types of tiles. Also, some can be used to make angled cuts. Thus if you are wondering how to cut angle in a tile without a wet saw, here are the tools to use.
Manual snap cutter
The most commonly used tile cutting tool, apart from a wet saw, manual snap cutters work the same way glass cutters do. They feature a carbide tool that is pressed against the tile to make a cut.
These tools are best suited for making straight cuts. As the name suggests, a manual snap cutter, require a lot of manual work. However, they are a worthy investment and cost about $200.
Tile Nipper
For making irregular cuts, tile nippers are smaller and cheaper than manual snap cutters. Tile nippers cost $10 to $25. These tools are used to snip away at a tile to make an irregular cut. They are used mainly to cut along the corners of a tile.
The downside to using a tile nipper is that the cuts are not as clean as using other tools. More often than not, you will have to sand away the rough edges.
Glass cutter
Another small tool you can use to cut tiles is a glass cutter. These handy tools can be found in any hardware due to their versatility. As their name suggests, they are used mostly for cutting glass.
Of importance to note is that these are not designed for cutting tiles. So you may need some practice and steady hands to achieve a perfect cut. However, similar to tile nippers, they are readily available and cheap.
When you are wondering how to cut glass mosaic tile without a wet saw, a glass cutter can be a great tool to use. This is if you do not have access to a wet saw.
Angle grinder
A bit unconventional, angle grinders can also be used to cut tiles. When you want to make angled cuts, an angle grinder may come in handy. In particular a 4-inch grinder with a stone blade.
For ceramic tiles use a grinder with a diamond-tipped blade. The cut will not be as clean as when you use a wet saw, but it will be fine.
Rotary cutting tool
One of the best tools for making holes in tiles is a rotary cutting tool. The latter tool can also be used to cut along the edges. The blade on this tool is similar to that of a drill bit. Which means it cuts through the tile and is not ideal for straight cuts.
This is the tool you use when you want to install tiles where a pipe will pass, such as in your toile. It is not suited for making straight cuts, and I advise against using this tool for such cuts.
Tile scribe
A tile scribe is a tool that features a carbide tip capable of making score lines on tiles. This tool is best suited for making straight cuts. If you are thinking of how to cut marble tile without a wet saw, then this tool can come in handy.
It is easy to use and very much readily available. The fact that it can be used to score almost any type of tile makes it a versatile and handy tool to have.
Jigsaw
Another tool that is ideal for making angled cuts is the jigsaw. Using a diamond blade, it can be used to make angled cuts or notches. The downside to using this tool is that you will need to keep sprinkling water on the tile you are cutting.
How To Cut Tile With a Manual Tile Cutter:
If you decide to use a manual tile cutter, follow these simple steps:
Place the tile cutter on a flat, straight surface. Make sure the tool is angled perpendicular to your cutting line.
Pull the lever on the tile cutter towards you to start the cutting procedure.
Next, position the tile beneath the blade rails and snug against the end stop, making sure your measurement marks are lined up over guide lines on the side of the cutter (or scribe).
Gently guide hand lever forward until cutter wheel slices through tile; allow pressure to build and cut tiles accordingly as needed with the press of lever down (see image below).
Release the lever when the desired cut has been made – use sandpaper or tile grout to smooth the edge of the cut.
How to Use Tile Nipper For Cutting Small Corner
Ceramic tile nippers are best for cutting irregular cuts, arc shapes, or even circular cuts around the tile. To use tile nippers for cutting tile, Follow the steps below:
First, wear protective glass and gloves since the tile cutters can produce small pieces of ceramic tile that fly around.
Next, Mark the cut line on the tile.
Score the cut line with a utility knife. This will give you a relief point.
Now place a waste bucket or can under the tile cutter and hold the tile cutter against the scoreline.
Now start with small cuts on the side of the cutter away from the scoreline. Don't start cutting big chunks from the tile. Remember, you want to take small pieces out so that the tile nippers don't create cracks in the ceramic tiles.
As you go near the edge of the scoreline, stop cutting. Take a 60 grit sandpaper or sandstone to smooth the edge and reduce the chances of cracking.
How to Cut Tile with a Grinder
To cut tile with an angle grinder, I will advise you to use the Dewalt XP4. The reason behind suggesting that particular blade is these are continuous rim blades meaning they are not rough. When installing the blade in your angle grinder, use the arrow mark on both grinder and in the blades as a reference; they must be matched. And also, while fastening the retaining lugs, consider the flatter side, not the wobble side.
Now let's learn how to cut tile with a grinder. Follow the steps below.
Wear goggles, a dust mask, and gloves to protect your hands
Secure the tile below with bricks or heavy objects
Attach the grinder to the power cord and plug-in
Apply pressure to the blade by hand, lowering it into position over the tile being cut
Slowly lower the angle grinder's cutting wheel onto the tile surface, Creating consistent pressure while holding down the trigger. Continue rotating the wheel until the desired length is reached.
How to Use Hole Saw for Tiles Cutting
There are a few things you need to use a hole saw for tile cutting:
You'll need to have the correct size hole saw for the task.
You'll need to have the right tools to make the cuts.
You'll need to be careful while cutting the tiles, so you don't injure yourself or damage your saw.
To start, measure the size of the hole you need to cut. Next, choose the right type of blade for the job. For tile cutting, you'll want a standard hole saw blade. Make sure to use the correct blade depth for the material being cut.
Besides the hole saw blade, the hole saw consists of a retractable starter bit that helps keep the hole saw in the center of the cutting area.
Frequently Aksed Questions
Is it possible to cut tile with an angle grinder or jigsaw?
Yes, It is possible to cut tile with an angle grinder or jigsaw. However, this is not the best option for the job because tile can easily be cracked or damaged. Using a wet tile saw is the best option.
What are the disadvantages of cutting tile without a wet saw?
The major disadvantage of cutting tile without a wet saw is tile can easily be cracked or damaged. Furthermore, if you make any mistakes while cutting the tile, it can become very difficult to fix.
Conclusion
Cutting tiles is not all that difficult. The key is to be precise on your measurements. Thus, while a wet saw is the most recommended, it is not always necessary. For small one-time cuts investing a wet saw might be a bit impractical.
The alternative is to use any one of the above-listed tools. Not all will give you the best results, but most of them are more than sufficient. Also, some are pricier than others. So it all depends on the kind of work you have.
Last update on 2023-06-08 / Affiliate links / Images from Amazon Product Advertising API