Do a simple Google search for the best wet tile saw, and you will be bombarded with thousands of products all claiming to be the best. The problem is not every wet tile saw is worth your money. Used to cut, well, wet tiles, these types of saws are a handy tool to have.
But how much should you spend on a wet tile saw? It all depends on your needs and budget. However, on average, most wet tile saws cost less than $300. This brings us to the all-important question; which is the best wet tile saw under 300 dollars?
To answer this question, we need to look at some of the best products the market has to offer. Towards this end, join me as I explore the world of wet tile saws in search of the top-quality wet tile saw under $300.
After extensive research and testing out a number of different models, I have narrowed it down to six. These six offer a perfect balance between price and performance. That being said, let's see which models made the list.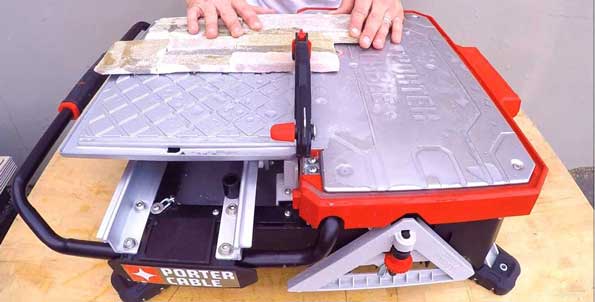 Comparison Of My Top Picks
Model
Top Picks
SKIL 3601-02 Flooring Saw with 36T Contractor...
Top Picks
PORTER-CABLE Tile Cutter, Tile Saw, For Remodelers...
Best Budget
Skil 3550-02 7-Inch Wet Tile Saw with HydroLock...
7 in. Table Top Wet Tile Saw
Wet Tile Saw Under $100
SKIL 7-Inch Wet Tile Saw - 3540-02
The Best Wet Tile Saw Under $300 Reviews
SKIL 3550-02 7-Inch Wet Tile Saw with HydroLock Water Containment System
The question is, which is the best 7-inch wet tile saw under $300? Answering this wasn't easy but I finally settled on the SKIL 3550-02 7-Inch Wet Tile Saw. And here is why.
Hydro lock water containment
Reason number one is the hydro lock water containment system. This is an ingenious system of keeping water close to the blade. The result is a cleaner cut with minimal water spillage. Also, you can view the blade as it cuts through tiles.
Sliding side extensions
Compared to other wet tile saws this one is relatively small. Nonetheless, it is able to support tiles measuring 18×18 inches. This is thanks to its sliding side extensions. These extensions increase the size of the tabletop.
7-inch diamond blade
Capable of spinning at speeds of up to 3600 RPM the 7-inch diamond blade on this saw can make accurate straight and miter cuts. Bevel cuts can also be made for 0, 22.5 to 45 degrees.
Good Things I Observe
Given its features, it is reasonably affordable
Thanks to the RPM it can be used to cut glass as well
Has sliding side extensions that increase the size of the table top
The water containment system works really well
Can be used to make straight, miter and bevel cuts
It is straightforward to assemble
Drawbacks
The fence guide can be difficult to adjust
Due to the top being made of aluminum it is not heavy and tends to drift sometimes when in use
If you are looking for a professional-grade wet tile saw, then this is not for you. But if all you want is a saw for those small occasional tile cutting projects, this is right for you. It is lightweight and inexpensive and can cut through most standard-sized tiles.
PORTER-CABLE PCE980 Wet Tile Saw
The next entry on my list is one that is rated one of the best tiles saw for homeowners. A compact and lightweight saw it can cut porcelain, ceramic, and stone tiles. Here is how this wet saw tile fares.
Construction and TableTop
The entire unit weighs about 30 pounds, which is not a lot when you consider some weigh up to 60 pounds. Being a wet tile saw, it needs to be rust-resistant. And thanks to its stainless steel tabletop construction it is both rust and corrosion-resistant.
Powerful motor
A 1.0 Horse Power motor which rotates a 7-inch thick diamond blade at speeds of up to 2850 RPM. Obviously, this is not the most impressive speed I have ever seen, but for what it is designed for it is more than enough.
Precise Cuts
Porter-cable wet tile saw can handle 12″ x 12″ dimension tiles with 1/16″ precision. Also, the onboard miter square enables you to handle repeated cuts with accuracy. And you can quickly line up those miters without any hassle.
Rubber feet
Since it is used in wet environments, it comes with four rubber feet. These help the saw stay grounded whenever it is in use. With water splashing all around the saw would slide about were it not for these rubber feet.
PROS
Has a stainless steel tabletop that is impervious to rust and corrosion
Is equipped with an easy to use the sliding cart
comes with good water mangement and drainage system as well as good water splash guard.
Has a handle for easy transportation
Is capable of cutting ceramic, porcelain and stone tiles
The saw is easy to attach
CONS
The default blade it comes with is not the best, and you might need to replace it
The sliding cart is not properly aligned with the stationary deck of the saw
This tool is excellent for casual and non-professional tile cutting tasks. For home use, it is an excellent option. And while the blade is not the best, you can always find a replacement blade. Also, it is lightweight and compact, meaning it does not take up a lot of space.
SKIL 3540-02 7-Inch Wet Tile Saw
For some $300 is still a lot of money to spend on a tool that isn't frequently used. So for my third entry, I went for a wet tile saw that costs less than $200. The SKIL 3540-02 7 inches wet tile saw is offered at a reasonably affordable price and has all the features you would need. The good news is I have reviewed other affordable options of wet tile saw, so check it out, if you looking for the best wet tile saw under 200 dollars
Corrosion resistant top
Stainless steel is the material used to make this saw's top. Meaning that it is both rust and corrosion-resistant. This durable top can support tiles of up to 12×12 inches. Not the most impressive, but for home use, it's more than enough.
Diamond blade
Tiles are a hard nut to crack. It is for this reason that this wet tile comes with a diamond-coated 7-inch blade. Thanks to the miter gauge and adjustable RIP fence this blade can make miter and bevel cuts. It is possible to make beveled cuts of between 0 and 45 degrees.
Water reservoir
Also included in this saw is a water reservoir. The latter helps keep the diamond blade cool. Moreover, it also makes cleaning the saw easy. The reservoir helps in cleaning debris and dust particles.
PROS
Buying this model is cheaper than having to call a professional
It is very easy to use even for beginners
Thanks to the diamond blade it can cut through natural stone as easily as it can cut through tiles
Comes with a 3-year warranty
Due to it being built of high-quality material it lasts long
CONS
Has a low 3600 RPM and can only be used for small projects at home
The water reservoir is too small and requires frequent refilling.
This is not a professional grade saw, and neither is it suited for industrial works. Nevertheless, it is sufficient for home use. Despite its cons, it is unlikely you will have a problem using it. Also, its main flaws are understandable, given its price tag.
SKIL 3601-02 Flooring Saw with 36T Contractor Blade
One of the most basic looking wet tiles floors is the SKIL 3601-02 Flooring Saw with 36T Contractor Blade. However, there is nothing basic about its performance. This unassuming wet tile saw has plenty to offer.
Lightweight design
One of the pros of its basic design is that it is relatively lightweight. Weighing 24 pounds, it is the lightest saw on the list thus far. Its compact and lightweight design allows you to use it anywhere you want with ease.
Miter gauge
As with all other saws on this list, this SKIL model can be used to make both straight and miter cuts. This is thanks to the miter gauge it comes equipped with. With it, you can make angled cuts of between 0, 22.5, and 45 degrees.
36 teeth blade
The spinning blade on this saw is one of the best tiles saw blades. The 36 teeth are carbide-tipped and can cut through most standard-sized tiles. It can also be used to cut wooden surfaces or plywood.
PROS
It is lightweight and thus easy to carry
Can be used to cut tiles as well as laminated floors
Has a powerful 7 amp motor
Is built from durable die-cast aluminum
Has a vacuum attachment for attaching a vacuum to
It is easy to assemble with easy to follow instructions
CONS
Attaching a vacuum to it can be challenging
It's not ideal for heavy duty works
There aren't many major flaws with this wet tile saw. Meaning that you get a decent saw for your everyday flooring tasks. It has the power and efficiency to make miter cuts and straight cuts on different surfaces.
RIDGID 120-Volt 7 in. Table Top Wet Tile Saw
The RIDGID 120-Volt 7 in. Table Top Wet Tile Saw is a great option for any DIY homeowner or professional contractor who needs a wet tile saw to cut ceramic, stone, and porcelain tiles. The RIDGID 120- Volt 7 in. Table Top Wet Tile Saw has all the features you need to get the job done right without breaking your budget!
From my experience, I did not get any tile chips when cutting porcelain tiles with the RIDGID 120-Volts Table Top Wet Tile Saw. With a 6.5 amp induction motor, this RIDGID Wet Tile Saw is able to provide enough power for any type of cutting job. I did not have any problems cutting 1 1/4-inch thick stone with this saw, but I recommend buying a better blade.
However, when I cut marble tile, it did not make a good straight cut because of its inconsistent thicknesses. The saw blade was able to pass through some layers but got stuck on others which made for an uneven finish and chip out.
To me, any cut error is the user error and not the blade or saw. If you are in rush or push the tile fast then the chances of chip out or uneven tiles will increase. I feel that the RIDGID 120-Volts Table Top Wet Tile Saw is perfect for ceramic, stone, and porcelain tile cutting jobs with a blade guard to keep your work area safe!
I am so happy with my purchase of the RIDGID 120-Volt Table Top Wet Tile Saw. It's powerful enough for any wet tiling job but still small enough to fit on top of my desk or in tight spaces!
The RIDGID 120-Volts Table Top Wet Tile Saw is a great wet tile saw because it is lightweight, compact, and portable. The saw comes fully assembled and ready to go out of the box–just add water, power it up and you're good to go!
The fence worked well for me to replicate the intricate pieces I needed for my mosaic tile work. I love the safety features that this saw has to offer such as a blade guard and splash shield, which help keep you safe while working with wet tiles!
Few noticeable cons I found during the uses of this saw. One of them is the metal platform scratches the tile surface, and the other thing is the blade is not that powerful.
But with all of these Cons out of the way, I would still recommend this saw because it's a great wet tile saw, and also the blade is easy to switch out.
WEN 71745 4.1A 4.5-Inch Portable Wet Tile Saw with Fence and Miter Gauge
From the most basic to the most sophisticated looking. The WEN 71745 4.5 inches portable wet tile saw is the last entrant on my list. But this is not to say it is the least. On the contrary, it is a favorite of many.
Powerful motor
This black-colored futuristic wet tile saw is powered by a 4.1 amp motor. This motor is capable of rotating the saw's 4-1/2 inch blade for up to 5000 RPM. With such power, it is able to cut porcelain, stone, and ceramic tiles.
Bevel Cuts
Apart from making straight cuts, the saw can also be used to make beveled cuts. It is capable of making cuts of 45 degrees. At such angles, you can make cuts that are a ½ inch in thickness.
Internal water reservoir
Inside there is a water reservoir. This internal water reservoir keeps the blade cooled off. Also, the water helps prevent tiles from breaking or cracking while being cut.
PROS
It is offered at a relatively affordable price tag
It is easy to carry thanks to the included handle
Has an adjustable fence and a miter gauge for making angled cuts
Comes with a standard-sized 4.5-inch diamond blade
Can cut porcelain, ceramic and stone tiles
CONS
Is limited on the thickness of tiles it can cut
You might notice some water spillage when cutting
There aren't many saws that have a design similar to that of this WEN wet tile saw. Additionally, not many saws can offer you the kind of performance you get from this saw. Especially when you consider its price.
DEWALT D24000S Heavy-Duty 10-inch Wet Tile Saw with Stand
Note: This product does not fall under the 300 price segment.
If you are looking for something a little bit bigger than 7 inches, then the DEWALT D24000S Heavy-Duty 10-inch Wet Tile Saw with Stand will delight you. This saw offers more power and cutting diameter than my first entry.
Powerful motor
This DEWALT heavy-duty tile cutter uses a 15.0 amp direct-drive motor. This motor offers an impressive 4200 RPM. With this kind of power, the diamond-grit blade is able to tear through tiles like a knife through butter.
Also, since it's a direct drive motor, it has zero gears. No gears mean you do not have to worry about worn-out gears. This improves the life span of the entire unit.
Stainless steel rail
Not many first-time buyers will understand the importance of this feature. This rail makes it easy for you to push a tile towards the rotating blade when making straight cuts. It supports tiles of up to 24×18 inches.
Dual water nozzles
Two water nozzles spray water to the blade to reduce friction and clean out debris. These nozzles are fed from the stand, which can accommodate five gallons of water. Also, the nozzle sprays can be adjusted to reduce over-spraying and mist.
PROS
Offers smooth precision cuts
Weighing 69 pounds, it is relatively portable given its features
The water nozzles are adjustable to minimize spillage
Is capable of making miter cuts of up to 45 degrees
The stand can be adjusted to fit your height
It is a powerful saw thanks to its drive motor
CONS
Although it is portable, it can still be difficult to more compared to other similar saws
Since it comes with a stand, it requires a considerable amount of room
While it is evident this is an impressive piece of cutting equipment; it misses out on the top spot due to it being somewhat impractical for home use. Nonetheless, if you want power and have enough room to store it, it is a saw I highly recommend. Also, it is the best wet saw for larger tiles.
What To Look For In a Wet Tile Saw Before Buying
When you go shopping for a wet tile saw there are several things you will need to keep in mind. This is especially if you are buying one for home use. The thing is it is one of those tools you won't be using frequently.
Size
Since it is not a tool you will be using frequently, you need to consider the size. Most wet tile saws designed for home use are small and compact. The purpose being they do not require a lot of storage space.
Also when in use you may need to move about with the saw. Thus it is worth considering a saw that is portable and is easy to carry. Recently I wrote a review about the best table saw for fine woodworking, if your looking for a portable table saw it will be worth reading.
Water source
Another important factor to consider is the water source. When in use, the blades of wet tile saws generate a lot of heat due to friction. Also, there is always a lot of debris generated by the cutting of the tiles.
To cool down the blade and ensure a consistent cut, these saws usually feature a water source. The water cools down the blade and cleans the surface area. Some come installed with water reservoirs with pumps.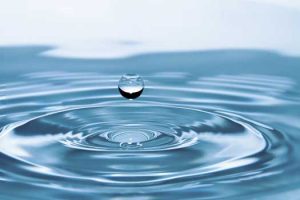 Others come with an attachment for a hose and use external water sources such as a tap. For home use, it is wise to get one with an internal water reservoir and pump.
A wet tile saw is used to cut ceramic and stone tiles. The blade often spins at high speed, so it helps to have a splash guard between the spinning blade and your hands. It's not just about safety: if you're cutting large pieces of granite or marble with water in the equation, there could be some serious messes, and the guard is key.
Motor power
Similar to other power tools, wet tile saws feature motors that power their rotating blades. The power of these blades ranges from 1 Horsepower to 2.5 horsepower. For a portable home-based saw, 1 horsepower motor is sufficient at the most 1.5 Horsepower.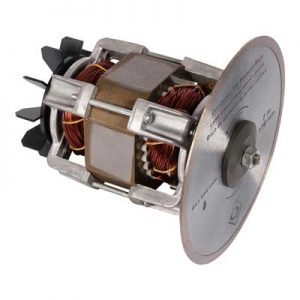 Professional grade models feature more powerful motors of up to 2.5 horsepower. However, as a homeowner, it is unlikely you will require such power.
Ease of use
Truth be told, you are not a professional; the reason you want a wet tile saw is to cut down on costs. However, this should not be at the expense of repairs being done. So ultimately you should go for a saw that is easy to use.
It is unlikely you will have time to try and figure out how a saw works if it is complicated. A straightforward saw is ideal.
FAQ
Can You Use A Wet Tile Saw Without Water?
Yes, you can but remember without using water, dust and particles are released into the air, resulting in respiratory problems.
Can You Use A Wet Tile Saw To Cut Granite?
A wet tile saw can be used to cut granite, but it's not designed for this type of material. A dry blade is more effective and recommended for cutting granite or any other hard stone.
Do I Need a Wet Saw to Cut Tiles?
No, a wet saw isn't necessary for cutting tiles. However, it's usually recommended for cutting ceramic or marble because of the water-based slurry that can help to keep the blade cool and prevent it from breaking.
Conclusion
Ideally, the best wet tile saw for under $300 should be easy to use and capable of cutting standard-sized tiles. Not every wet tile saw out there is designed for cutting your specific type of tile. Thus, always go for one that fits your needs.
Last update on 2023-06-08 / Affiliate links / Images from Amazon Product Advertising API