Kreg is one of the most trusted names in the pocket hole jig industry. The company has been making woodworking jigs for over three decades now. And the Kreg k4 and k5 are perhaps its most popular products.
So how do the two compare? While they both have their similarities, they also have their differences. In this article, we will be analyzing both options to see what they offer and how they differ.
First, let's take a closer look at each and see what they offer.
The Kreg k4 Pocket Hole Jig Saw Review
There are two things we love about Kreg's pocket hole jigs, their size and functionality, and the Kreg k4 is no exception. This is one of the best beginner-friendly woodworking jigs out there.
So what is it capable of? This is a 3-hole hole joining system. It works well on soft or moderately hard materials. It will have no trouble digging up holes into materials 12mm to 38 mm in thickness.
The drill guide on this jig moves up or down by ⅛ inch. As such, this is a great tool for small repairs and wood crafting jobs. And as you may expect, it is pretty normal for a tool like this to collect chips, wood particles and debris.
It does, however, have a wood relief hole for getting rid of this debris. Also, included with this tool are clamp guides. This means that you can attach it to almost anything. There is no need for huge clamps and support.
Overall it is a great tool. It can be clamped onto uneven surfaces. It is also easy to make adjustments without a lot of tweaking needed.
What we liked about the Kreg k4
It is a small and compact tool that is easy to carry around
Comes with a screw-in pin that sets the drill guide block
There is no need for mounts or clamps to set it up on a workbench as it comes with clamps
The wood relief hole works well to get rid of debris from the jig
The drill guide is removable
What we did not like
Can only drill holes in materials 12mm to 38 mm thick
The wood relief hole is great for removing debris from the Kreg k4 but can end up making your shop floor dirty
The Kreg k5 Review
How does the Kreg k5 compare to its counterpart? At first glance, this looks well made. The clamp-on model is in the front. This made it easy to set up the k5 onto a workbench. More importantly, the clamp is toggle based, which makes it easy to set up and take away.
The ratchet adjustment system of the clamp makes it possible to adjust its height without the needs for tools. There are no lock nuts, and all you need to do is snap the jig and get started on your hole drilling.
Included with this tool are two support wings. You can put both wings on either side or one. The purpose of the wings is to prevent the tool from tipping over due to shaking or jerking. Also, the wings double as storage compartments for your drill bits.
One of the unique things about this model is the dust port. It can swivel from side to side. This makes it possible for you to position it where you want it. Additionally, you can connect it to a vacuum cleaner to dispose of the debris generated when drilling.
This is a great jig capable of drilling holes in 1×2, 2×4 and 1×3 materials. It can also handle drilling holes into smaller pieces of plywood.
What we liked about the Kreg k5
This model can be used on a workbench as well as a portable pocket hole jig
Similar to the Kreg k4 it comes with its own clamps thus no need to purchase mounts
Overall, it is an easy to setup tool
The two wings that it comes with can be used for storing drill bits for easy access
The dust port can be attached to a vacuum cleaner for easy cleanup
What we did not like
Since it is lightweight, it has to be clamped down
You need to make three different adjustments whenever you change the thickness of the material you are drilling.
The Similarities Between Kreg k4 and k5
Before we delve into the differences between these two lets first take a look at their similarities.
The main similarity between the two is that both have their own clamping system.
They are both referred to as pocket hole jigs. That means they are both portable and can easily be carried around.
The setup of both tools is fairly easy and will barely take more than ten minutes.
The drill-bits on both tools are sturdy and should serve you for a long time without them getting damaged.
With both tools, you get a drilling-block with a measurement system that uses the metric system.
With both tools, you also get identical Allen key and stop collars.
On both, you get a dust collector for dealing with the debris that accumulates when drilling.
The Differences Between Kreg k4 and k5
Now we come to the differences. It is time to see how these two jigs compare and which between them will come out on top.
Kreg K4 vs K5 Comparison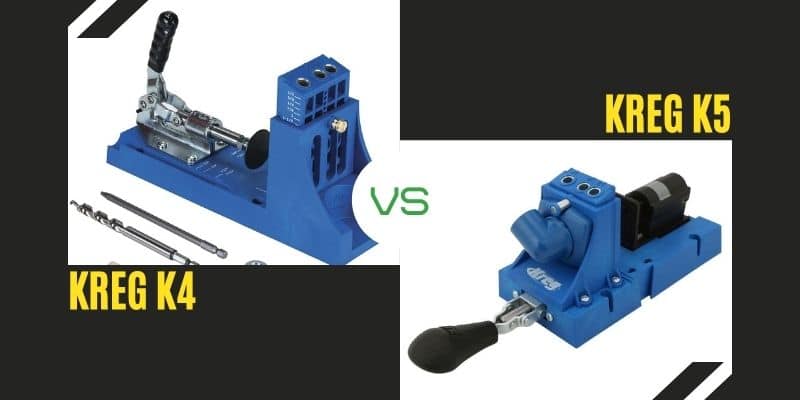 The clamping system
The first noticeable difference between the two is the clamping system. On the K4, you get a standard clamping system positioned at the back. On the K5 though you get the clamping system positioned at the front.
We would have to say that the clamp on the K5 is easier to use. Firstly, it is easy to adjust as it is clearly visible when using the tool. With the K5's clamping system, you do not need to shift your line of sight.
Wooden planks adjusting
The K4 uses a knob to adjust the space between the planks, and you need to line up the planks first manually. The problem with this is that after a few years of use, the knob tends to become shaky.
On the K5, we found that the planks stay in place thanks to the clamping system. This means the holes you drill are precise.
Dust collector
As mentioned the two feature a dust collection system. This helps keep the jigs clean and free of debris; however, how the two dust collection systems work differs. While the dust port on the K4 is fixed and does not move, that on the K5 can swivel.
This gives you more freedom to position it in the direction you want. This can be a good thing and gives the K5 an advantage over its counterpart.
Support wings
One of the major differences between the two is the support wings. On the k4, you do not get any support wing, and all you get is the tool itself. The k5 is different as it comes with support wings you can install on either side of the tools.
These wings help prevent the wood from being drilled from rocking back and forth.
Which one to buy
So which of the two should you buy? Well, for a start, the K4 is a good enough tool for drilling holes. It gets the job done and relatively affordable. However, if you have some more money to spare the Kreg k5 may be a better option. It has more to offer compared to its sibling.
Last update on 2023-06-08 / Affiliate links / Images from Amazon Product Advertising API