Jointers come in all sizes and prices. Question is, which is best suited to your needs? There is no one universal jointer that is ideal for everyone. If you are a hobbyist or own a small shop and cannot accommodate a large power tool, a six-inch jointer is ideal.
Six-inch jointers offer plenty of power without being overly large or bulky as to become an inconvenience. There is a large selection of six-inch jointers available on the market for you to choose from.
Problem is not every one of these jointers will suit your needs. And since you want nothing but the best 6-inch jointer, it helps to know which features make up the best jointer. These are features such as cutter head speed, table size, and power.
Below I have compiled a list of six 6 "jointers that fulfill the criteria of the best jointer for hobbyist. I have picked these five based on their performance, affordability, and ease of use.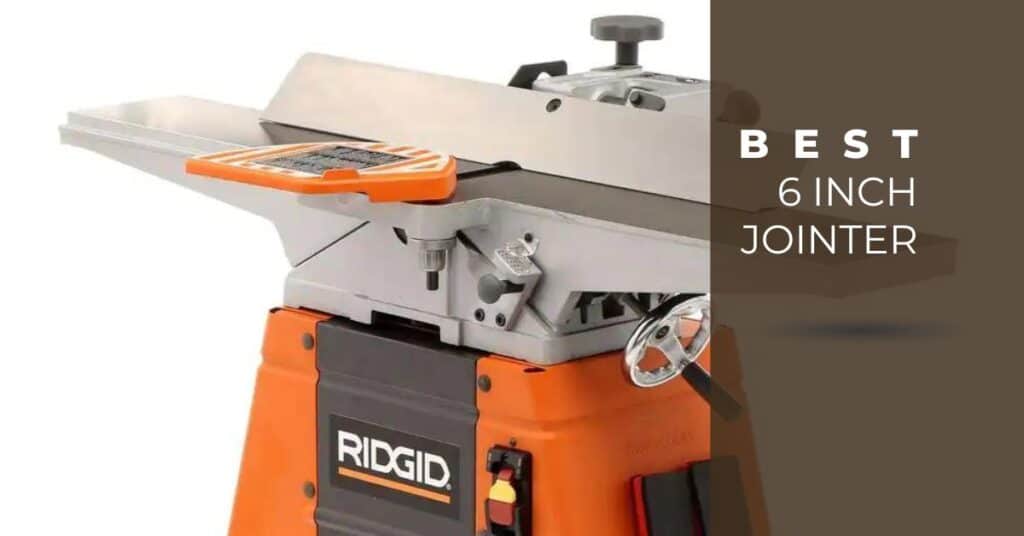 Top 5 Best 6 Inch Jointer Reviews
Powermatic 1791317K 54HH 6-Inch Jointer With Helical Cutter Head
Reliable and dependable are the adjectives I would use to describe the 54HH 6-inch jointer from Powermatic. Its narrow design ensures it won't occupy excessive space in your workshop or garage, making it ideal for compact work areas. However, its advantages go beyond its size.
The jointer's table is supported by a robust 32-inch long and 21-inch wide steel base, providing excellent stability during operation. Additionally, this design places the table surface at a comfortable height for enhanced user convenience. Powering this machine is a robust 1 horsepower motor, delivering ample power for various jointing tasks.
As the name implies, the 54HH jointer comes equipped with a helical cutter head that incorporates three high-quality steel knives. This ensures precise and efficient cutting performance, allowing you to achieve smooth and accurate results. It's worth noting that the entire jointer is constructed with durable materials such as high-quality steel and cast iron, ensuring long-lasting durability.
The cast iron table measures an impressive 66 inches in length and 7 ¼ inches in width, providing ample surface area for working with long pieces of lumber. Additionally, the jointer features adjustable infeed and outfeed tables, allowing you to customize the height according to your specific needs.
PROS:
Ample table length of 66 inches easily accommodates long pieces of lumber.
Constructed with high-quality steel and cast iron for exceptional durability.
Equipped with a helical cutter head featuring three precision steel knives.
Easy-to-adjust infeed and outfeed tables for enhanced versatility.
Sturdy steel base ensures stability and provides a comfortable working height.
CONS:
The fence only tilts up to 90 degrees, limiting its adjustability for certain tasks.
The fence setup process can be somewhat challenging for some users.
Verdict:
The Powermatic 54HH 6-inch jointer offers excellent value for its slightly over $100 price tag, making it an affordable and valuable addition to small workshops. Despite its weight of over 100 pounds, the jointer's base is equipped with wheels, allowing easy maneuverability. It excels in terms of power, durability, and overall performance, making it a reliable tool for woodworking projects of varying complexities.
Powermatic 1791279DXK 54A Deluxe 6-Inch Jointer
The Powermatic 1791279DXK 54A Deluxe 6-Inch Jointer is undeniably one of the top contenders when it comes to 6-inch jointers. With a range of impressive features, it certainly deserves a spot on the list of the best jointers available. Let's take a closer look at what sets this jointer apart.
Similar to its previously reviewed counterpart, it features a 1 horsepower motor. The latter provides just enough power to cut through softwoods, hardwoods and even exotic woods. The inclusion of a cutter head with three sharp knives ensures precise and efficient cutting performance.
What's truly remarkable is the ease of blade replacement or changes, making maintenance hassle-free; this feature impressed us greatly.
The jointer offers a generous working space with its 66-by-7-¼-inch table surface area, supported by a sturdy 32-inch long steel stand. This ample surface area allows for the convenient handling of longer pieces of lumber, providing versatility for various woodworking projects.
Safety is prioritized with the inclusion of a lockable switch, effectively preventing accidental startup. The cast iron fence further enhances security measures, featuring positive stops at 45 and 90 degrees for accurate and repeatable cuts.
Now, let's explore the advantages and considerations when choosing this jointer.
Pros:
Quiet Operation: The Powermatic 1791279DXK operates quietly, eliminating the need for additional hearing protection and allowing you to focus on your work without distractions.
Large Table Surface: The spacious table surface provides ample room for working with longer lumber, enabling you to easily tackle a wide range of projects.
Easy Assembly and Accurate Settings: Users will appreciate the jointer's straightforward assembly process, and the accurate settings ensure precise cuts right from the start.
Effective Dust Collection: The inclusion of a dust collection port ensures efficient debris removal, maintaining a clean work area and promoting better air quality.
Optional Mobile Base: For added convenience, the jointer can be fitted with a separately sold mobile base, allowing easy movement around your workshop.
Cons:
Assembly Assistance: It is advisable to have assistance during the assembly process, as the jointer may require some additional help to ensure proper setup.
Limited Fence Tilt: The fence can only tilt up to 90 degrees, which may restrict certain woodworking techniques that require steeper angles.
Verdict:
Once again, Powermatic delivers an exceptional jointer with the 1791279DXK model. It's robust power and extensive table surface enable efficient handling of various wood types and sizes. The jointer's impressive features, such as its quiet operation, accurate settings, and effective dust collection, make it a highly desirable choice for amateur and professional woodworkers. Although assembly may require assistance, and the fence's limited tilt may have some limitations, the Powermatic 1791279DXK remains a top-notch jointer that ensures precise and reliable results for your woodworking projects.
Delta 6″ Bench Top Jointer 37-071
If you're working within a tight budget, the 6″ Bench Top Jointer 37-071 is a highly recommended option to consider. Despite its affordable price, this jointer offers commendable performance and features that make it a valuable asset for small-scale workshops.
Powered by a 12 amp motor, the 6″ Bench Top Jointer 37-071 delivers a robust cutter head speed of 10,000 RPM. Although it features only two knives in its cutter head, these knives efficiently generate an impressive 20,000 cuts per minute, ensuring precise and smooth results. While the two-knife design is expected at this price point, it still manages to deliver admirable performance.
Compared to other jointers on the list, the 6″ Bench Top Jointer 37-071 has a relatively smaller 28.5-inch table. However, this compact size works to its advantage, as it can easily fit into smaller workshops without requiring additional space. Despite the smaller table, it still provides adequate support for various woodworking tasks.
Pros:
Budget-Friendly: The 6″ Bench Top Jointer 37-071 is an excellent option for those on a limited budget, offering affordability without compromising on performance.
Effective Dust Collection: This jointer includes a dust collection port that effectively removes debris, ensuring a cleaner working environment.
Easy Blade Replacement: When needed, changing the blades on this jointer is straightforward, saving you time and effort.
Durable Construction: Made from high-quality materials, the 6″ Bench Top Jointer 37-071 is built to last, ensuring longevity and reliability.
Five-Year Warranty: With the included five-year warranty, you can have peace of mind knowing that the jointer is backed by a manufacturer's guarantee.
Cons:
Challenging Fence Adjustment: Some users may find it difficult to adjust the fence, requiring more effort and patience to achieve the desired settings.
Limited Table Size: The relatively smaller table of the 6″ Bench Top Jointer 37-071 may pose some limitations when working with larger workpieces.
Verdict:
The 6″ Bench Top Jointer 37-071 stands out as an exceptional choice for those seeking an affordable option without sacrificing performance. Its compact size makes it ideal for smaller workshops. At the same time, the powerful motor enables efficient handling of both softwoods and hardwoods. The jointer's commendable dust collection capabilities, ease of blade replacement, and durable construction contribute to its overall value. Although adjusting the fence may require extra effort, and the table size is comparatively smaller, the 6″ Bench Top Jointer 37-071 remains a reliable and cost-effective tool for woodworking enthusiasts.
JET 708457DXK JJ-6CSDX 6-Inch 1 HP Jointer With Quick-Set Knive System
The Jet JET 708457DXK JJ-6CSDX is an excellent home-use choice, offering impressive power and performance to tackle a wide range of projects. While it may not be the lightest jointer available, its robust capabilities make up for its weight.
At the base of the jointer, you'll find helpful tabs on each end, allowing for secure grounding and enhanced stability during operation. Even without the tabs, the steel base provides exceptional stability, ensuring a solid foundation. The jointer's 31-1/4 inch height from the ground offers a comfortable working position for added convenience.
With a generous 55-3/4 x 7-3/8 cast iron table, this jointer can easily accommodate large pieces of lumber, providing ample space to work with. The impressive cut capacity of 6-1/16 x ½ ensures versatility in handling various woodworking tasks.
Powering the Jet JET 708457DXK JJ-6CSDX is a reliable 1-horsepower motor securely enclosed within the steel base. With a spin speed of 6000 RPM, the motor strikes a perfect balance between material removal and cutting speed, delivering optimal performance.
Pros:
Easy Table Adjustment: The jointer features convenient infeed and outfeed table adjustments, allowing for precise customization to meet your woodworking needs.
Large Cast Iron Table: The long cast iron table effortlessly accommodates large pieces of wood, making it ideal for a wide range of projects.
Enclosed Motor: The motor is fully enclosed, providing protection against dirt and external debris, ensuring the longevity of the machine.
Adjustable Knives: The three knives included with the jointer are easy to adjust in terms of height, ensuring accurate and efficient cutting performance.
User-Friendly: The Jet JET 708457DXK JJ-6CSDX is designed with ease of use in mind, simplifying your woodworking experience.
Cons:
Vibration Noise: Some users have reported noticeable vibrations and associated noise during operation, which may impact the overall user experience.
Bulky Design: Weighing approximately 237 pounds, this jointer is heavier, making it challenging to move or transport.
Verdict:
Regarding home workshops, the Jet JET 708457DXK JJ-6CSDX shines as one of the best options available. Despite its substantial weight, its outstanding features and performance make it an ideal choice for a variety of woodworking projects. This jointer provides the convenience and versatility you need, from adjustable tables to a spacious cast iron table. While it may exhibit some vibration noise during operation, and its bulkiness may pose transportation challenges, the Jet JET 708457DXK JJ-6CSDX is a reliable and feature-rich jointer that meets the expectations of any woodworking enthusiast.
Shop Fox W1829 Benchtop Jointer, 6-Inch
When it comes to durability, the Shop Fox W1829 Benchtop Jointer, a 6-Inch jointer from Shop Fox, truly lives up to its reputation. This jointer boasts a solid construction that is built to last without carrying the hefty price tag often associated with similar products.
Powering the Shop Fox W1829 is a robust 1-1/2 horsepower motor, which ensures ample power for a variety of tasks. The cutter head, equipped with two knives, spins at an impressive 10,000 RPMs, allowing for a remarkable 20,000 cuts per minute. This high-speed performance, combined with the heavy-duty cast iron table, delivers exceptional precision and smoothness to your woodworking projects.
Adjustability is a key feature of the Shop Fox W1829. The cast-iron fence can be easily set to 45 degrees or 90 degrees, providing versatility for different jointing needs. Cleaning up is a breeze thanks to the included dust port connector, which conveniently connects to a galvanized trash can through a filter chute, effectively keeping your workspace tidy.
The infeed of this jointer can be easily adjusted to achieve the desired cutting depth. While it may weigh around 80 pounds, it is comparatively lighter than other models on the market, some of which can weigh up to 250 pounds, making it a manageable option for your workshop.
Pros:
Stability in Demanding Tasks: The Shop Fox W1829 maintains stability even when dealing with demanding woodworking tasks, ensuring consistent and accurate results.
Efficient Dust Collection: The connected dust port performs exceptionally well, effectively capturing debris and keeping your work area clean.
Powerful Motor: With its 1-1/2 horsepower motor, this jointer delivers ample power to easily handle various woodworking projects.
Clean Cuts: The Shop Fox W1829 consistently produces clean and precise cuts, enhancing the overall quality of your work.
Space-Saving Design: This compact jointer does not take up much space in your workshop, making it an ideal choice for smaller shops.
Cons:
Inconsistent Infeed Table: Some users have reported issues with the infeed table not being completely flat when adjusted, which can affect the overall performance.
Limited Manual Information: The provided manual offers minimal information, which may require additional research or guidance for proper setup and operation.
Verdict:
In conclusion, the Shop Fox W1829 Benchtop Jointer is an excellent option for small shops. Its affordability, durability, and compact design prove to be a valuable addition to any woodworking enthusiast's toolkit. The powerful motor and the high-speed cutter head ensure efficient performance and clean cuts. Despite minor drawbacks such as the inconsistent infeed table and limited manual information, the Shop Fox W1829 remains a reliable and versatile jointer, delivering outstanding results in a space-saving package.
Tips for Maintaining a Jointer
To keep your jointer in optimal condition and extend its lifespan, follow these maintenance tips:
Regularly clean the jointer to remove dust and debris that can affect performance.
Keep the blades sharp and properly aligned to ensure clean and precise cuts.
Lubricate moving parts and check for any loose or worn-out components.
Follow the manufacturer's guidelines for maintenance intervals and procedures.
Store the jointer in a dry, protected area to prevent rust and damage.
How To Choose The 6 inch Jointer
When it comes to selecting the ideal 6-inch jointer for your hobbyist workshop, there are several crucial factors to consider. Let's explore these factors to help you make an informed decision.
Budget
Establishing a budget is the first step in choosing a jointer. Hobbyists typically have a limited budget, so it's important to find a balance between affordability and functionality.
Build Quality and Durability
A well-built jointer will last longer and provide better performance. Look for sturdy construction, quality materials, and reliable components.
Table Length
The length of the jointer's table, comprising the infeed and outfeed sections, is a crucial consideration. It determines the size of lumber the jointer can handle effectively. As a general rule, it is recommended to work with lumber that is not more than double the length of the table. Therefore, if you frequently handle 6-inch lumber, opt for a jointer with a table length of at least 36 inches to ensure optimal performance.
Table Width
In addition to table length, table width is equally important. The width of the jointer's table should ideally match the width of the lumber you predominantly use. A 6-inch jointer is suitable for 2×4-inch boards, but for wider 2×6-inch boards, an 8-inch jointer is a better choice. Consider the width of the lumber you work with when selecting the best 6-inch jointer, or even explore the option of a 12-inch jointer if necessary.
Maximum Cut Depth
The maximum cut depth is determined by the difference in height between the outfeed and infeed tables. Choosing a jointer with a maximum cut depth of at least 1/8 inch is recommended for improved control and a smooth finish. This depth is typically sufficient for most tasks when using a 6-inch jointer.
Cuts Per Minute
The cuts per minute refer to the number of cuts the cutter head knives can make in a minute. This value is influenced by the cutter head speed and the number of knives. Generally, a higher number of cuts per minute results in a better finish. However, keep in mind that a higher cuts per minute rate may lead to a shorter lifespan for the knives. Consider the desired balance between cutting speed and knife longevity.
Number of Cutter Head Knives
Jointers commonly come with two or three knives in the cutter head. While a three-knife cutter head stays sharper for longer, it may come at a higher price point. Consider your budget and the expected durability of the knives when deciding between two or three knives.
Type of Cutter Head
Two main types of cutter heads are available: straight knives and helical cutter heads. Straight knives are the more affordable option, while helical cutter heads offer superior performance. Additionally, helical cutter heads produce less noise during operation. However, they do tend to be pricier. Consider your budget and desired noise level when choosing the type of cutter head for your jointer.
Motor Power
The motor is a critical component of the jointer, responsible for its overall performance. Most 6-inch jointers come with a 1 to 2-horsepower motor. While a 2-horsepower motor offers more power, a 1-horsepower motor is generally sufficient for most hobbyist tasks. Consider the workload and the types of wood you'll be working with to determine the appropriate motor power for your needs.
Fence Adjustability
Look for a jointer with an adjustable fence. This allows you to set the desired angle and ensure accurate and consistent cuts. A sturdy and easily adjustable fence enhances the overall performance of the jointer.
Dust Collection
Woodworking generates a significant amount of dust, so having an efficient dust collection system is crucial. Look for a jointer with a built-in dust port or the option to connect to an external dust collector. This helps maintain a clean and healthy working environment.
Considering these essential factors, you'll be well-equipped to select the best jointer for your hobbyist workshop. Remember to find the right balance between features, performance, and your budget to make a confident choice. Happy woodworking!
FAQ
Can I use a jointer for other woodworking tasks besides flattening and squaring boards?
Yes, jointers can also create chamfers, bevels, and edge profiles.
Is it necessary to have a dust collector for a jointer?
While not necessary, a dust collector helps maintain a cleaner and healthier working environment.
Can I upgrade the cutterhead on a jointer?
Depending on the model, some jointers offer the option to upgrade or swap the cutterhead for different types.
Do I need a separate jointer and planer, or can I use one machine for both tasks?
Jointers and planers are separate machines with distinct functions. While some combination machines exist, dedicated jointers and planers often offer better performance.
How often should I replace the blades on my jointer?
Blade replacement frequency depends on usage and the material being cut. Regular inspection and sharpening are recommended to maintain optimal cutting performance.
Conclusion
There is a wide range of 6-inch jointers available on the market, each with its own unique characteristics. Some models are larger and bulkier, while others are more lightweight and compact. However, the best 6-inch jointer for hobbyists is ultimately the one that can fulfill your specific needs.
It's important to note that the price of these jointers can vary based on their features. Don't be fooled into thinking that the most expensive jointers are always the best. In fact, you can find a high-quality 6-inch jointer that fits your budget and still delivers excellent results.
In summary, the jointers reviewed above are specifically designed for handling wood that is 6 inches wide. If you frequently work with larger pieces of lumber, it may be more suitable to consider an 8-inch or even a 12-inch jointer. However, it's worth mentioning that these larger jointer sizes often come with a higher price tag.
Remember, the key is to assess your woodworking requirements and budget constraints to make an informed decision. By carefully considering your needs, you can find the perfect 6-inch jointer that offers the right balance of features and affordability, allowing you to achieve exceptional results in your hobbyist woodworking projects.