What comes to mind when you think about buying a log splitter? Probably that you will need to remortgage the house to afford one. While they aren't known for being cheap, you can get a good quality splitter for less than $1000.
And in this article, I will be reviewing some of the best log splitters under $1000. I will also look at why these tools are expensive and what to look for when buying one. 
The top spot goes to the Powerhorse Horizontal/Vertical Log Splitter. The latter is a powerful gas-powered splitter that performed exceptionally well.
In second place is the CHAMPION POWER EQUIPMENT 7-Ton Compact Horizontal Log Splitter. The latter offers an impressive cycle time and plenty of ramming power.
All the other options on the list all offer great value for money.
Should You Purchase A Log Splitter?
Given their hefty price tags, you are now probably wondering whether a log splitter is a worthwhile investment. The answer, yes, yes they are.
Log splitters give you the flexibility to cut logs of a similar size either for firewood or for other purposes. While it is possible to split logs with something like an ax, the amount of time and physical effort required simply isn't worth it. 
They do all the heavy lifting for you, saving you time and energy. As such, a log splitter will increase productivity, especially if you buy wood in bulk. And the time you save by using a log splitter can be utilized elsewhere.
Types Of Log Splitters And Their Capabilities
Log splitters can be classified into four main types. However, they all work in the same manner with slight variances. Let's look at these main types and what each type has to offer.
Gas Splitters
Gas-powered splitters are by far the most powerful of the four main types available. A 4-stroke engine powers these types of splitters. And apart from being powerful, gas splitters are also expensive and larger compared to other types.
Typically gas-powered splitters offer 10 tons or more of force. However, there are some smaller units that provide less than 10 tons of splitting force.
Electric Splitters
Most log splitters in the under $1000 market are electric splitters. These are typically powered by an electric motor and run off a standard 110v or 120v outlet. One advantage they have over their gas counterparts is that they can be used indoors since they do not produce fumes.
Electric splitters tend to be smaller and lightweight. And because of this, they have size limitations when it comes to the logs they can accept.
Manual Hydraulic Splitters
Manual hydraulic splitters do not have an automated mechanism for splitting logs. Instead, they require your physical effort. Nonetheless, they are a better option compared to using an ax. Due to their manual nature, they cost less.
Manual hydraulic splitters are ideal for homeowners on a budget and do not have a ton of wood to split.
Kinetic Log Splitters
These are relatively new to the market and are still growing in popularity. Instead of a hydraulic mechanism, these use a spinning flywheel that stores energy from the engine. The wheel then releases the energy to split through logs.
One notable benefit of these types of splitters is their cycle time. While other types of log splitters have cycle times of 10 to 20 seconds, these have a cycle time of 2.5 seconds.
Vertical or Horizontal log splitters
Log splitters can also be classified into vertical or horizontal. Horizontal splitters are best suited for home use. As the name suggests, the log is placed horizontally between the ram and the wedge in this type of log splitter.
The ram pushes the log against the stationary wedge to split it into two. A vertical splitter, on the other hand, is designed for larger pieces of wood. In this splitter, the wood is placed in a vertical position.
Unlike in a horizontal splitter, in a vertical one, the wedge is built into the ram. The wedge moves vertically through the log to split it.
---
Reviews Of The Best Log Splitter Under $1000
---
Powerhorse Horizontal/Vertical Log Splitter
The Powerhorse Horizontal/vertical log splitter is one of my favorite splitters. It is capable of vertical log splitting, something that I think is its best feature. Unfortunately, it is not the most portable, given that it is a gas-powered log splitter.
As the only gas-powered splitter on our list, it is also the most powerful. It comes with a 212cc engine that produces a 220-ton ram force. Its cycle time is even higher than that of others on the list, as it stands at 13 seconds.
According to the manual, it can split logs of up to 14 inches in diameter. However, I was able to split 20 inch wide logs with it. Undoubtedly, it will not split a 20-inch wide oak log, but it has no problem with softer wood.
Also, thanks to its vertical log splitting feature, you can split large logs positioned vertically. This will take several passes, especially when working with larger logs.
This log splitter is designed for towing and comes with a 2-inch ball coupler. Furthermore, it features 8-inch tires. You can tow this log splitter at speeds of up to 45 mph on flat roads with the latter.
---
Generac WR31110ACNG 10 Ton Kinetic Log Splitter
With fewer moving parts, the Generac WR31110ACNG kinetic log splitter is fast and powerful. And this is what I particularly love about this electric log splitter. What I did not like about it is how low it sits. It would have been better if it was offered with a stand.
Powering this log splitter is a 110-volt electric motor. As such, you can plug it into the power outlet of your home. This electric motor powers a 25-pound flywheel that spins at 490 RPM and stores this log splitter's kinetic energy.
The cycle time of 2 seconds is one of the quickest in this price range. And with its 10 tons of force, it can split logs quickly and efficiently. With it, you can split 16 inch long logs with a 12-inch diameter.
Also, this is a relatively compact log splitter and comes with wheels to make it easy to transport. And since it is electric-powered, it is emissions-free. This is yet another great log splitting option for home use.
---
WEN 56207 6.5-Ton Electric Log Splitter
There is a lot to love about the WEN 56207 6.5 Ton electric splitter, number one being that it's one of the best electric log splitters in this price range. This means it does not produce any fumes. Also, I loved its built-in handle and wheels that made it easy to maneuver around.
My only problem with this splitter is that it is not as powerful as most of its counterparts. Nonetheless, for those looking to split medium-sized woods of about 10 inches in diameter, this is a great option.
While it's not the most powerful, it was able to split a 10-inch wide knotty oak log. Also, while it is designed to handle logs of 10 inches in diameter, it was able to split 14-inch logs. Granted, it required a couple more seconds to do it.
Design-wise, this is a well-built log splitter. It comes with a 34-inch high stand, and you can use it with or without the stand. I preferred using it with the stand, though I still had to bend over due to its two-handed operation.
Though the two-handed operation wasn't a problem as it protects you from accidentally slipping your hand in between the ram and wedge. The wedge is 5 inches and is paired with a 14.75-inch cylinder with a 20 seconds cycle time.
It is possible to reduce the cycle time with the built-in ram limit that is used to adjust ram traveling distance. This allows you to work with shorter logs. Overall, this log splitter is perfect for homeowners in constant need of firewood.
---
Champion 7-Ton Compact Horizontal Gas Log Splitter
High-quality splitters from brands like Champion don't come cheap, with most costing thousands of dollars. But now and then, we get a rarity such as the Champion 7-ton Horizontal gas log splitter.
This, though, isn't the quickest log splitter out there. Its 19 to 20 seconds cycle time isn't worth writing about, but this is still a decent log splinter from a company known for quality.
While it isn't the fastest, it packs quite the punch. It split 22 inch wide logs though I had to swap it to split it from the opposite end. This was pretty impressive for a log splitter of its size.
It comes with a built-in handle that makes it easy to position. Also, it features never-flat tires, meaning that you can move it around without worrying about the tires going flat.
This gas-powered splitter is more capable compared to an electric splitter of a similar price. Also, it is relatively small and will not take up a lot of space in your shed or garage. However, it is worth noting that this is not a towable log splitter.
So who is it for? Well, this is an ideal option for most people looking for a log splitter with plenty of power, but that is affordable.
---
Powerhorse Horizontal/Vertical Electric Log Splitter
The powerhouse horizontal/vertical electric log splitter is an excellent option for most. From its name, it is capable of vertical log splitting, which is an always welcome feature in my book. It also has some other nice features that make it stand out.
It is powered by a 120v 15 amp motor and can thus be plugged into a standard 120v socket. This electric motor offers up to 8 tons of splitting force. While this isn't much compared to others on the list, it is sufficient for splitting most logs of wood.
One feature that I love is the log cradle. The latter catches the piece of log as it is split. This eliminated the need for you to stoop and gather split wood. It makes the whole wood splitting process easier.
With its pivot design, it quickly and easily changes from a horizontal to a vertical position depending on your splitting needs. Additionally, it has 6-inch tires that help with portability.
---
Southland Outdoor Power Equipment SELS60 6 Ton Electric Log Splitter
Portability is what the Southland Outdoor Power equipment SALES 60 is best for. This is designed to be portable and easy to transport. The one notable issue with this log splitter is how low it sits to the ground.
A 1.75HP electric motor powers this log splitter giving it a maximum splitting force of 6 tons. The reset time stands at 18 seconds, which puts it above some other splitters on the list. There is a stroke limiter to help adjust the cycle time for shorter wood.
With this log splitter, you will be able to handle 20 inch long logs of wood with ease. Also, thanks to its design, it can be stored vertically.
Given its an electric log splitter and its 6-ton splitting force, this unit is best suited for residential use. Also, it is compatible with most standard power outlets found in homes.
---
What Do You Want To Use A Log Splitter For?
Before purchasing a log splitter, it is essential to consider what you will be using it for. Budget splitters like the ones reviewed above are great for handling a few logs. However, if you want to split a huge amount of wood, these might not be for you.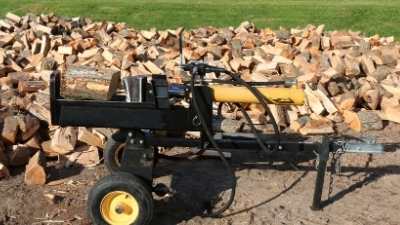 If you plan on splitting hardwoods such as oak or walnut, a 4-ton splitter simply won't do. You want something with a little bit more power for such wood, such as a 10-ton splitter.
Why Are Log Splitters Pricey?
A log splitter's function is to drive a piece of wood onto a wedge or blade, splitting it into two along its grains. To do this, splitters use concentrated amounts of energy. These tools are typically used in industrial settings.
This is one of the reasons they tend to be expensive. Log splitters also use complex hydraulic mechanisms that simplify the log splitting process.
Log Splitting Safety Tips
Read the instructions manual and pay close attention to the instruction to ensure every part fits where it needs to be securely when assembling a log splitter.
Operating a log splitter requires you to be focused. Thus you should not do it when under the influence of alcohol, drugs, or when on medication that may interfere with your focus.
Always wear protective gear and clothing such as leather gloves, protective boots, and eye protection when using a log splitter.
Before using a log splitter, ensure it is placed on flat and firm ground.
The Difference Between A Log Splitter And A Wood Chipper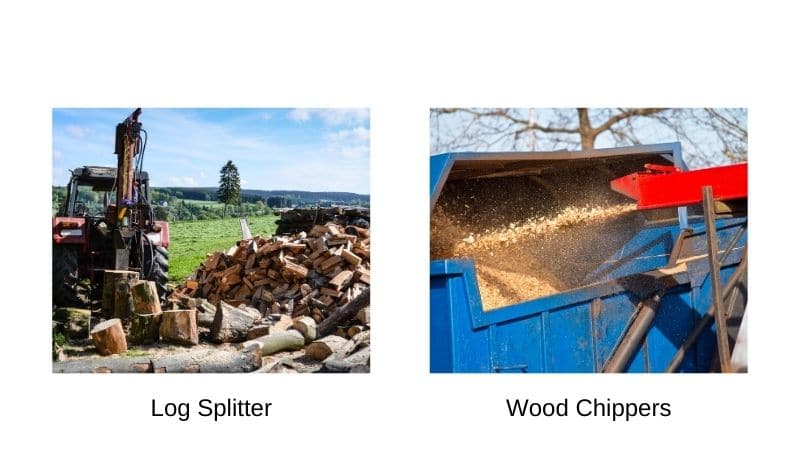 A wood chipper is used to cut small branches, twigs, leaves, and other garden debris. This tool has multiple blades that move around each other to shred the leaves or twigs. A log splitter is used to split one large piece of wood into two.
Unlike a wood chipper, the splitter uses one wedge blade to cut the wood into two.
---
Before Buying a Log Splitter Under $1000 Please Consider These:
We have already established that log splitters are an investment. The thing about investments is that they need to yield returns. When shopping for a log splitter, you will be looking for the one that can best meet your needs.
So what should you consider in your search?
Tonnage
Tonnage dictates the size of log you can split. A typical 4-ton splitter will be able to cut a 6-inch dry log with ease. However, if the wood is wet, hence denser, you will need a splitter with more tonnage.
Additionally, woods such as oak and walnut are harder to crack than others and require more splitting force. For such woods, you will need a 10-ton splitter. A higher tonnage means you can cut denser wood.
At this price point, a tonnage of 6 to 10 tons is what you should expect. This will be sufficient for cutting medium-sized woods of about 12 inches in diameter.
Power source
A splitter's power source depends on what type of splitter it is. An electric splitter is powered by electricity, while a gas splitter is powered by fuel. For home use, an electric splitter will be sufficient. However, for industrial level log splitting, a gas splitter is recommended.
Cycle time
This is how long it takes a log splitter to cut through a log. On average electric splitters will have a cycle time of 10 to 20 seconds. Some newer kinetic models will have shorter cycle times of 2.5 to 3 seconds.
For the average user, though, a 15 seconds cycle time will be sufficient.
Log splitting range
The size of wood you typically deal with will dictate the type of splitter to buy. Check what dimensions a splitter can accommodate. For most, a splitter that can handle logs that are 16 to 20 inches in length will do. This is the range found in this price range.
Wheels and balls hitches
Splitters that come with wheels attached tend to be easier to move around. This is an important feature to consider when shopping for a splitter. A splitter's ability to be towed is another. A splitter can be towed using a ball hitch.
---
Frequently Asked Questions
Manual log splitters, are they good?
While they require physical effort to operate, manual log splitters make work easier than using an ax. These types of splitters are great for splitting small amounts of wood.
What size log splitter do I need?
For home use, a smaller and compact splitter will be enough. However, a larger gas-powered splitter will be necessary for industrial use.
Is a log splitter worth it?
Yes, as it saves you time and physical effort you would have otherwise wasted trying to split a log with an ax.
Can I use my splitter in the rain?
Yes, rain does not affect the wood in any way, neither does it affect the splitter. However, it makes things slippery, so extra care should be taken.
Conclusion
Not everyone needs a large and incredibly powerful gas-powered log splitter. For many of us, a compact electric splitter will suffice. All the log splitters reviewed above are great for home use and cost less than $1000.
Last update on 2023-06-08 / Affiliate links / Images from Amazon Product Advertising API