A few years ago, portable table saws were non-existent. Today, things couldn't be more different, with the market being flooded with all kinds of portable table saws. And new models are being released almost every month.
This is obviously a good thing, especially in this DIY era. With the best portable table saw, there is a lot you can do. And save thousands of dollars you would have spent on contractors saw while you are at it.
There is, of course, a downside to the wide variety of portable saws available. The right saw needs to offer the right blend of quality, performance, and price. Needless to say, finding the best portable table saw for fine woodworking is not easy.
To get to the best, you will have to surf through the thousands of options available. But that can be time-consuming. To make the task easier, we sampled hundreds of different table saws and narrowed them down to the eight best.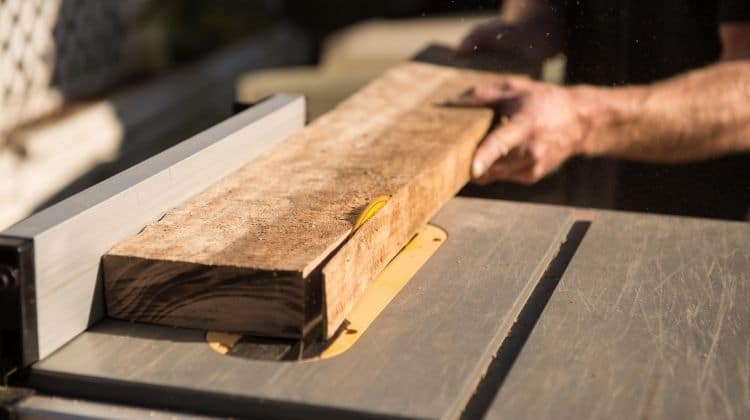 8 Best Portable Table Saw Unbiased Review
Without further ado let us introduce our top picks of portable table saw reviews. Have a look!
DEWALT DW745S Compact Job Site Table Saw with Folding Stand
For our number one spot, we had to choose between the Dewalt DW745s and the 7480 models. It was a tight race, but ultimately we picked the DW745s. Weighing 22kg, it is lightweight enough to be carried from one job site to another.
But what made us pick this model over the 7480 was the fact that it comes with foldable legs. These legs raise the saw to a comfortable height. Another thing we loved about this saw was its powerful 15 amp motor.
The motor has no problems ripping through hardwood. Paired with a fence system that offers 610mm of rip capacity, it is capable of cutting large wood sheets. It uses a 24T carbide blade to rip through the wood.
In terms of construction, it is has a steel tubular frame. The latter gives it strength and durability. Its price is not bad either. For under 350 or sometimes in the offer under $300 this table saw is a beast.
Two Thumbs Up For
It is a small and compact machine making it ideal for small shops and DIY projects
It is reasonably priced considering all its features
Comes equipped with a folding stand that improves ease of use and comfort
A heavy-duty tubular steel frame makes it durable and tough
The 24T carbide blade is powerful enough to cut through most hardwoods
What's Not To Like
Is not compatible with dado blades
Its ripping capacity is relatively small
So what's the verdict? This is by far the best portable table saw for the money from Dewalt, which is saying a lot given the company's other products. It has the right blend of quality, performance, and price. It is an ideal option for small shops and DIY woodworkers.
DEWALT DWE7480 10 in. Compact Job Site Table Saw with Site-Pro Modular Guarding System
While it lost the number one spot to the 745s, the DWE 7480 is still a favorite of ours. It offers a more improved 24-1/2 inch ripping capacity. Meaning you can cut a variety of materials other than wood.
The 745s might have beaten this model to the top spot, but the 7480 does offer some benefits over its counterpart. Both models use a 15 amp motor, but the 7480 has a higher 4800RPM. Thus when it comes to cutting power, the 7480 offers more.
Similar to the 745s, you can adjust the blade at an angle of between 0 and 45 degrees. This means you can make bevel cuts on this machine. The blade itself is a 24 tooth carbide blade. It is an ideal saw for carpentry works.
Especially with the included dust port. The latter can be hooked to a 2-1/2 inch vacuum hose to make cleanup easier.
Two Thumbs Up For
Weighing 45 pounds, it is relatively lightweight and can easily be carried
The metal roll cage base is more durable than the plastic base of most other saws
Comes with telescopic fence rails for easy, fast and accurate adjustment of the fence
No need to remove the riving knife when cutting groves
Can be used with a stand if you wish to have one
What's Not To Like
Is a bit louder than some of its competitors
The stand does not come included
The 7480 can do a lot and is reasonably priced. In our opinion, it is the best 10-inch portable table saw. The 10-inch carbide blade on this portable table saw can cut through a wide variety of things. And paired with a powerful 15 amps motor, you get a saw that can do a lot without being bulky.
Bosch Power Tools 4100-10 Tablesaw – 10 inch Jobsite Table Saw
Some of the best power tools on the planet are Bosch products. And one of the company's bestselling table saws is the 4100-09 table saw. The latter got an upgrade in the form of the 4100-10 table saw. Given the success of its predecessor, we thought it wise to try out the new saw.
In terms of power, this new Bosch model is one of the most powerful we've ever tested. It had no problems cutting through thick oak. Largely thanks to a combination of its 15 amp motor 4.0 max horsepower. With a speed of 3650 RPM, it can handle just about anything
The saw made light work of flimsy oversized plywood. While its power is impressive, what really impressed us was its cast aluminum top. The top is comfortable to use and with its coated finish, allows for smooth operations.
Weighing 58 pounds, it is not the most lightweight table saw we've tested — the weight increases to 92 pounds when you add the stand. But don't let this discourage you as the stand makes it easy to transport.
It comes fitted with a gravity-rise wheeled stand. So you don't have to carry this table saw you can simply pull or push it to your next job site.
Two Thumbs Up For
Comes with a miter gauge that is longer and heavier than most other out-of-the-box inclusions
Has an incredibly powerful motor capable of cutting through most types of wood
For a portable saw, it is a high rip capacity
Comes with a stand included that has an adjustable height and wheels
Has a quieter operation compared to some of its competitors
What's Not To Like
The rule guides were more confusing than on other models
The rip fence is difficult to adjust
We were impressed with this table saw which is pricing under just 500. It comes with a plethora of features that make it one of the top portable table saws on the market. It combines power and versatility in exemplary fashion. Thus, while it is not as lightweight as some of the other entries, it offers plenty of power.
DEWALT 10-Inch Portable Table Saw with Stand (DWE7480XA)
A variation of the Dewalt 7480, the 7480XA, is very much similar to its counterpart, with the main difference being the stand. The 7489XA model comes with a stand, which is easy to remove.
Apart from being removable, the stand is also loadable, which makes the saw easy to transport. Weighing 48 pounds, it falls under the best portable saw list. On top it has a coated surface that helps reduce friction when cutting.
It has the same 24 tooth carbide blade you find on the 7480 model. Thus, you can easily cut hardwoods with this saw. Where it really excels though, is in crosscutting and depth. It offers a cut depth of 3-1/8 inches at 90 degrees.
At 45 degrees, you get a cut depth of 2-1/4 inches. After cut clean is easy thanks to the included 2-1/2 inch dust port.
Two Thumbs Up For
Comes with a stand that can easily be removed
Rear feet are adjustable for easy placement on uneven surfaces
The blade can be adjusted to 0-45 degrees for making bevel cuts
The tabletop has a coated finish that reduces friction with wood for a smooth cut
Comes equipped with anti-kickback pawls that minimize the possibility of kickbacks
What's Not To Like
Costs a bit more than some of the other Dewalt models
Is not compatible with dado blades
Similar to the other two Dewalt models on our list, this model offers plenty of power and lightweight design. With the included stand using the table saw is easier. Not to mention its ability to cut different types of wood.
SKILSAW SPT70WT-01 10 In. Portable Worm Drive Table Saw
Dewalt and Bosch aren't the only companies that manufacture portable table saws. Skilsaw is another that has an impressive catalog of portable table saws. The SPT70WT-01 is one of the best table saws from the company.
The first thing we loved about this table saw is how powerful it is. Fitted with a 15 amps motor, it is capable of 5300 RPMs. But power is not the only thing you get with this table saw. On the surface, it has a rip capacity of 11 inches.
However, it comes with an extension feature that increases the rip capacity to an impressive 25 inches. When cutting wood, you can cut up to depths of 2-1/3 inches at 45 degrees. At 90 degrees, you can cut at depths of up to 3-1/2 inches.
For making bevel cuts, you can switch between 90 degrees and 45 degrees with ease. When it comes to dust collection, it is fitted with a dust port. You can attach a standard 21/4 inch vacuum hose.
Two Thumbs Up For
Comes with a powerful motor capable of 5200 RPMs
Weighing 52 pounds, it is relatively lightweight and compact
Has an impressive 3 1/2 inches depth cut which is one of the best
Has rubber bumpers for easy placement on different types of surfaces
Comes with a miter gauge included
What's Not To Like
Does not come with a stand included
Lining up the riving knife can be a bit cumbersome
Most 10-inch table saws have a cut depth of 3.25 inches. The higher cut depth of this saw can be attributed to the inclusion of a worm drive. This is one of the features that highlight the power and awesomeness of the saw. It is undoubtedly one of the best portable table saw for the money
Bosch 10-Inch Portable Jobsite Table Saw GTS1031
Another of Bosch's bestselling table saws is the GTS1031. Compared to the 4100-10 reviewed above, it is much smaller. As such, it is much more portable. But how does it compare to other similar products?
Being smaller means that it is lighter than the popular 4100-10 model. It weighs 52 pounds. Not as light as Dewalt's models but can still be carried with one hand. Because of its weight and size, we were expecting to be less powerful than its counterpart.
But much to our surprise, it comes with the same 15 amp motor found in the 4100-10. It delivers an exceptional cutting depth. At the right angle, it can cut 3-1/8 inch deep while at 45 degrees, you can cut to depths of 2-1/4 inches.
The entire unit is built on a steel base. The steel base gives it durability and toughness. It can handle the occasional bumps and knocks in the workplace. Similar to the other models on the list, it comes with onboard storage.
Two Thumbs Up For
Is built with a steel base for durability and toughness
Is more compact and lightweight than the 4100-10 model
Comes with inbuilt storage onboard
For its size and weight, its rip capacity of 18 inches is quite impressive
Comes with self-aligning design for improved performance
What's Not To Like
Produces cuts that are a bit shaky
Comes with a somewhat crude angle adjustment mechanism
If you don't need a massive and bulky table saw, this can be a great option. It offers a compact and lightweight design without compromising on power. It provides the right mix of power and portability.
Makita 2705 10-Inch Contractor Table Saw
Hobbyists and professional contractors love portable table saws. But sometimes it is hard to find a saw that suits both. The Mikita 2705 is one of few saws that meets the needs of both professionals and hobbyists.
Professional contractors love it for its sheer power. A 15 amps motor powers this machine and has a speed of 4800 RPM. At such a high speed, it can cut through most types of hardwood. Also, measuring 36 x 16 x 32 inches is big enough for making accurate cuts.
This unit is built with simplicity in mind. It doesn't have a lot of auxiliary parts. It offers more space, and the blade guard can be adjusted with no tools. You get dual side guards that make it easy for you to measure wood from blade to rip.
The safety guard is not the only safety feature available on this table saw. To prevent kickbacks it is equipped with stowable anti-kickback pawls. There is also a riving knife for through cuts.
Two Thumbs Up For
It is easy to use, and many hobbyists will love its simplicity
Offers plenty of power for cutting all kinds of wood
Has a large tabletop for precise cuts
The unit is built using high-quality material, and its overall performance is high quality
Comes with good warranty conditions
What's Not To Like
Does not come with a sturdy base
Doesn't have a dust collection port
This table saw is a good option for hobbyists. It offers plenty of power and is easy to use. While it is not the most lightweight portable table saw out there, it has a lot to offer. It is reasonably priced, and most people will have no problems with its price tag.
SawStop JSS-MCA Legacy Jobsite Saw with Mobile Cart
A bit costlier than the other options on our list, the JSS-MCA legacy Jobsite saw closes our list. Its price tag means it comes with a diverse selection of features. Compared to other portable table saws, it is smaller and more compact.
Its main selling point is its portability. It has a mobile cart affixed to it. What this means is that you can easily move it from one job site to another. At the same time, since this mobile cart is collapsible, it is easy to store.
The mobile cart affixed to it has wheels. These are large caster wheels that can go on a wide variety of terrains. They make it even easier to transport this table saw.
Most portable models come with a small working area. Not the Legacy Jobsite, though. It has a rip capacity of 25.5 inches. Thus, it offers a larger working surface area than many other options out there.
Adjusting the blade is also easy. Blade adjustments can be made with one turn of the wheel. The sturdy t-style fence features an ErgoLock making it easier to slide and lock the rail into place.
Two Thumbs Up For
It is fitted with a mobile cart with wheels for easy transportation, which is also collapsible for secure storage.
While the fence is not gear driven, it is dependable
Is easy to adjust the fence with high accuracy
Changing the blades is quick and easy
It is easy to setup out of the box.
What's Not To Like
The miter gauge is of low quality
The fence only locks on the front which causes flexibility issues
There is a lot you can do with this portable table saw. And despite its price, it is an excellent option for hobbyists. It is lightweight enough to be carried from one job site to another with ease. Furthermore, it offers plenty of working surface.
How to choose The Best Portable Table Saw For Fine Woodworking
There are very many portable tables saw models out there, and not all are worth your money. When shopping for a portable table saw, you will want to get the best portable table saw. Several things make up the best portable table saw for the money. In this section, we will be taking a closer look at what makes up the best portable job site table saw.
Portability
We cannot talk about portable table saws without talking about portability. Portable table saws are designed to be lightweight and compact. But what makes a portable table saw mobile? Weight is, of course, significant.
However, some saws weigh as much as 80 pounds. Meaning that while it is possible to carry them by hand, it will be tiresome. Thus, it is wise to go for a saw that has a wheeled stand or cart of some kind. The inclusion of a wheeled cart makes it easy to transport irrespective of weight.
Type of Blade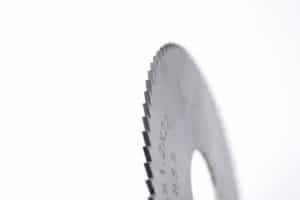 Portable table saws like all other saws are designed for cutting wood and other materials. Thus, it is not possible to talk about saws without talking about the blades. Ideally, carbide blades are the best. These types of blades are sturdy and resistant to wear.
Power
This depends mostly on the type of wood you intend to cut with your saw. Ideally, the more the power, the better. A saw with a 1-2 horsepower can easily cut 2-inch thick wood. To cut thicker wood, you need a more powerful saw. For cutting wood that is three-inch thick, you need a horsepower of between 3.5.
Safety features
Portable table saws, though, useful, can be dangerous to use. That being said it is essential to get a table saw that offers safety features. The best-rated portable table saw come with several different safety features. Features such as an anti-kickback will be valuable in safeguarding your safety as you use the saw.
Frequently asked questions
Can I cut hardwoods with a portable table saw?
Most portable table saws offer enough power to cut through hardwoods. It is, of course, essential to check the power of a table saw before buying. Different table saws are suited to various cutting projects.
Can I get a severe injury using a portable table saw?
While they are lightweight and compact, these types of saws can be dangerous. There is a certain level of skill required to operate one. Improper use of these saws can lead to a severe injury. However, most come with safety features such as an anti-kickback system.
Can I use dado blades on a portable table saw?
Not all portable table saws are compatible with dado blades. If you want to use these blades, it is essential to check whether your table saw is compatible.
Conclusion
Portable table saws are less costly and bulky compared to traditional table saws. This makes them popular with hobbyists and professional contractors alike. When shopping for your next portable table saw, it is crucial to consider the purpose.
There are very many different table saw models, each suited to a different task. And the best portable table saw will be the one that best suits you.
Last update on 2022-12-08 / Affiliate links / Images from Amazon Product Advertising API