Which one should you choose, the Dewalt dws709 or the dws779? With DeWalt's tendency of producing nearly identical tools, differentiating between these two at first glance isn't easy.
To understand which between the two Dewalt miter saw is ideal for you, we need to look beyond their exterior designs. With that being said, let's put the Dewalt dws709 vs. dws779 to see how they compare.
Because of their many similarities choose a winner between the two is difficult. However, due to its slightly larger cutting capacity, the dws779 is the better saw by a slight margin.
Without further ado, let's see how these two saws compare.
Reviews of The Dewalt dws779
Like the dws709, this is a double beveled sliding compound miter saw and features the same 15 amp motor. It also has the same 3800 rpm blade rotation speed as the 709.
When it comes to cutting capacity, things are a little different. With the dws779 model, you can cut 2×16 lumber at 90 degrees and 2×12 at45 degrees.
Being a double bevel miter saw, it runs 47 degrees to the right and left and has positive stops to adjust to.
PROS
Impressive build quality
High cutting capacity compared to the dws709
Comes with a dust collection system
Can cut through different types of materials such as wood and
CONS
Does not have a lighting system
Is a bit bulkier compared to the dws709
Reviews of The Dewalt dws709
The dws709 is the smaller of the two; however, it still manages to pack a ton of features. It features the same 15 amp motor you would find in pricier Dewalt models, with an output of 3800 rpm.
This sliding compound miter saw has a horizontal cut capacity of 9.5 inches and a vertical cut capacity of 4.5 inches. As such, you should have no trouble sawing 5.5 inches nested crown molding.
Additionally, with this saw, you will be able to cross-cut 2×14 lumber at 90 degrees and 2×10 lumber at 45 degrees. Thirteen positive stops on the stainless steel detent plate are controllable with a knob.
PROS
Is lighter than other sliding compound miter saws, including the dws779
Costs less compared to other DeWalt sliding compound miter saws.
Is compact and does not require a lot of storage space
Despite its size, it is still quite powerful.
CONS
Lacks an LED lighting system
Its cutting capacity is smaller than that of its counterparts, including the dws779
Dewalt dws709 vs dws779: Comparison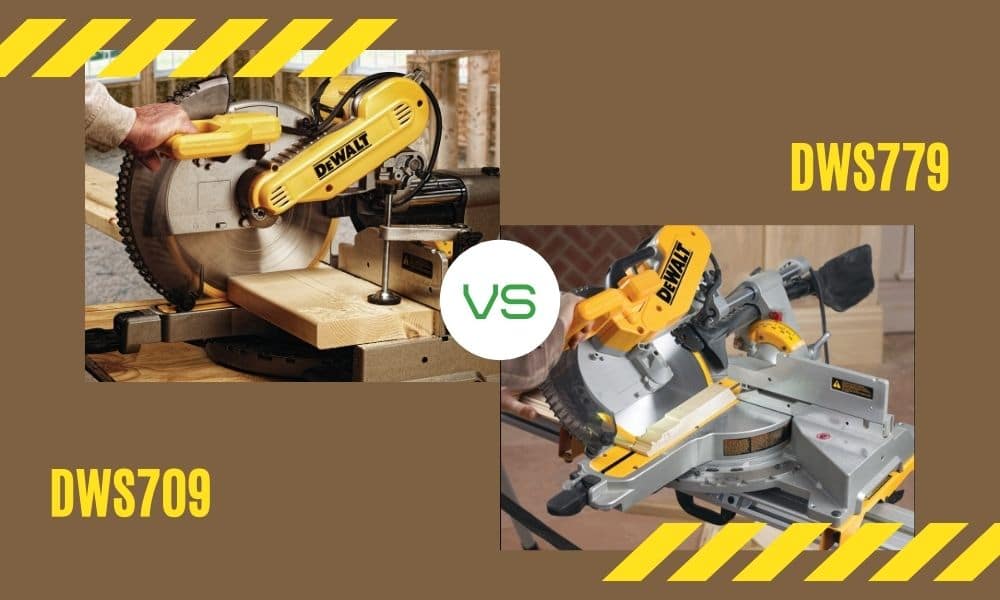 Performance:
While both saws are powered by a 15 amp motor and a blade speed of 3800 RPM when pitted against each other, the dws779 comes out on top. This is because of its better cutting capacity of 2×16 at 90 degrees than the 2×14 at 90 degrees capacity of its counterpart.
Price:
As is to be expected, the dws709 is the cheaper of the two. The dws779 may cost you a little bit more than the dws709. Thus in terms of price, the dws709 comes out on top.
Versatility:
In terms of versatility, both saws are quite versatile and can be used to make crosscuts and bevel and miter cuts. Also, you can swap out the default blades to cut other materials such as metals and plastic.
Design:
The design of both saws is pretty similar. In fact, it is easy to confuse one for the other. Therefore, there is no clear winner here, and both saws score a point.
Weight and Portability:
One area where the dws709 has the edge over the dws779 is in the portability department. It is more compact and lighter than the dws779. Overall, it wings 51 pounds, while the dws779 weighs 56 pounds. Though you can still use DWS 779 miter saw for home purpose or DIY project.
Construction:
The construction of both saws is the same, so there is no clear winner in this category.
Cutting Power:
The dws779 yet again comes out on top when it comes to cutting power. The miter cut depth of the dws779 saw is 9.6 inches compared to the 6.8 inches of the dws709. The bevel cut depth of the dws779 at 45 degrees stands at 13.75 inches compared to 9.5 inches of the dws709.
Blade:
The blade found on both saws is virtually the same. It is a 12-inch blade with a 0.625-inch arbor length.
Dust bag:
Both models have a dust port attached to them. With the dws709 model, you can connect a vacuum cleaner. In terms of overall quality, the dws709 does a better job of dealing with dust than the dws779.
Safety:
Safety is another aspect where both saws are at par. Both feature an electric brake as well as a blade guard. The electric brake helps bring the blade to an immediate stop when the saw is shut off or disconnected from power.
Additional features:
There is an oversized bevel scale for making bevel angle adjustment accurate on both saws. A cam lock miter handle is also available in the dws779. This feature helps make miter angle adjustments quick and accurate.
Dewalt dws709 vs dws779: The differences
Cut capacity:
There is very little separating these two saws; however, they still do have their differences key among them being the cut capacity. With the dws779, you can cut a wider 2×16 board at 90 degrees.
Adjustable depth stop

:
Another key difference is the option to stop at any depth that is available with the dws779. This option is, however, not available in the dws709.
Conclusion
So which of the two should you pick? Well, it depends on your needs. If you need a saw for everyday DIYer tasks, the dws709 is sufficient. However, if you are a professional contractor, the increased cutting capacity of the dws779 may be a better option.
In essence, the dws779 will appeal more to professionals and DIYers looking to saw wider boards. The dws709, on the other hand, is for DIYers looking for a basic sliding compound miter saw.
Both do not have a lighting system, so if this is important to you, you may have to spend more on the dws780, which is pricier than the two.