It's no secret. Chop saws and miter saws are two big names in the tools world. As a woodworker, I knew that I needed to invest enough resources and time to ensure that I get exceptional power tools in my workshop. However, knowing that you require the right tool is one thing while choosing the fine ones to purchase is another thing. The most confusing decision is whether to buy a miter saw or a chop saw.
While both are some of the handiest and best-performing power saws, it's tricky to choose the miter saw or chop saw. In this guide, it's all about Chop Saw vs. Miter Saw. Although both circular blade saws seem an awful lot alike, there are vital differences between the two. Therefore, for you to acquire the most appropriate tool, it's wise to understand their differences. So, what makes them different?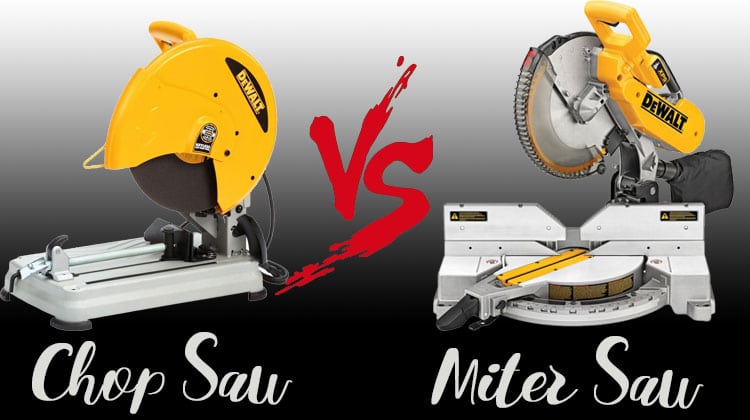 Chop Saws: Who Need It, Why & When?
Cutting rebar or steel or pipe? Chop saws are truly aggressive and more powerful machines. If you're a  carpenter, fabricator, welder or a contractor, you'll agree with me that a chop saw is essential when building a home. You will need it to cut joists, rafters, trusses, steel, and studs. Whether you need to make excellent square cuts or cut angles, you need this tool. With no doubt, I recommend this tool.
Most models feature an abrasive disc while others come with a multi-purpose blade. In reality, the abrasive blade can cut off and tackle metals and other hard materials. This saw tends to produce more sparks hence leaving your material hot after performing the cut. The multi-purpose blade, on the other hand, can cut the same material but with little sparks.
At a glance, most people will confuse a chop saw with a miter saw. This is because both machines have a drop-down, round blade that is usually mounted on the hinged arm. Also, it has a stationary base that supports the workpiece.
Additionally, a chop saw is the best choice when you're considering cutting large pieces of metal. The fact is that this unit has a massive power that makes cuts look effortless. Although you can use it to cut large wood stock, it works better when cutting numerous kinds of metal.
Thanks to its massive performance and cutting capacity. It is best suited for home framing and building tasks. Nevertheless, the power saw is ordinarily fast. Therefore, only professionals should use it as it can be more than dangerous. I really love the functions of these versatile tools.
Advantages of Chop Saw
Easy lumber feed. This is the main advantage of chop saws. The large commercial machines feature a knee or footswitch that is useful as it leaves your hands-free for automatically feeding the material. Once you combine this attribute with the fantastic speed of the chop's blade, you'll be more than assured of getting some incredible, fast cuts.
Cuts hard materials, including metals. Are you a welder? Using 110v welder,120v or 220v Whatever you use. If yes, cutting hard metals will become simple for your once you own this tool. If your DIY projects entail cutting hard metal more often, the unit is a must-have. It comes with a sturdy and large blade that gets the stuff done. In fact, the saw do it more effectively than a miter saw. Still, the right blade will help you cut large volumes of metal very fast.
Disdvantages of Chop Saw
Can be relatively dangerous: For one, the massive power and large blade of a chop saw are paramount, but these features make it a hazard tool. With that, a lot of precaution is needed. Plus, feeding material using your hands can also pose a danger.
Not easy to operate, control when cutting angles: This is where the word 'professional' comes in. Yes, it may be a versatile tool that you should have in your workshop, but in one way or the other, it might not satisfy you. The blade usually moves up and down quickly, which means that it's suitable for making straight cuts. Even though you can use it to cut angles, it can be quite daunting and tedious to control.
Miter Saws: Who Need It, Why & When
Some small projects in your workshop will need to have a miter saw. This machine is excellent when it comes to cutting. If you want to make the best and neat cuts, then a miter saw along with the miter saw stand is the saw to use. Just like a chop saw, this machine features a circular blade that is mounted on a hinged arm. For this, the blade swivels to ensure the saw makes as angled cuts as possible.
Surprisingly, the blade on this saw can easily enter the wood to cut angles. Moreover, you can use this machine to perform various duties of a chop saw. For example, making perfect and straight cuts; all you need is to lock the blade cut at 90-degrees. I suggest this beast of a tool.
Furthermore, when you to perform some remarkable finishing on your woodwork projects like installing baseboard, a miter saw is the tool to go by. And you can do molding using the same saw. Thanks to its features and ability to make outstanding bevel cuts.
Advantages of Miter Saw
Make neat angled cuts. One primary difference that lies on the chop saw vs. miter saw is the ability to make amazing angled cuts. The latter has the ability to produce angled cuts. Note that the miter saw usually swivel to make it easy for you, hence eye-catching cuts.
Mainly for cutting wood, steel aluminum (Versatility). The main use of this saw is to make cuts on wood. However, it can also be utilized to cut small amounts of metals like steel and aluminum hence versatile.
Less hazard saw. Many carpenters and woodworkers consider this machine as a low-hazard saw. If you handle it with your hands in a stationary position, it won't harm you. Only the saw head will move. Also, kickbacks are less likely anytime you're using a miter saw.
Cleaner cuts. The machines will not only produce angled but also some clean cuts. Just enjoy making fine cuts of small materials. The size and nature of the blade is the reason why this blade makes smooth cuts.
Disadvantages of Miter Saw
Not suitable for cutting metal. can you cut metal with a miter saw? Unlike chop saws, miter saws are less significant when it comes to cutting pieces of metals. It will only assist you to cut small pieces of metals steel and aluminum for your small projects with using right blades.
Chop saw vs. circular saw
Just like me, you may confuse the two saws. The two machines are words apart; however, they seem to be quite similar when it comes to appearance. The two have circular blades. Nonetheless, the similarities seem to end. Why? A chop saw can only move its blade up and then down, while a circular machine can move its blade in various directions.
Chop saw vs. cut off saw
A chop saw or cut-off saw, or an abrasive saw is a powerful tool, which is generally used to make wonderful, straight cuts. Therefore, a cut-off saw and chop saw is one thing and will help you make perfect square cuts.
FAQ's
Can You Put A Chop Saw Blade On A Miter Saw?
I was wondering whether I can use a chop saw blade in a miter blade. Or, can I use one machine with two different blades? A miter saw could be awesome with a chop saw blade. However, this is a big 'NO.' Remember that a chop blade rotates relatively faster and may cut a miter saw. Most miter saws are designed with plastic materials where the blade passes. Thus, when cutting, this will likely to start a fire and get hot. Under no circumstances should anyone put a miter saw's blade into a chop saw.
Can You Turn A Miter Saw Into A Chop Saw?
At some point, 'Yes.' However, you must argue it this way. A miter saw can also be used to cut straight cuts just like a chop saw. Also, it is significant when cutting small pieces of metals like steel and aluminum. In the country, a miter saw is less significant when setting up big projects.
Conclusion
To wrap up, we've seen the facts about Chop Saw vs. Miter Saw. The two saws have some common features and also differences. What's important is to choose the one that will satisfy your needs. When selecting, remember to look at 'value and quality.' I would suggest you pick miter saw if you're dealing with small DIY projects either in your home or workshop. It may prove to be the most detrimental tool for you.