Many users use the circular saw to perform dozen of jobs around the world. Ideally, carpenters, masons, electricians, constructions firms are the main users of the circular saws. One major dilemma facing tool enthusiasts is whether to choose a corded or a cordless circular saw. Some prefer corded to cordless saws. You may be wondering: what's the biggest deal? Why are these tools so different but so similar? In this article, we'll analyze corded vs cordless circular saws.
101: Corded VS Cordless Circular Saw
| Spec | Corded | Cordless |
| --- | --- | --- |
| Power | You can get steady power for running a large blade in the saw | you can not get the same kind of advantage like the corded saw |
| Working Hour | More Working As long there's electricity | Less working hour; because there's limited power in the battery |
| nature of job | Suitable for Heavy-duty work | Not suitable for heavy-duty work |
| Replacement Part | No need of any replacement parts such as batteries. | Required Batteries if it gets damaged. |
| interference | Having cords; sometimes it interferes with the work. Meaning you have to keep in mind that there's a cord and it can twist, stuck or even cut | As cordless, it is easy to work and not required to think about the cord hassles. |
| Convenience | Cordless Saws are more convenient to use. | It is more convenient and easy to use anywhere |
| safe | Having cords in the back and high power and large blade it is less safe than cordless saw | it is much safer than the corded saw |
| Battery | No need to think about the battery | You always have to think batteries |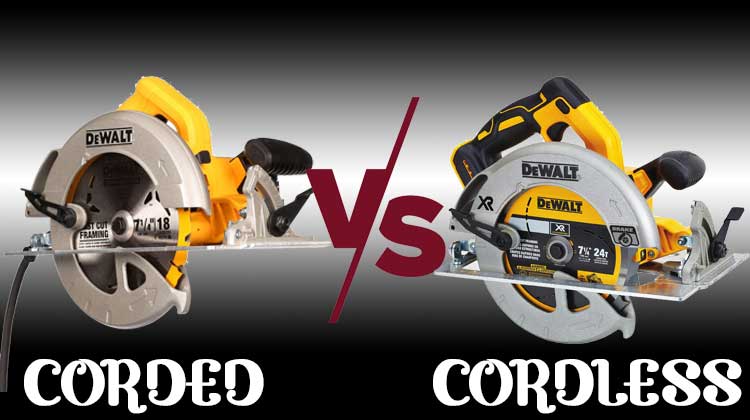 Basics of Corded Circular Saw
Corded circular saws are well-known for their heavy-duty performance. These machines are used to tackle tough jobs like cutting steel and masonry work among other tough applications. For one, they're handy tools and are corded directly to electricity. Therefore, you can enjoy a long time work on this device. Most importantly, it will not hamper your work unless a certain load shedding occurs.
Advantages Of Corded Circular Saw
Power. With this device, you'll definitely get power! One primary advantage is that power remains the same. You'll not worry with your long working hours. As long as there is electricity, it will get the job done. The unique thing is that the best corded circular saw is suitable for heavy-duty work and that's why more power is needed.
No replacement tools needed. When you purchase a corded saw, you'll not be required to shop replacement tools and accessories in the future. Unlike cordless, corded saws don't use batteries. For cordless ones, these batteries will wear out and get damaged with time, thus forcing you to spend dollars on replacements.
Perfect blade size. Most corded saws feature 7.25-inch blades. The large blade tips usually move faster plus further from the axis, therefore, producing superior cutting power. The device is ideal for tough cutting DIY and cutting projects, including masonry, steel cutting, and continuous woodcutting.
Effective and superb performance. These machines will perform well without any hassle. At the same time, corded saws are more cost-effective. In the market, a typical corded machine will cost you less amount than a cordless one.
Disadvantages of Corded Circular Saw
Interference with projects. The machine features cords in the saws and can easily interfere with your project. Also, they can cut or get damaged in the process, forcing the user to incur additional costs. With that, you must take care when working on tricky and very long boards. It's easy to damage the whole profile.
Basics Of Cordless Circular Saw
Cordless circular saws are very popular in every workshop. They work amazingly in large spaced and confined areas. These machines are powered by rechargeable batteries hence favorite to many woodworkers. To use it, you don't need to have a cord. The best cordless circular saw is widely used for cutting wood products that require or drain less electricity. It's advisable to use this machine for light works because only less charge will be consumed.
Advantages Of Cordless Circular Saw
Power. Cordless saws will give you not only power but also convenience. I believe that power is a priority when it comes to tools. Cordless saws have smaller blades, and we all know that larger blades are the catalyst for more cutting power. In simple terms, corded machines are more powerful than a cordless one.
Convenience. The good thing about cordless saws is the level of convenience. You can easily carry and use it anywhere. Don't mind about the electricity supply; the machine comes with rechargeable batteries hence fantastic work. I once used this machine and discovered that you need to carry an extra battery to ensure continuous work.
Safe. A cordless saw is safer than a corded saw. It has a small-sized blade that is will not harm you once the machine is mishandled. You don't have to worry about leaving or misplacing cords on the floor. With this, working is made comfortable and safer.
Comes with dozen of tools. This is another great advantage comes when buying these models. You can purchase a full set of multiple items without spending that much. Most models come with dozen tools such as extra batteries.
Saves time. With cordless saws, you can save a lot of hours. You don't have to meander around looking for a power supply. It comes with batteries. Additionally, there are no extensions and long cords that require extensive care.
Disdvantages Of Cordless Circular Saw
Run by a battery. Cordless saws come with some limitations. One major drawback of this machine is that it is run or powered by a battery. Such batteries require more time to charge, and when these batteries get damaged, the extra cost is needed. Eventually, there will be a demand for expensive replacements.
Conclusion
To wrap up, both corded and cordless have several features and benefits. Both are powerful and superb whenever in operation. They're also effective and produce exceptional performance. However, corded is more powerful than cordless because it is powered by electricity. With their pros and cons, you can now make the right decision depending on your needs.