If you plan on buying a circular saw, chances are that a Makita model will be top of your wishlist. After all, Makita is a brand known for its reliable tools.
But which Makita model should you purchase? If you are looking for a 7¼ inch saw, you will most likely narrow down to the Makita 5007mg vs. 5007mga.
Both saws score high in ease of use, performance, power, features, and design. However, if I had to choose the winner between the two, I would pick the Makita 5007MGA, because of its electric brake.
Let's take a deep dive into how these two models compare.
What Makita 5007mg Offers?
The Makita 5007mg seems to tick all the right boxes. It is powerful, lightweight, and can cut through different types of materials. A 15 amp motor powers this circular saw and generates up to 5800 RPM.
Out of the box, it comes with a 7.25-inch carbide tipped blade that will have no trouble sawing through 2-½ inch of thick wood at 90 degrees. It is also capable of bevel cuts with a maximum bevel angle of 56 degrees.
And the best part is that it comes with positive bevel stops at 22.5 and 45 degrees. There are also two LED bulbs to illuminate your workspace and environment. Thus you will have no trouble using this model in low light.
It's a little disappointing that this unit does not come with a dust port. However, there is a dust blower that does a pretty good job of keeping your workspace dust-free.
I do love the ergonomic rubber handle on this unit, as well as the base ruler. The former helps minimize fatigue, while the latter is great for precision.
Pros
The saw has an impressively big cutting capacity
It delivers powerful performance and can cut wood as well as other materials such as ceramic
Thanks to its large magnesium construction, it is lightweight
The two LED lights help illuminate the workspace in low light
Cons
Lacks an electric brake
Tends to consume a lot of energy
What Makita 5007mga Offers?
The Makita 5007mga packs all the features that the 5007mg has. So you can expect the same15 amp motor and the same 5800 RPM blade speed. However, this unit is slightly smaller than its counterpart.
More importantly, it comes with an electric brake, which is missing in the 5007MG
Pros
Is a powerful circular saw capable of sawing 2-½ thick wood
Has a lightweight and portable design
Comes with an electric brake as a prominent safety feature
Has an impressive cutting capacity
Cons
Is a bit pricey
Tends to consume a lot of electric powerv
Makita 5007mg vs 5007mga: Comparison
Performance:

Honestly,performance-wise, the two saws are similar. Both feature the same 15 amp motor and a blade rotation speed of 5800 RPM. There is no clear winner regarding performance, and you should enjoy clean and precise cuts with both saws.
Durability: In the durability department, they are also at par with each other. Both saws are largely made of magnesium. As such, they are durable without being overly bulky. Both can be used as Jobsite circular saws.
Cutting depth: There is no difference in the cutting depth department either, with both featuring a cut depth of 2.5 inches.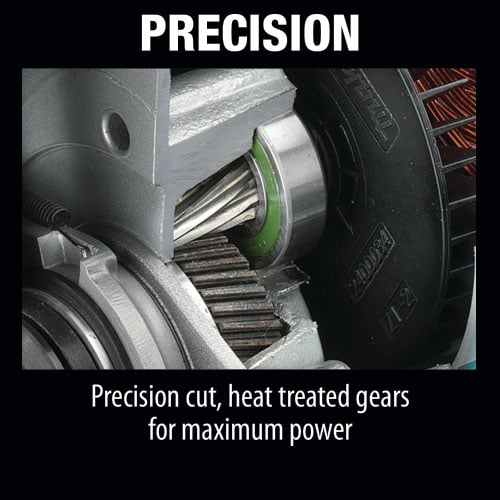 Weight and portability:

While both saws weigh the same,10.6 pounds, the 5007mga is slightly smaller than the 5007mg. The latter measures 20.9 x 17.9 x 13.9 inches, while the former measures 10.25 x 17.75 x 12 inches. However, despite this difference, both are relatively portable.
Saw design:

The similarities continue in the design aspect as both saw look almost the same, and it is possible to confuse them. They both feature the exact 7.25-inch carbide tipped blade that performs well. Also, they both feature an ergonomic rubber handle.
Construction:

As already mentioned, both saws are constructed from magnesium. They also feature a ⅝ inch arbor blade, and instead of a laser guide, you get two LED lights on both. The two lights help keep your work area illuminated.
Usability: Both saws come with a 7.25 carbide-tipped blade mounted on the right-hand side. You will mostly use them for cutting wood, but you can swap out the blade to cut other materials. You can use both saws to cut plastics as well as ceramic.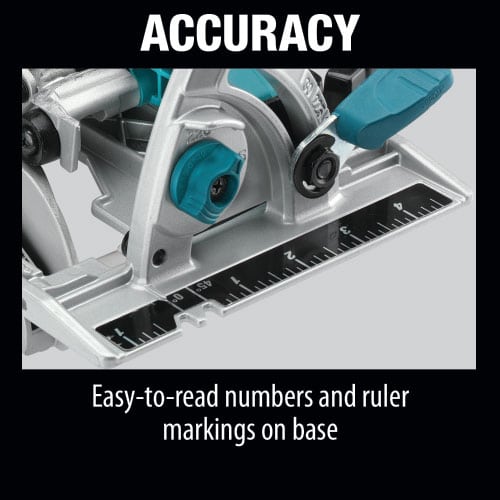 Safety: In terms of safety, the 5007mga comes with an electric brake, while the 5007mg does not have one. This means that in regards to safety, the 5007mga is the better of the two.
The Differences
Electric Brake:

There is only one major difference between the 5007mg and the 5007mga, and that is the electric brake. This feature is found on the 5007mga and is missing in the 5007mg.
Price:

Due to an electric brake addition, the 5007mga may be a bit pricier than the 5007mg. This is the only other difference between the two.
If you are looking for some cheaper circular saw let's say under 100 dollars for your DIY projects these cheap circulars saw under 100 dollars will be worth checking.
So Why The Electric Brake is Important?
Thanks to the electric brake, the blade of the 5007mga stops spinning immediately after it's turned off. For the 5007mg, you will have to wait until the blade slows down and stops. If you are using your saw on different job sites, this electric brake is important.
With it, you do not have to wait for the blade to come to a stop for you to move to the next task.
Conclusion
So should you buy the Makita 5007mg or the Makita 5007mga? Honestly, there is so little difference between the two that it really won't matter for most people. For general DIY projects, the 5007mg will be sufficient.
However, if you are new to circular saws or have a lot of cutting to do in different locations, the 5007mga with its electric brake will be a better option. Not everyone will want to wait for their saw blade to come to a complete stop for them to move to the next task.
And this is where the electric brake comes in handy.