It is fair to say that operating and maintaining a chainsaw is work more suited to men than women. However, this is not to say that chainsaws are reserved for men. There are plenty of small and lightweight chainsaws specially designed for women.
Indeed one of the most frequently asked questions concerning chainsaws is, which is the best chainsaw for women? This is not an easy question to answer. All the same, we have compiled a list of six chainsaws that, as a woman, you will find easy to use.
A Quick Comparison Of Our Top Picks
Reviews of Best Chainsaw For Women – Unbiased Selections!
How To Find The Best Chainsaws for women: Buying Guide
What you intend to use a chainsaw for will significantly impact your choice. Most women will be looking for chainsaws for pruning and cutting small branches. But regardless of how you intend to use a chainsaw, there are some features to consider.
For Women Chainsaw Size Is The First To Consider – Is It Lightweight or Not?
Most chainsaws designed for women are small and lightweight. A smaller chainsaw is more maneuverable. However, its cutting abilities will be limited. For pruning and trimming small trees, a 10-inch bar and chain will be sufficient.
However, if you plan on cutting firewood, we suggest going for a 14 inch or 16inch chain and bar. Ultimately a smaller saw means you will not tire quickly. Also, you will have no problems getting started with it.
Easy To Use: Check is The Chainsaw is Enough Ergonomics
It is not easy to find a chainsaw that's Easy To Use. Woman chainsaws are designed with ergonomics in mind, making them easier for women to use. The smaller size also makes it more comfortable for you to reach those hard-to-reach places when you're cutting down trees or trimming branches.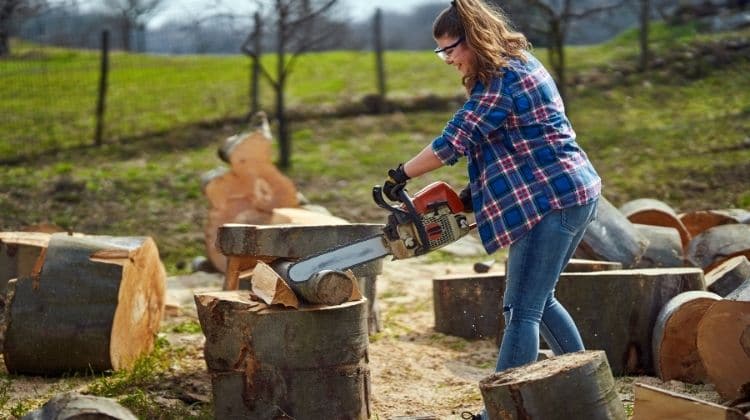 For light to medium around-the-home jobs, ergonomics are essential. Ergonomics have everything to do with how comfortable a chainsaw is. The handle should offer a good grip with a rubberized coating.
Battery life Is Crucial Since You Its Small Chainsaw
Most small chainsaws for women are battery-powered. That being the case, battery life is another essential factor to consider. A good chainsaw should last you a while before you have to re-charge it.
Lithium-ion batteries are preferred for chainsaws. They have a higher energy density than their predecessors. Another thing to consider is how fast the battery charges. Some models have fast charge times of about 45 minutes.
Safety Is Must To Consider: Find an anti kickback Chainsaw
A chainsaw doesn't know the difference between your arm and a log. So when shopping for a chainsaw, it is essential to consider its safety features especially for women. Ordinarily, smaller chainsaws have a lower kickback than large gas-powered models.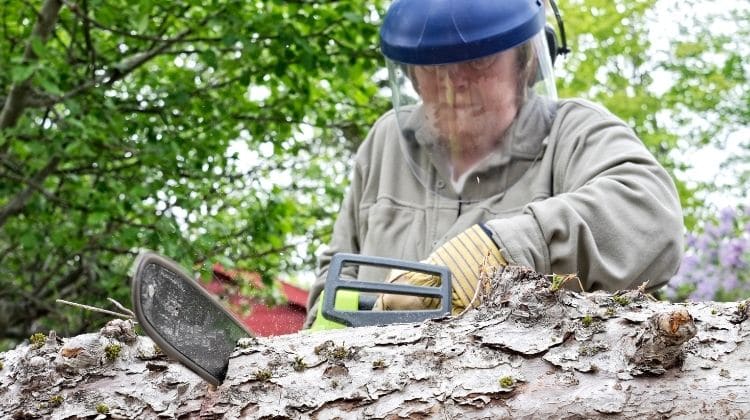 Kickback is a sudden reaction of the chainsaw to the user's pull or push. It happens when the sawdust, dirt, and debris that has accumulated on the teeth get into contact with hot chain oil. The heat causes it to contract, which in turn forces an abrupt kickback of the blade. This can result in severe injury and even death if not acted upon immediately. To prevent this from happening, you need an anti-kickback feature for your woman's chainsaw!
Nonetheless, we recommend purchasing a model that has a chain brake. The latter will prevent the risk of a kickback-related injury.
Where Do You Live In The US?
California has some of the most rigorous emissions standards in the country. This is great for the environment, but it can be frustrating if you want to purchase a lawn tool such as a chainsaw that is high-powered. The EPA (Environmental Protection Agency) and CARB (California Air Resources Board) have strict emission requirements which limit what types of products consumers can buy.
Conclusion
Not all chainsaws are designed for women. However, the ones we have reviewed above can be used by virtually anyone. They are small and lightweight; more importantly, they are not complicated.
As such, you can pick up one and start using it immediately.
Last update on 2022-01-25 / Affiliate links / Images from Amazon Product Advertising API