It is fair to say that operating and maintaining a chainsaw is work more suited to men than women. However, this is not to say that chainsaws are reserved for men. There are plenty of small and lightweight chainsaws specially designed for women.
Indeed one of the most frequently asked questions concerning chainsaws is, which is the best chainsaw for women? This is not an easy question to answer. All the same, we have compiled a list of six chainsaws that, as a woman, you will find easy to use.
We have selected these chainsaws based on three main aspects,
weight,
size, and
cutting ability.
Based on these criteria, our choice for the best chainsaws for women goes to the Greenworks 12 inch 40v cordless chainsaw and the close runner up is Black+Decker 20V MAX Cordless Chainsaw.
reenworks is a lightweight and small chainsaw. However, with its 40v battery, it is capable of cutting through 4 to 10-inch limbs. While it is our best, some of the other chainsaws on the list offer benefits that are hard to ignore.
A Quick Comparison Of Our Top Picks
Table could not be displayed.
Reviews of Best Chainsaw For Women – Unbiased Selections!
Best Small Chainsaw for a Woman: Greenworks 12-Inch 40V Cordless Chainsaw
No products found.
The Greenworks 12 inch 40v cordless chainsaw is perhaps the smallest chainsaw from Greenworks. It sports a relatively short 12-inch bar and chain. But don't let its size fool you. This is a capable cordless chainsaw for home use.
What surprised us about this miniature chainsaw is how well it cuts. It had no problem cutting through 4-inch limbs. And while it took some time to cut through 10-inch branches, it still got the job done. And in all fairness, we didn't expect it to have the same power output as a gas-powered chainsaw.
Another thing we liked about this chainsaw was the large oil reservoir. The latter holds plenty of oil to keep the chainsaw oiled throughout its battery life. It also has a large translucent window to give you a view of your oil reservoir.
Given it's a cordless chainsaw, you will have no problems adjusting the chain's tension. There is a knob at the rear of the chainsaw that is designed for this very purpose.
Two Thumbs Up For
It is a small and lightweight chainsaw making it easy to maneuver
No tools required to adjust the chain tensioning
Comes with a large reservoir with a translucent window, so you can know when it's almost out of oil
The 40v battery gives it enough power to cut through 4 to 10-inch branches
Overall it is easy to use and start a chainsaw
What's Not To Like
Does not have an automatic chain brake
Is not as powerful as some other similar models
We were, of course, disappointed with the lack of a chain brake. But it does have safety features, also since it's small and light, it has almost no chance of kickback. So in fairness, it is an excellent Lightweight chainsaw for women.
BLACK+DECKER 20V MAX Cordless Chainsaw
No products found.
The Greenworks cordless chainsaw may be small, but it isn't the smallest. That honor goes to the Black + Decker 20v max cordless chainsaw. With a 10 inch bar and chain, it is among the smallest in the market.
But how does it fair? Well, for such a small chainsaw, it is actually very effective. Firstly, this is designed for light-duty tasks. You can use it for pruning, chiseling and carving wood. What earns it a spot on the list is its ease of use.
Thanks to its compact and lightweight design, it is easy to use. Also, it is one of the quietest models we have ever used. The sound it produces is more related to the hum of a vacuum cleaner than the noise of a chainsaw.
To make things easy for you, it features an auto-oiling feature. The 20v battery that powers it does not scream power, but it is enough for around-the-home tasks.
Two Thumbs Up For
It is a small chainsaw ideal for people who lack the physical build to wield a fully-fledged gas powered chainsaw
This chainsaw is exceptionally portable
It is offered at an affordable price tag
Due to its size, you do not have to worry about kickback
Has an easy to adjust chain tensioning
What's Not To Like
Has a short bar and chain and may struggle when cutting limbs of medium thickness
The auto-oiling system is not the best
Firstly, this is not a powerful chainsaw, so it's not the kind of tool you buy if power is what you are after. However, if you want an easy-to-use cutting tool for home use under 200 dollars, there is no beating its value. It's lightweight and will not cost you a fortune.
Sun Joe SWJ599E 14-inch 9-Amp Tree Limb Master Electric Handheld Chains
No products found.
If you want a chainsaw with a little bit more oomph that will not break the bank, consider the San Jose SWJ599E electric handheld chainsaw. This is an electric chainsaw, meaning you need to use it near a power supply.
That notwithstanding, though, it is a pretty decent power tool. It is powered by a 9 am motor that gives it enough juice to cut through some pretty thick branches. In our tests, it managed to cut through 13-inch branches with ease.
Since this is designed mainly for home use, we were curious to know what safety features it comes with. And we were not disappointed. It features a safety switch that has to be turned on for it to start.
For people with kids, this is an essential feature as it minimizes the chances of your kids toying around with it. While it is more powerful than most battery-powered models, it is not bulky, weighing only 7.7 pounds.
Two Thumbs Up For
Has a safety switch that prevents accidental switching off
It has a 14-inch chain and bar ideal for most pruning and trimming jobs
Comes with an automatic oiler with a window to check oil levels
The chain and bar are self-lubricating for continuous use
Features a kickback brake function
What's Not To Like
Since its corded, its usage is limited to places with a power outlet
Is not ideal for cutting bigger limbs
As far as electric chainsaws go, this is one of the best. It is pretty powerful for an electric chainsaw, without being heavy. Weighing 7.7 pounds, it is easy to maneuver and can be used by most people of average build.
EGO Power+ CS1400 14-Inch 56-Volt Lithium-Ion Cordless Chainsaw
No products found.
We absolutely love the EGO Power + CS1400 14 inches and not just because of its unique design. It is one of the most powerful cordless chainsaws on the market. At the same time, it is lightweight enough for most people.
One of its best-selling features is the 56-volt lithium-ion battery. Combined with its brushless motor, it offers a smooth cutting experience. More importantly, it can saw through thicker branches than what most other cordless models are capable of.
It features a 14-inch chain and bar that adds to its cutting efficiency. There is a chain tensioning knob that makes it easy to adjust the tension of the chain. The chain has a gauge of 0.043 inches and a pitch of ⅜ inches.
While it offers power, it is still small and lightweight that chances of kickback are close to none. But in the case of kickback, it is fitted with a chain brake that comes in handy. Not many cordless chainsaws come with a kickback, making this a unique proposition.
Two Thumbs Up For
Has a powerful 56v motor that delivers a good cutting experience
The battery has a charge time of 40 minutes
Overall it is easy to use
Despite its power, it runs quietly
Weighing only 11 pounds, it is a lightweight chainsaw
What's Not To Like
Oil tends to slip when in storage
Is a bit pricey compared to other similar models
One thing that we must mention is that this chainsaw has one of the most ergonomic designs we have ever seen on a chainsaw. Secondly, it is easy to start chainsaw, making it ideal for light to medium tasks.
Best Gas Powered Chainsaws For Women: Ladyiok 62CC Chainsaw 20″ Powerful Chainsaw
No products found.
Not everyone is interested in a cordless or electric chainsaw. Some women want the experience of handling a real gas-powered chainsaw. And the Ladyio 66cc chainsaw is as close as you can get to wielding a powerful gas-powered chainsaw.
A 62 cc 3.5 horsepower engine powers this unit. The latter churns out more power than any electric or battery-powered model. With its powerful engine, it easily cuts through 10 inch thick branches.
The chain and bar on this model is one of the largest in its price point. It sports a 20-inch chain bar that dwarfs the chain and bars of the other models on our list. This larger chain and bar give it the ability to cut thicker branches.
Its oil tank can hold up to 260 ml of oil, which is plenty of oil for all your cutting needs. Despite it being a gas-powered model, it is still relatively lightweight. It weighs about 7.5 kg, largely thanks to its abs plastic construction.
Two Thumbs Up For
Delivers exceptional power for cutting thicker branches
Has an easy to grip and comfortable handle that helps reduce shaking when in use
Can withstand high temperature and is built to last
Thanks to its construction is not as bulky as other gas-powered models
Comes complete with a storage bag
What's Not To Like
The default chain and bar can be aggressive
With a 20 inch, bar and chain might not be as easy to maneuver as others on the list
Overall this gas chainsaw for women is a powerful chainsaw that is not as bulky as other gas-powered models. It handles itself well and is capable of cutting thicker branches that cordless models cannot handle.
WORX WG305.1 Electric Chain Saw
No products found.
The Worx WG305 is a lightweight powerhouse preferred by older people or people who, for some reason, such as injury, cannot handle a gas-powered model. Weighing less than 7 pounds, it is designed for light to medium general cutting tasks.
Being an electric saw, it has zero emissions, so if you are conscious about the environment, this is a model that will please you. You have to engage a safety lock before starting it. This prevents accidental powering on and also discourages kids from trying to use it.
We tested this on a 12-inch log, and it had no problems cutting the trunk in a single pass. It will need several passes to cut through thicker logs of wood. The 14-inch bar and chain can handle most logs of average size.
The 8 amp motor is powerful enough for general tasks. Also, this has a low kickback, thus it is safer to use. And as you would expect from an electric chain saw it does not require tools to adjust the chain tension.
Two Thumbs Up For
Weighing less than 7 pounds, it is lightweight and easy to use
Has a safety switch that prevents accidental starting of the machine
Does not require tools to adjust the tension of the chain
Is relatively cheaper chainsaw than other options available
It is easy and quick to start
What's Not To Like
Does Not Have the most robust construction
Does not have an automatic oiler
The WORX WG305.1 is highly rated by its users, and it's not hard to see why. While it isn't perfect, for the price, it is hard to beat. It is capable of handling most pruning and limbing tasks.
How To Find The Best Chainsaws for women: Buying Guide
What you intend to use a chainsaw for will significantly impact your choice. Most women will be looking for chainsaws for pruning and cutting small branches. But regardless of how you intend to use a chainsaw, there are some features to consider.
For Women Chainsaw Size Is The First To Consider – Is It Lightweight or Not?
Most chainsaws designed for women are small and lightweight. A smaller chainsaw is more maneuverable. However, its cutting abilities will be limited. For pruning and trimming small trees, a 10-inch bar and chain will be sufficient.
However, if you plan on cutting firewood, we suggest going for a 14 inch or 16inch chain and bar. Ultimately a smaller saw means you will not tire quickly. Also, you will have no problems getting started with it.
Easy To Use: Check is The Chainsaw is Enough Ergonomics
It is not easy to find a chainsaw that's Easy To Use. Woman chainsaws are designed with ergonomics in mind, making them easier for women to use. The smaller size also makes it more comfortable for you to reach those hard-to-reach places when you're cutting down trees or trimming branches.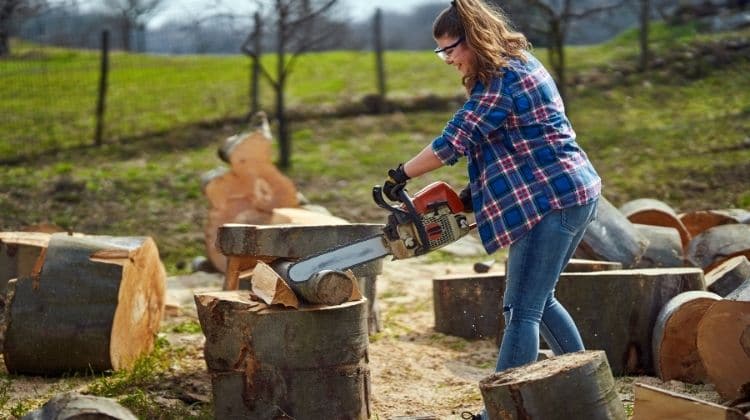 For light to medium around-the-home jobs, ergonomics are essential. Ergonomics have everything to do with how comfortable a chainsaw is. The handle should offer a good grip with a rubberized coating.
Battery life Is Crucial Since You Its Small Chainsaw
Most small chainsaws for women are battery-powered. That being the case, battery life is another essential factor to consider. A good chainsaw should last you a while before you have to re-charge it.
Lithium-ion batteries are preferred for chainsaws. They have a higher energy density than their predecessors. Another thing to consider is how fast the battery charges. Some models have fast charge times of about 45 minutes.
Safety Is Must To Consider: Find an anti kickback Chainsaw
A chainsaw doesn't know the difference between your arm and a log. So when shopping for a chainsaw, it is essential to consider its safety features especially for women. Ordinarily, smaller chainsaws have a lower kickback than large gas-powered models.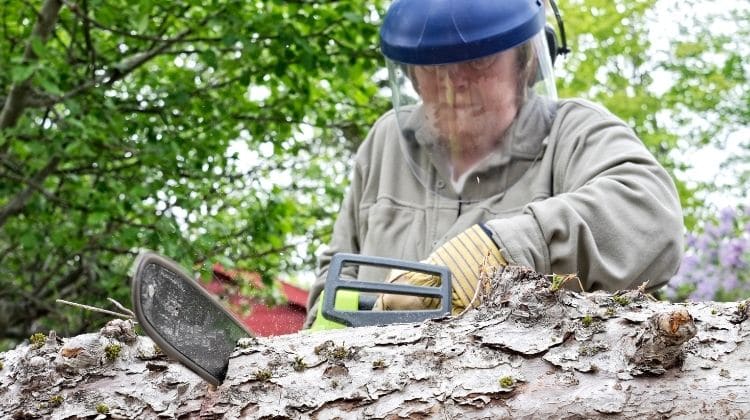 Kickback is a sudden reaction of the chainsaw to the user's pull or push. It happens when the sawdust, dirt, and debris that has accumulated on the teeth get into contact with hot chain oil. The heat causes it to contract, which in turn forces an abrupt kickback of the blade. This can result in severe injury and even death if not acted upon immediately. To prevent this from happening, you need an anti-kickback feature for your woman's chainsaw!
Nonetheless, we recommend purchasing a model that has a chain brake. The latter will prevent the risk of a kickback-related injury.
Where Do You Live In The US?
California has some of the most rigorous emissions standards in the country. This is great for the environment, but it can be frustrating if you want to purchase a lawn tool such as a chainsaw that is high-powered. The EPA (Environmental Protection Agency) and CARB (California Air Resources Board) have strict emission requirements which limit what types of products consumers can buy.
Conclusion
Not all chainsaws are designed for women. However, the ones we have reviewed above can be used by virtually anyone. They are small and lightweight; more importantly, they are not complicated.
As such, you can pick up one and start using it immediately.