The maneuverability and ease of use of a chainsaw will depend mainly on its rotational speed. This is how fast the chain rotates per minute. The best and probably only way of measuring a chainsaw's RPM is by using a tachometer.
So what is a tachometer? A tachometer is a device used to measure an engine's rotations per minute. Therefore, the best chainsaw tachometer is one that you can use to measure your chainsaw's rotations per minute.
Now that you know what a tachometer is let's take a look at the best tachometers for chainsaws on the market. And also exploring what features make a great tachometer. We have six tachometers on our list.
Topping this list is the SEARON Digital Chainsaw Tachometer. There are a lot of reasons why we picked this as our best, but the main was its impressive RPM reading range.
Occupying the second spot on our list is the CyberTech handheld laser tachometer. The latter had a lot of great features. And so did the other four on our list, so you may want to have a look at all six before deciding on which to purchase.
A Quick Comparison Of Our Top Picks
RPM Capacity
laser measures 2.5 to 99,999 and Contact Tach 0.5 to 19,999 RPM
RPM Capacity
laser measures 2.5 to 99,999 and Contact Tach 0.5 to 19,999 RPM
Reviews of The Best Chainsaw Tachometer
Best Wireless Chainsaw Tachometer: CyberTech handheld Laser Tachometer
Our pick for the best wireless chainsaw tachometer is the CyberTech handheld laser tachometer. So what do you get with this wireless tachometer? Well, the first thing to note is that this tachometer can measure RPM of between 2.5 and 99,999 RPM.
One feature that we liked is the auto-zero adjustment. The latter lets you store the values that you want. We also loved the LCD on this device, and we thought it was one of the best. In terms of power, you get 4 AAA batteries powering it.
Two Thumbs Up For
The large 5-digit LCD is clear and bright
Comes with a fantastic RPM reading range of between 2.5 and 99,999 RPM
Has a pretty accurate level of 0.5%
Is possible to store the values that you want
What's Not To Like
The price to performance ratio is not great
In terms of overall quality, this tachometer is an excellent option. It has a great LCD that is bright and clear and a pretty fantastic RPM reading range.
Runleader HM032R Inductive Tachometer: (Best Small Engine Tachometer)
We tested a variety of tachometers, and the Runleader HM032R came out as the runners up. This one is designed for 2/4 stroke engines. So what impressed us? Firstly it has a replaceable battery, and data is stored automatically after a battery change.
Capable of measuring RPM even while the engine is running, this device shows an engine's current RPM, records, and max RPM. All this information is displayed on a backlit LCD, which we found to be quite easy to read.
While the total run time is not resettable, you can reset the partial run time when you need to switch jobs. The same applies to the maintenance timer.
Two Thumbs Up For
With a 1.5 m induction wire, it is easy to install
The backlit LCD panel is easy to read
The tachometer has a waterproof rating of IP65, which is great
It automatically saves data even when you remove the battery
What's Not To Like
We found the included zip ties to be a bit too small
This tachometer can record and display up to 99999 hours/20000 RPM, which is excellent. It is definitely one of the best chainsaw tachometers as well as small engine tachometer out there.
Best Digital Chainsaw Tachometers: Hardline Products HR-8061-2 Hour Meter/Tachometer
The Hardline Product HR-8061-2 tachometer is a digital tachometer that holds up pretty well. One of the best things about this tool is that it can give readings of up to 16,000 RPMs. This is quite impressive, considering most can only give readings of up to 10,000 RPMs.
The 100% epoxy encapsulated case that it is made out of means water will not damage it. Also, it can record displays for up to 1000 hours. One other thing we loved was the battery—no need to frequently replace it as it can go up to 10 years.
Two Thumbs Up For
Is capable of measuring RPMs of up to 16,000 RPM
Keeps data displayed for up to 9999.99 hours
Thanks to its construction this tachometer is waterproof
With a battery run time of about ten years, there is no need for frequent battery changes
What's Not To Like
Compared to other tachometers this one is relatively pricey
This is one of the best digital tachometers on the market. Everything from its construction and run-time is excellent.
Stihl EDT 9 Chainsaw Tachometer
Stihl is known for its top handle chainsaws to lumber milling chainsaws, but the company also makes fantastic chainsaw accessories, tachometers being some of them. The Stihl EDT 9 tachometer is one of the company's best offerings.
While it isn't cheap, this Stihl chainsaw tachometer is a great tool. It is a wireless tool that uses a dual magnet flywheel system. However, it offers a wired option as well.
Two Thumbs Up For
Can be used as either a wired or wireless option
Comes with an easy to use digital interface
It is an excellent option for Stihl chainsaws
What's Not To Like
This tachometer is hard to find, and there is very little information on it online
As mentioned, there is very little information on this tachometer online. But most reviews we have read are unanimous on its benefits.
SEARON Digital Chainsaw Tachometer
Next up is another digital tachometer, the Searon Digital Chainsaw tachometer. We read a lot of good things about it before our test. And we have to say it held up to the claims pretty well. Firstly, it has a decent runtime of about 99,999 hours.
But what really impressed us about this tool was the RPM reading range. It can measure readings of up to 25,000 RPM. Also, when it comes to the battery the Searon is on its level.
Instead of the average AAA battery, it comes packed with a CR2032 Lithium-ion battery. This one undoubtedly packs more juice than AAA batteries.
Two Thumbs Up For
Has an impressive runtime of 99,999 hours
Can be used to measure the RPM of a wide variety of tools chainsaws and mowers included
Has an impressive RPM reading range of 0 to 25,000 RPM
It is easy to turn it on and off thanks to the screwable cap
What's Not To Like
The battery installation is not the best
When you want to know What RPM does a chainsaw run at? Or any other power tool, this is an excellent tachometer to use. It works well with chainsaws, mowers, RC toys, and engines.
Husqvarna 502711401 PET-302 Chainsaw Engine Tachometer
Another chainsaw maker that does not limit itself to the making of chainsaws is Husqvarna. The latter is the maker of the 502711401 PET-302 chainsaw tachometer. So how does this Husqvarna chainsaw tachometer fare against the competition?
This tachometer is very easy to use. All you need to do is hook it up to your engine using the included cord. Lithium-ion battery power it; thus, you don't have to worry about changing the battery soon.
Also, the device is waterproof and will not get damaged easily from water spillage.
Two Thumbs Up For
It is small enough to be carried inside your pocket
Is waterproof and will not get damaged by water or liquids easily
It is easy to use thanks to its simple interface
It is possible to attach an antennae
What's Not To Like
It's not easy to place on a chainsaw when using an antennae
Overall, this is a pretty handy tachometer. You can use it to measure the RPM reading of a wide variety of power tools.
How To Choose The Best Tachometer For Chainsaw
When you decide to buy the first or even second tachometer, there are several things to consider. These are;
RPM range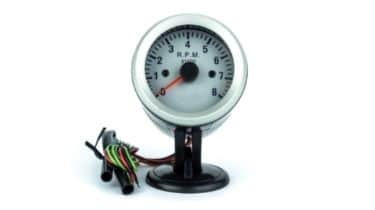 This refers to how much RPM a tachometer can read. For chainsaw tachometers, the minimum should be 10,000 RPM. The latter is sufficient for the average chainsaw RPM reading. But if you plan on measuring the RPM of other tools, a higher RPM reading range will be ideal.
Construction
A tachometer is a device you are most likely going to use outside in sometimes harsh weather conditions. Also, it will be exposed to materials such as debris and dust. As such, the construction of a chainsaw tachometer needs to be solid.
Some of the best have some kind of an epoxy or plastic covering to protect them against water. A waterproof rating is essential in a tachometer.
The display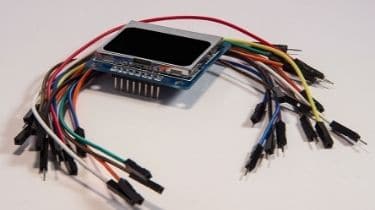 The measured Readings are displayed on a screen. Most tachometers use an LCD. However, some come with backlit LCDs. A backlit LCD is a better option as it remains visible even in low light.
Price to performance ratio
How much money you spend on any tool should influence its quality. Some tachometers can be costly, while others are affordable. For chainsaws, an average tachometer with all the necessary features will be an ideal fit.
Power source
A tachometer, just like any other tool, has to have a power source. This can either be a set of AAA batteries or a lithium-ion battery. In most cases digital, and 4 AAA batteries power cordless chainsaws.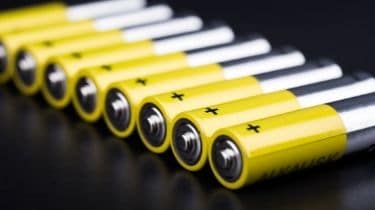 On the other hand, wired ones are powered by lithium-ion batteries. With AAA batteries, a frequent replacement will be inevitable. On the other hand, lithium-ion batteries can go for years before requiring replacing.
As such, it may come down to your preference. Ultimately though lithium-ion powered tachometers may have an advantage in regards to power.
Memory record
In most cases, you use a tachometer as part of evaluating the performance of your chainsaw. Therefore, you may want to have a record of your chainsaw's RPM at specific times. This is where the memory record feature comes in handy.
Tachometers can keep a memory of a chainsaw's minimum and maximum RPM at a given time. This data is saved even if the batteries run out of juice. So you always have this data stored securely on the tachometer.
Frequently Asked Questions
What is the work of a tachometer?
The primary function of a tachometer is to measure the speed at which an engine rotates. This speed is referred to as RPM or rotations per minute.
Why do I need a tachometer?
Tools such as chainsaws are prone to damage either due to wear and tear or breakdown. Measuring the rotation speed of a chainsaw will help you know whether it's working optimally. This is important in knowing whether your chainsaw needs fixing or replacing.
Are all tachometers the same?
While tachometers serve the same purpose, they are different types of tachometers. Some use a cord or wire to wrap around the spark plug. However, some newer digital models do not require a wire. Both serve the same purpose, and it comes down to preference.
Should I alter my tachometer?
In most cases, you do not. However, there are those cases where you will need to cut the wire if it's too long for your tool. However, this is not always the case.
What should I do if my tachometer needle is not accurate?
This is a common problem and occurs when you get less readings than what you are supposed to get. To solve it, check to see whether the connections are correctly done.
Conclusion
Chainsaws are invaluable tools to many of us, and knowing whether our chainsaws are working optimally is essential. A tachometer is helpful in this as it helps measure the maximum and minimum RPM of chainsaws.
There are very many tachometer models on the market. The six we have reviewed above have a lot of amazing features to offer. Ultimately, when buying a tachometer, it will be essential to consider the factors we have outlined above.
Also, tachometers are not reserved to chainsaws only. You can use them to measure the RPM of many different engines as well.
Last update on 2023-06-08 / Affiliate links / Images from Amazon Product Advertising API