Gone are the days when chainsaws were seen as the reserve of lumberjacks. Today, literally anyone can own and even operate a chainsaw. However, just because you can operate a chainsaw doesn't mean it's the best for the task at hand.
And when the task at hand involves cutting wood from an elevated position, the best top handle chainsaw will be your best option. Sometimes referred to as arborist chainsaws, these types of saws are lighter and easier to control.
Also, unlike traditional chainsaws, top-handle chainsaws can be operated by one hand. So, which is the best arborist chainsaw to buy? Well, like any other tool, it depends on what you want. Used mainly by arborists, these types of chainsaws come in all shapes and sizes.
In this article, I have compiled a list of the six awesome top-handle chainsaws. These six have all the features you would expect from the best top-handle arborist chainsaw. That being said, let us take a closer look.
Quick Comparison Of Best Arborist Chainsaws Selection
6 Best Top Handle Chainsaws Review
Makita XCU06Z 18 Volt LXT Lithium-Ion Brushless Cordless 10" Top Handle Chain Saw Reviews
There always comes a time when you need to prune a few branches in the yard. While a pruning saw can get the job done, you are better off with a chainsaw. And the chainsaw for the job is the Makita XCU06Z LXT cordless chainsaw.
A portable chainsaw
First of all, due to its being cordless, it is heavier than most corded chainsaw models. With its two 18V batteries included, it weighs 7.2 pounds. However, I highly doubt that you will have problems carrying it around in the yard.
Sufficient cutting capacity
Powered by two 18V batteries, this chainsaw has a pretty decent cutting capacity. It has a 10-inch guide bar, meaning you can comfortably cut branches of up to 10 inches in thickness. Included with the chainsaw is a dual charger for charging both batteries at the same time.
Easy to use
What makes this model easy to use is its automatic oiling system. This keeps the bar and chain well-oiled as you cut branches. Obviously, you must ensure the oil reservoir is filled with oil before you cut anything.
PROS
Since it is cordless chainsaw, you can easily carry it around the yard
Given its features and cordless design, it is rather lightweight
With the dual charger, you can charge both batteries at the same time
You do not require any tools to adjust the chain
The dual charger is a fast charger
CONS
Compared to other models it is quite expensive
Finding a replacement chain can be troublesome
Specs
Two 18V lithium-ion batteries
87-decibel noise level
10-inch guide bar
4720 FPM chain speed
Star protection controls
It might not be the most affordable chainsaw on the market, but its rather hefty price tag is more than justified. Especially when you consider all the features you are getting. Its set of features and ease of use earn it the title sd one of the best top handle chainsaws on my list.
Husqvarna T435 12-Inch 35.2 cc X-Torq Gas Powered Top Handle Chain Saw
While the Makita XCU06Z takes the title of the best arborist chainsaw, the Husqvarna T435 is the best top handle gas chainsaw. It is one of the most lightweight chainsaws out there. And is thus ideal for pruning branches.
Portable and lightweight
One of the main reasons why this model is loved by many is its weight. It weighs 8 pounds and features a 12 to 14-inch guide bar. This is quite impressive, considering the more expensive battery-powered Makita weighs 2 pounds heavier.
Environmentally friendly
One of the unique features of this unit is the x-torq system that reduces gas consumption. This system also reduces exhaust emissions. Thus, if you are keen on keeping our environment pollution-free, this model will appeal to you.
Easy to remove air filters
Air filters are important in any gas-operated chainsaws. As such, you will need to clean or replace the air filters after some time. Fortunately, this model comes with a quick-release air filter that makes removing the air filters easy.
PROS
It is one of the most lightweight chainsaws
Offers a good grip and safety features
Has low vibration making it ideal for people of different stature
Thanks to its 12 to 14-inch guide bar, it is fast and efficient at cutting and pruning
Comes with an adjustable oil pump
CONS
It is rather difficult to adjust the chain
Some users have found it hard to start and re-start
Specs
X-torq system for low fuel consumption
12 to 14-inch guide bar
Adjustable oil pump
Chainsaw tensioning from the side
Quick-release air filters
One of the things I didn't like about it is that it can be difficult to use. However, in the right hands, this is a powerful gas-operated tool. It is lightweight and offers sufficient power and cutting capacity. Hence why it is considered by many to be the best top handle gas chainsaw.
SALEM MASTER Gas Chainsaw 25.4CC 2-Cycle Arborist Chainsaw Top Handle, 12-Inch Professional Chainsaw,
Power, portability, and ease of use are what you get with the SALEM MASTER Gas Chainsaw. Powered by a 25.4cc engine, this top handle chainsaw comes with a unique design specially for the arborist.
Powerful engine
As already stated, it is powered by a 25.4cc engine. This 1.2 horsepower engine has low emissions, which is vital for the environment.
This handheld petrol chainsaw can generate speed up to 8500 RPM. You can use this chainsaw for pruning, cutting logs, and other DIY projects efficiently.
Also, if you are an arborist or tree climber, this saw is perfect for maneuvering within the trees.
12-inch bar and chain
The engine housing is connected to a 12-inch bar and chain. This combination delivers efficiency when cutting. Also, with the 12-inch chain and bar, you can expect close to no kickbacks. This is particularly beneficial if you are new to chainsaws as well as helpful for an arborist.
Safety
What I like most about this chainsaw; it has quick stop chain brakes, which will protect you against accidental starts. Also, it comes with a safety throttle switch which will give you peace of mind. And last but not least, for emergency braking, you have the option of the front guard.
A reliable chain
Measuring 12 inches, the chain on this machine is another one of its bestselling features. It has a 3/8 inch pitch, 0.05-inch gauge. Thus it can cut through wood of varying thicknesses.
PROS
It is lightweight enough for carrying around.
One-handed operation, which is a plus for tackling tasks in the odd situation efficiently.
For continuous fuel supply, it uses the automatic lubrication system.
It is a cordless chainsaw for improved versatility
190ml Fuel Tank
150ml Oil Tank
It features a compact design
CONS
You may experience issues of over oiling
Specs
Gas-powered
25.4CC 2-Cycle engine
12-inch bar and Oregon chain
Automatic gear-driven oiler
This is one of the most powerful top-handle chainsaws out there. It is powered by a commercial-grade 1.2 horsepower engine which is powerful enough for most pruning jobs. Also, despite its power, it has zero kickbacks which makes it a safe option for beginners.
New Echo Top Handle Chain Saw CS-355T 16″ Bar: Best Climbing Chainsaw.
Probably the lightest top handle chainsaw on the market, the Echo CS-25IIt climbing saw was a game-changer when it was released. It weighs only 8 pounds and can be used with one hand. However, there is more to this chainsaw than its lightweight design.
Top-mounted clutch driven Oiling System
The first thing I liked about this chainsaw was the location of the bar oil reservoir. Unlike a traditional chainsaw, the bar oiler is located at the top; this allows for easy access. Also, since the oiler only operates when the chainsaw moves, it does not collect under the saw when not used.
Impressive performance
I was curious to see how this small and lightweight machine would perform. Powering it is a 35.8cc professional-grade 2-stroke motor. This motor allows it to cut through limbs of up to 10-12 inches easily. Considering its size, this is quite impressive.
Easy To Start
Some chainsaws are a nightmare to start, not this little guy, though. With a Reduced-effort starting system for easy start-ups, you just need to pull the starter rope, and you are in business.
PROS
One of the lightest and most compact chainsaws out there
It is straightforward to start
The oiler runs only when the chainsaw moves, which saves oil and prevents it from building up when idle
Despite its size, it is quite powerful and can cut limbs of up to 10-12 inches
It is easy to adjust the chain tension thanks to the side adjustment chain tensioner
Handle angle provides a natural wrist position
CONS
Lil bit pricey but worth every penny.
Specs
35.8cc 2-stroke motor
Spring-assist starting system
14inch and 16-inch bar and chain sizes
Automatic and adjustable oiling system
Digital ignition system
It is by far the smallest top handle chainsaws on my list. There is a reason why it is considered one of the best arborist chainsaws. Due to its size and weight, it is ideal for people who have to climb trees to cut dead branches.
PINKWAY 2-Cycle Top Handle Saw Gas Powered Chainsaw 26cc
If you're looking for a powerful top handle chainsaw to chew through thick logs and branches, then the PINKWAY 2-Cycle Top Handle chainsaw might be the one for you. While it's not the lightest we've ever tested (about 14 pounds when fully assembled), it's still easy to handle, and the large, curved handle makes it easy to use with one hand while the other hand steadies the wood you're cutting.
The PINKWAY 2-Cycle Top Handle Gas Powered Chainsaw is ideal for cutting firewood, clearing brush, cutting fallen limbs and more. This chainsaw uses a 2-cycle engine for easier starting and is designed with a top handle for comfort.
All-day comfort is ensured by the anti-vibration handle, while the wrap-around front handle and the rear handle both have rubberized grips for improved control.
Specs
26cc 2-stroke motor
Engine Speed Upto 3000 RPM
Lightweight and easy to maneuver
Comes with 10 and 12 inch 2 pieces of chain
DEWALT DCCS620P1 20V MAX Lithium-Ion XR Brushless Compact 12 in. Cordless Chainsaw Kit
I have always been a fan of DEWALT products, especially their chainsaws. And one that really impresses me is the DCCS6200PI 20V Brushless cordless chainsaw. This battery-powered power tool is quite the workhorse.
Standard 12 inch bar and chain
The 12-inch bar and chain you get with this chainsaw package are pretty standard. However, it does a great job of cutting through logs of up to 10 inches in diameter. Ideally, this saw works best on logs that are between 6 and 10 inches in diameter.
While it can cut logs of more than 10 inches in diameter, it will take more effort. Also, you really need to be good with a chainsaw before trying it.
An easy to use cordless power tool
Cordless chainsaws are always the best for yard work. Powered by a 20V 5.0Ah battery pack and thus does not require a cord. When fitted with the battery pack, it weighs about 8.8 pounds which is quite manageable.
Exceptional build quality
One of the reasons why I love DEWALT products is their exceptional built quality. And this cordless chainsaw is no exception. It feels and looks very well made and is well balanced.
PROS
With its 12 inch chain, it can comfortably cut logs of up to 10 inches in diameter
Weighing only 8.8 pounds with the battery pack included, it is very lightweight
Has a tool-less chain tensioning system
Comes with the battery pack and charger included
It is relatively easy to use
CONS
It is not all that powerful and will struggle when cutting thicker wood
Twisting off the chain oil cap can be bothersome as there is a lot of flex
Specs
12 inch Oregon bar and chain
Brushless motor
Tool-free chain tensioning
20 V 5.0 Ah battery pack
8.8 pounds weight with battery included
For light to medium cutting tasks, this is the chainsaw for you. It can be considered the best top handle arborist chainsaw due to its ease of use. Furthermore, it is very uncomplicated and thus can be a suitable option for beginners. It is also ideal for light yard work.
Hitachi CS33EDTP 2-Stroke Gas Powered Top Handle Chain Saw with PureFire Engine, 14-Inch.
The first thing to note about this Hitachi CS33EDTP 2-stroke gas-powered chain saw is that it's quite heavy. However, what it lacks in compactness, it more than makes up for in cutting capacity. Used mainly by arborists, it can also be used for more heavy-duty cutting.
A powerful engine
Part of the reason why it can be used for heavy-duty cutting is its 32.22cc pure fire engine. This is an engine designed to reduce emissions, and it does a good job of it. Being a commercial-grade engine, it can handle most cutting tasks.
Comfortable and easy to use
While it is more on the heavier side of chain saws, it is designed to be comfortable and easy to use. The inclusion of an anti-vibration handle system helps reduce fatigue when in use. This is important for people who need to use the saw for long periods.
Easy chain tensioning
Chain tensioning may be necessary from time to time. This chainsaw is equipped with an easy-to-access chain tensioning system. This tensioner does not require any tools and makes the whole chain tensioning process easy.
PROS
Comes with an excellent anti-vibration system to reduce arm fatigue
It is easy to use and maintain
It can be used for more heavy-duty cutting
It is easy to adjust the chain tensioning system
Has a decent weigh-to power ratio
CONS
It is relatively heavier than other similar products
Tends to consume a lot of oil

Specs
Two-stroke 32.22cc pure fire engine
14-inch sprocket nose Oregon bar and chain
Anti-vibration system
Half throttle choke and purge primer
This chain is quite heavy, which is something you need to take into consideration. Nevertheless, it's a power horse that can be used to cut woods of varying thickness. Moreover, it is relatively easy to use. In terms of quality, it can be considered one of if not the best top handle gas-powered chainsaw.
FAQ About The Best Arborist Chainsaw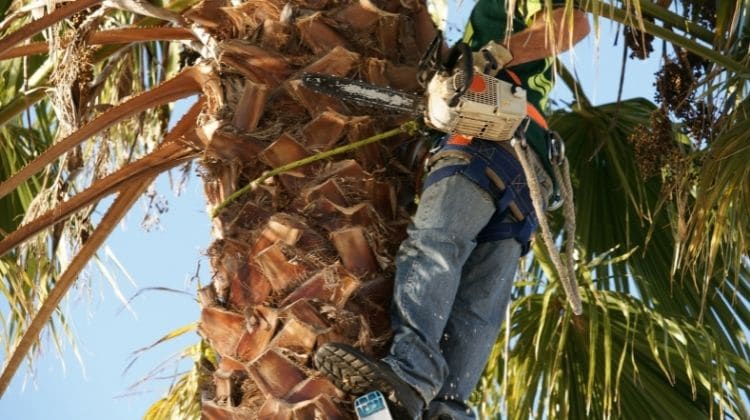 Why need a top handle chainsaw?
Unlike traditional chainsaws that have their handles positioned at the rear, the handle of a top handle chainsaw is positioned at the top. This means they are more maneuverable, and the good thing is they are also knowns as the one-handed chainsaw due to most of them being lightweight.
Which is better, a top handle or a rear handle chainsaw?
One of the debates that always comes up is that of top handle chainsaw vs. rear, which is better. Each type of saw is suited to a different task. Top handle chainsaws are suited to above-ground cutting, such as cutting dead branches on trees. On the other hand, the rear handle chainsaw is suited to cutting down trees and cutting firewood. Rear handle chainsaws tend to be more powerful and hence suited to cutting tasks that require more power.
Echo top handle chainsaw vs. Stihl, which is better?
Stihl is obviously the more famous of the two brands and for good reasons. In regards to quality, both brands have some fantastic top handle chainsaws. However, echo chainsaws may appeal more due to them being more affordable.
Which is better, a Husqvarna or Stihl trimmer?
The Husqvarna vs. Stihl trimmer might not have a clear winner due to both brands producing high-quality trimmers. However, the Husqvarna 128LD trimmer has a detachable trimmer that can be swapped out with another tool.
Thus, the Husqvarna trimmer slightly edges out its Stihl counterpart in regards to versatility. However, you cannot go wrong with either of the two.

Which is better, Husqvarna vs. Stihl top handle chainsaw.
When it comes to Husqvarna vs. Stihl top handle, chainsaw, everyone has their preferences. While Husqvarna chainsaws tend to appeal more to professionals, Stihl is a brand loved by homeowners.
Husqvarna chainsaws have a reputation for cutting faster and feature the x-torq system that makes them fuel-efficient.
On the other hand, Stihl chainsaws are cheaper and lighter due to them having a smaller fuel tank.
In regards to maintenance, Stihl chainsaws are known to require less regular maintenance. However, both chainsaw brands offer exceptional quality.
Which is better, the Tanaka or echo top handle chainsaw.
Which is better, a Tanaka or echo top handle?
Another common debate is the Tanaka vs. echo top handle chainsaw debate. While both companies offer quality top handle chainsaws, echo seems to be popular of the two. The reason being echo chainsaws tend to be more durable.
However, the biggest reason is the availability of replacement parts. Finding replacement parts for the Tanaka chainsaw can be difficult in some areas.
Bottom Line
Top handle chainsaws are built for arborists. They are lightweight and easy to maneuver. Thus, while they may not be as powerful as some of their rear handle machines, they are worth it.
Last update on 2023-06-08 / Affiliate links / Images from Amazon Product Advertising API