Creating detailed wood carvings using a chainsaw is not the easiest of tasks. And it is even harder when you pick the wrong chainsaw. So which is the best chainsaw for wood carving?
I decided to scour the chainsaw market in search of the best carving chain saw. From my search, I narrowed it down to six. We picked the six based on their overall features, power, and size.
Here are our reviews of the six best chainsaws for carving. Top on my list is the Husqvarna 20 Inch 455 Rancher Gas Chainsaw. The latter is easy to use while being powerful enough to slice through most woods.
The runner-up is the Oregon CS1500 with its self-sharpening chain that makes it easier to use than most. Find out more about the other best lightweight chainsaw for carving below.
---
Reviews Of Best Chainsaw For Wood Carving
---
Makita UC4051A 16″ Electric Chain Saw: Best overall chainsaw for carving
The Makita UC4030A was a favorite, but since it was discontinued, I decided to test its predecessor, the UC4051A. And I have to say the newer model did live up to expectations.
Makita chainsaws have always had a great design, and the UC4051A is no exception. I particularly loved the large wrap-around, rubberized handle. It is ergonomic and makes maneuvering the chainsaw quite effortless.
It also has a large trigger switch, which helps with smooth start-ups. Also, it has an automatic oiler and tool-less chain adjustment to allow you to concentrate on your carving.
What about power? You may be asking. Well, with a 14.5 amp motor and a no-load speed of 2900 FPM, this chainsaw will have no trouble slicing through a two by 6 log. And its 16-inch chain and bar are capable of cutting through 14 and even 16-inch limbs.
What we liked
Has an ergonomic design and is lightweight.
It has a powerful motor and is capable of cutting through thicker logs
With its tool-less chain adjustment and automatic oiler, it is easier to maintain
Features a current limiter that protects it from overheating.
For safety, it comes built with an electric chain brake.
What we did not like
The oiler can sometimes leak through occasionally.
Some people may find it a bit expensive.
Overall this is an easy to use electric-chainsaw with plenty of power to compete with some gas-powered chainsaws.
---
Oregon CS1500 18 in. 15 Amp Electric Chainsaw: Best wood carving chainsaw for beginners
The best wood carving chainsaw for beginners has to be the Oregon CS1500 corded electric chainsaw. This unit has a unique feature that makes it a class above the rest, as we shall see.
In terms of power, it has a 15 amp motor that delivers a decent 1800 watts of power. This is sufficient to cut through a 16-inch diameter log. Thus it can handle most of your wood carving demands.
When it comes to design, this chainsaw has a standard design; everything is where you would expect it to be. The back handle has a molded grip and has a guard. But its best feature is the self-sharpening chain. The latter will automatically get sharpened in minutes after coming in contact with a rock.
As you would expect, this chainsaw has an automatic oiling system. This should keep the chain oiled as you work on your carving. Both the chain and bar have a narrow kerf, which helps minimize kickback as you work.
What we liked
It is lightweight compared to gas-powered options?
The self-sharpening features help maintain the chain's sharpness.
Thanks to its instant start, it takes a few seconds to get started.
The chain adjustment system does not require any tools.
Has excellent cutting ability and can cut through a 16-inch log
What we did not like
While it is lightweight, it is a bit bulkier than other corded models.
The chainsaw tends to use a lot of oil, and there is no way to adjust the oil flow.
This chainsaw is a unique offering from Oregon that manages to still be simplistic in its design. You can use this to cut through logs and chip away large blocks of wood.
---
Husqvarna 120 Mark II: Best overall gas-powered chainsaw for carving
Gas-powered chainsaws are not known for being easy to start. However, there are those that are an exception, one of which is the Husqvarna 120 mark II. With its 16 inch chain and bar, this unit can be used for carving.
At the heart of this chainsaw is a 38.2 cc X-torq engine that is both powerful and fuel-efficient. Paired with the more manageable 16-inch chain and bar, you can use this to make more intricate carvings.
Compared to most gas-powered chainsaws, this is relatively easy to start. But more importantly, it is quite lightweight for a gas chainsaw. When fully complete, the chainsaw weighs 17 pounds below the 20-pound weight of most similar saws.
To deal with vibration, it has an anti-vibration system that should keep you working for longer. This is important when you are carving more complex carvings that require more time.
What we liked
It is quite lightweight for a gas-powered chainsaw.
The x-torq engine is fuel-efficient compared to that of other similar saws
It comes with several safety features, including a safety break
It has an ergonomically designed handle
The anti-vibration system works really well.
What we did not like
The chain loses its sharpness sometimes too quickly.
It may require a bit of time to break in when brand new.
As a gas-powered chainsaw, you can expect plenty of power from this model. However, it is still lightweight and should be easy to control and maneuver.
---
Husqvarna 20 Inch 455 Rancher: Best chainsaw for hardwood carving
If you want to make a wood carving out of a large hardwood log, then you will need something with a little bit more oomph. And this is what you get from the 455 Rancher from Husqvarna.
This chainsaw is available with either a 20 inch or an 18-inch chain bar. For my review, I used the 20-inch variant. A 3.49 HP 55cc engine is what you find powering this chainsaw. As such, it should have no trouble chewing through thick logs of any hardwood you throw at it.
It might not be the most lightweight or the easiest to maintain, but it does have its perks. One of which is the powerful engine. The other is the inertia activated chain brake, which should keep you protected from kickback.
Another one of its perks is the self-oiling system and the side-mounted chain tensioning system. These two make it relatively easy to use for a gas-powered chainsaw.
What we liked
It has a powerful engine capable of slicing through most hardwoods
It comes with a self-lubrication system for easier use
The side tensioning system makes it easier and fast to adjust the chain tension.
The larger 20-inch chain and bar can cut through larger logs of wood.
It has a quick-release air filter that makes it easy to clean
What we did not like
This is quite a bulky chainsaw and may not be ideal for everyone.
Given that it is a gas-powered chainsaw, it is not easy to maintain.
Due to its size and maintenance requirement, this might not be the best for beginners. However, professional carvers will find it useful for chipping away large blocks of wood when carving.
---
Remington RM4218CS 42cc: Best gas-powered chainsaw for beginners
Another gas-powered chainsaw that you can use for wood carving. What I loved about this model is how it manages to strike a balance between power and weight.
This model comes in several variations, but for my review, I picked the 18-inch variant. Powered by a 42 cc engine, this is powerful enough to slice through softwoods and hardwoods.
It features an anti-vibration system and an ergonomic handle. These two paired together help reduce fatigue and improve control and maneuverability.
In terms of ease of use, the chainsaw has an automatic oiler that ensures the chain is well lubricated. The side chain tensioning system also ensures it is easy to adjust the tension of the chain.
What we liked
For a gas-powered chainsaw, it is compact and easy to use
Offers enough power to cut through different types of wood hardwoods included
The automatic oiler ensures the chain is well lubricated without you having to do it.
It comes with a side tensioning system that makes it easy to adjust the chain's tension
Offers tool-less access to the spark plug and filter for easy cleaning
What we did not like
It is bulkier than its cordless and corded counterparts.
It is not as easy to maintain as electric chainsaws.
With its 18 inch chain and bar and polymer chassis, this chainsaw manages to stay lightweight without sacrificing power. For this reason, it is one of the best chainsaws for wood carving.
---
Makita XCU03PTX1 18V: Best cordless chainsaw for carving
For smaller, more intricate carvings, I recommend the Makita XCU03PTX1. While this is a battery-powered chainsaw, it packs enough power for most applications.
Compared to other chainsaws on the list, this one is quite small with its 14-inch chain and bar. But that's what makes it an excellent option for carving. Its size and 11.5 pounds weight means you can easily maneuver to make intricate cuts without getting fatigued quickly.
Being a battery-powered chainsaw, it is powered by two 18v lithium-ion batteries. To preserve battery life, the chainsaw automatically shuts off when not in use for an extended period.
Cordless chainsaws are regarded as being underpowered. And while this is true to some extent, you will not feel with this Makita model. The motor on this unit delivers a variable speed of 0 to 3940 FPM.
What we liked
Its small, compact, and lightweight
The 14-inch chain and bar are great for making intricate cuts than bigger chains.
Has a variable no-load speed of 0 to 3940 FPM
Being a cordless chainsaw, it has zero emissions.
Has minimal maintenance requirements
What we did not like
Being a cordless model, it might struggle to cut through thicker logs.
Some units may not come with the batteries included.
This cordless chainsaw is best used for making intricate and small carvings. It may struggle for more demanding tasks such as chopping off large blocks of wood. Overall though, it is the best lightweight chainsaw for carving on the list.
---
What To Consider Before Buying Chainsaw for Carving
The best chainsaw for carving will differ significantly from a chainsaw used for felling trees. So what features should you consider when shopping for one. There are a number of things to consider, and the main ones are;
Power
Chainsaws used for wood carving are usually not the most powerful. This is because you do not need a lot of power for this kind of task. A 35 cc gas-powered chainsaw is sufficient for carving wood.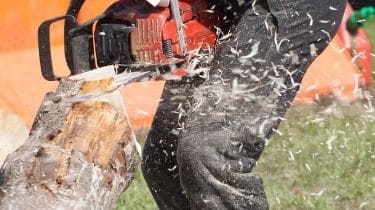 If you are working with hardwoods such as oak, you can consider a more powerful chainsaw like the Husqvarna 455 Rancher. For softwood, an electric chainsaw with a 15 amp motor will be sufficient.
While corded and gas-powered chainsaws are recommended for carving, you can also use a cordless model. A model such as the Makita XCU03PTX1 18V will be sufficient for making small intricate cuts on softwood.
The handle
The one thing that all the saws on my list have in common is a rear handle. And the reason is that rear handle chainsaws are easier to control and maneuver. Top handle chainsaws require more strength to hold, making them unsuitable for carving.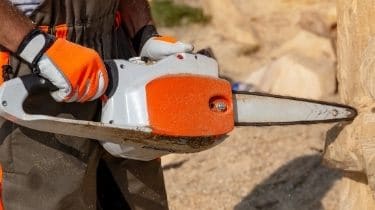 As such, if you want a chainsaw for wood carving, stay away from top handle chainsaws.
Ease of maintenance and use
When carving wood, you want to focus solely on creating your masterpiece. As such, you will want a chainsaw that is easy to use and maintain. Electric chainsaws are easier to use and maintain.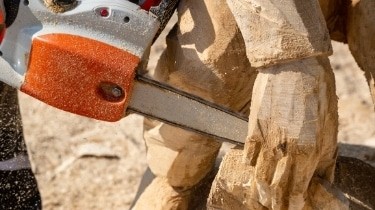 There is no need to change filters, mix oil, or check on the spark plug with electric chainsaws. This makes your work easier. Some electric chainsaws, such as the Oregon CS1500, go a step further by offering a self-sharpening chain.
This means you do not have to worry about the hassle of sharpening the chain when carving.
Weight and size
Carving wood is a process that can take hours, especially for intricate designs. Therefore, the best electric chainsaw for carving is lightweight. This makes it easy to hold for long periods.
Large and bulky chainsaws are not recommended for carving. As for size, a 16 inch or less chain and bar will be ideal for carving small sculptures. You can upgrade to a 20-inch chain and bar for large carvings.
However, anything beyond 20 inches, and you will struggle to control and maneuver it.
Ability to accommodate different size chains
When carving large carvings or sculptures, you will want to start with a larger chain such as a 20 inch to cut off the large excess wood. But as your carving starts to take shape, you will want to switch to a smaller chainsaw.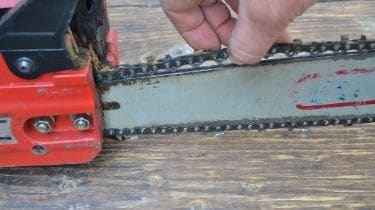 That being said, a good chainsaw for carving should be able to accommodate chains of different sizes. The Husqvarna Rancher 455, for example, can use either an 18 inch or a 20-inch chain and bar.
It is for this reason that small chainsaws for carving are preferred for carving smaller sculptures.
Slim pointed bar
One of the things that makes wood carving chainsaws different is their slim pointed bars. The narrow bar at the tip makes it possible to make small cuts when carving.
Conclusion
Finding a chainsaw for carving wood may not be so easy because carving wood's performance requirements differ from those of other chainsaw applications. However, when you consider the above highlighted factors finding the best carving chain saw becomes easy.
Last update on 2023-06-08 / Affiliate links / Images from Amazon Product Advertising API