Portable table saws are designed for hobbyists and DIY enthusiasts. They are not intended to handle large-scale projects. It is for this reason that the pros turn to contractor table saws. These offer more power and take up more space.
Contractor table saws are large bulky and difficult to transport. However, unlike their portable counterparts, they can handle any job you throw at them. Therefore, if you are a contractor handling all kinds of projects, ditch the job-site table saw.
The best contractor table saw will give you the power to handle any project that comes your way, whether it's making cabinets or putting down flooring. Therefore if you are a professional contractor, you will want to get the best contractor saw.
After analyzing the features of various top-rated contractor table saws, we have narrowed them down to seven. These seven, we believe, offer the best value for money. And as a contractor, value for money is what you will be looking at when shopping for a new table saw.
Reviews Of The Best Contractor Table Saw
Shop Fox W1837 10" 2 hp Open-Stand Hybrid Table Saw
There is no denying that the table saw market is dominated by big brands such as Makita and Dewalt. However, that is not to say there aren't any new players trying to break into the market. One such new player is Shop Fox.
The company is behind the W1837 10" 2 hp open stand hybrid table saw. This table saw earns the top spot on our list thanks to its functionality, power, and convenience. It comes packed with a 2Hp motor that cuts through hardwoods.
Capable of being used on a wide variety of woods, the blade speed of this saw is an impressive 3450 RPM. But that's not the only good thing about the blade. Professional woodworkers will appreciate the freedom it offers.
The blade can be tilted at a degree of 45 for cutting chamfers, miters, and bevels. Moreover, it is possible to adjust the height and angle of the blade. This, combined with the large 40-1/4″ x 27" surface worktop, gives you the ability to handle more demanding projects.
As a hybrid, it can be used as a cabinet saw as well as a standard contractor saw. But unlike conventional contractor saws, its cutting performance is at par with that of a cabinet saw.
Two Thumbs Up For
Comes with a max rip capacity of 15 inches to the left and 30 inches to the right
Weighing just less than 250 pounds, it is a sturdy tool that doesn't weigh as much as standard cabinet saws
It comes with safety features such as an anti-kickback pawls
Is a versatile tool that can run on either 120 or 240 volts
Comes with a two-year warranty from the manufacturer
What's Not To Like
It is a hybrid unit that may struggle to handle certain demanding projects
Since it is relatively new in the market, it is yet to stand the test of time
Sure this table saw is relatively new compared to others on the list, but it's well worth the price. Being a hybrid saw it is more compact than some of the others on the list. Nonetheless, it can handle most of the contractors' projects.
Makita 2705 10-Inch Contractor Table Saw
The next entrant on our list is one that is loved by professional contractors. It has all the features you would want from the best contractor saw for woodworking. We got a chance to test this table saw, and here is what we think of it.
For starters, it is one of the most powerful. Powered by a 15 amp motor, it delivers 48000 RPMs. This means you can cut 4×8 foot sheets of plywood with a single pass. Fitted with a riving knife and anti-kickback pawls, it cuts through dense material with ease and speed.
What we particularly loved about the saw was its open design. Thanks to this open design, you can keep an eye on both the wood and blade. On both sides of the saw are guards with measurements that help you know where and how to cut.
Removing and replacing the blade proved to be a breeze. Thanks mainly to the blade guard assembly that comes with a cam lock. This is important, considering you can swap out the default blade with a dado blade.
Two Thumbs Up For
Thanks to its sheer power, it is ideal for flooring, cabinet making, and furniture making, and general carpentry works.
The table comes with a table extension for expanding the surface area of the tabletop
With its powerful motor, it can easily cut 4×6 foot sheets of plywood with a single pass
The tabletop is precision machined for improved accuracy and precision when cutting
Comes with a one year warranty from the original date of purchase
What's Not To Like
The rip fence installed in this table is not easy to adjust in line with the blade
This is a bulky saw that might prove to be a handful for newbie carpenters
This is an iconic table that is used in job sites and at home. Its exquisite engineering makes it an ideal tool for a wide range of woodworking projects. Also, from our contractor table saw comparison, we found it works much better than most other table saws.
SawStop PCS31230-TGP236 3-HP Professional Cabinet Saw
Contractor table saws aren't cheap, and neither are they portable. And one table saw that exemplifies this is the PCS31230 HP professional cabinet saw. Weighing 317 pounds, it is bulky and requires two or more people to move.
But what this SawStop contractor table saw lacks in portability it more than makes up for in power and performance. The motor is a 3HorsePower powerhouse. With this motor and a 10-inch blade, it can cut through almost any type of wood.
While it uses a 10-inch default blade, you can swap it out with an 8-inch dado blade. This gives it versatility when cutting different types of materials. The blade is designed in such a way that it does not come in contact with the rail or fence pieces.
The crowning jewel of this table saw is the 36-inch t-glide fence system. This system allows you to make cuts in multiple directions. When you need more surface area for cutting, there is an extension wing you can fold down.
One of the best things about this saw is its safety feature. It has an alert system that sends a signal when the blade comes in contact with human skin. This activates the electronic braking system, which in turn brings the blade to a stop in seconds.
Two Thumbs Up For
Comes with a 4-inch dust collection port
Has a comprehensive safety feature that halts the blade with it comes into contact with human skin
The saw is compatible with 8-inch dado blades
The left tilting design of the blade prevents the wood from coming into contact with the fence
Comes with a one-year limited warranty
What's Not To Like
Weighing 317 pounds, it is heavy and will require more than two people to move it around
Is only compatible with 220 v power outlets
This is a large saw that is not easy to move. However, its performance makes up for this. It can cut most types of wood. And with the addition of dado blades can cut a wider array of materials other than wood. The extension wing gives you more surface area to work with.
Delta 36-5052 10-Inch Left Tilt Contractor Saw with 52-Inch RH Rip
With an MSRP of over $1000, the 36-5052 1 inch left tilt contractor saw from Delta is marketed to professional contractors. So how does it compare to other similar products on the market? We put the saw through its paces just to find out how it fairs.
Upon first inspection, it became clear that this saw has no plastic parts. The entire saw is made from a combination of heavy-duty steel and cast iron. This gives it durability and heft. However, its weight is to be expected from a saw of its status.
Adjusting the blade was very easy using the handwheel handles. And so was locking the blade into place thanks to the inclusion of lock knobs. There is sufficient onboard storage of accessories, which is always a plus.
Some of the things included in the saw are a rip fence, miter gauge, push stick, and adjustable wrenches. While it is large and bulky, we found it relatively maneuverable thanks to the three wheels attached to its tubular steel base.
The extension table is made from laminated particleboard. This is a rather weak material, and we would have preferred aluminum. Nonetheless, it is no such a big deal breaker.
Two Thumbs Up For
The on/off is large and easy to access
Can be used with power outlets of either 120 or 240 volts
Thanks to the wheels on its base it is easier to maneuver than other large contractor saws
Is made from cast iron and heavy-duty steel and is thus very durable
Comes with an extension table with support legs to create a large surface area
What's Not To Like
The extension table could be made from a better material
It is a very big saw and takes up a lot of space
This saw exceeded our expectations. It delivers in so many ways and is an ideal tool for any professional contractor. For hobbyists, the large size of this saw may be a bit too much, especially since it takes up a lot of space. However, for large projects, it handles itself very well.
DEWALT (DWE7491RS) 10-Inch Table Saw, 32-1/2-Inch Rip Capacity
A premium offering from Dewalt, the DWE749IRS, is an excellent option for professional contractors. It was released alongside three other table saws and is the most premium of the three. As such, it has a lot to offer.
Powering the saw is a 15 amp motor with a speed of up to 48000 RPM. The increased speed gives it the ability to cut thicker sheets of material. It can comfortably cut through ¾ inches of plywood.
But it's not just powerful; it is also accurate. The saw is equipped with rack and pinion fence rails, which are critical to the saw's accuracy. The fence is easy to adjust and stays parallel to the blade.
There is also a miter gauge included for crosscutting. We weren't impressed with the miter gauge's quality, but it gets the job done. Dewalt also included storage for the saw's accessories. There are also two dust collection ports.
When it comes to rip capacity, it stands out. It offers an impressive 32-1/2 inch rip capacity, which is far better than what you get from most other similar table saws.
Two Thumbs Up For
It has one of the best rip capacities in the market which is above the standard p24 inch rip capacity
The 15 amp motor with 4800 RPMs means you can cut through any kind of material
The rack and pinion rails system makes it extremely easy to use
Despite its many features, it is still relatively more compact than some of its competitors
With legs that can be folded, it is easier to transport than most other similar products
What's Not To Like
The miter gauge is of low quality and feels flimsy
The fence distance gauge on some models is slightly off.
Like all other products, it is not without shortcomings. However, when you look past these minor shortcomings, it is a superb table saw. It excelled in all the right areas and performed very well. A powerful motor, combined with its ease of transportation, makes it an excellent option for contractors.
JET 708675PK XACTASAW Deluxe 3-Horsepower, 1Ph, 50-Inch Rip Fence
The features of the XACTASAW deluxe 3-horsepower saw from jet earn it a spot on our list. Its performance and safety features make it one of the best on the market. So how does it compare to its competitors?
On top, it features a cast-iron tabletop. The tabletop offers a large enough surface area for most cutting applications. Nonetheless, you can extend the size of the tabletop with the included extension table that measures 29×42 inches.
The 50 inch T-square fence system is the hallmark of the saw. This fence system helps you maintain accuracy when cutting. The fence system is adjustable, adding to the saw's ease of use.
A riving knife is also installed in this saw. This riving knife has a quick release feature, which reduces the risk of a kickback as well as binding. There is also a 4-inch dust collection port for keeping your work area dust-free.
Two Thumbs Up For
Has a storage drawer for keeping all the accessories for easy access.
Has a large enough surface area which is also extendable to offer an even more significant surface area
The tabletop is made from cast iron meaning it is sturdy and durable
There is an onboard fence and a miter gauge for making cross cuts
The quick-release riving knife reduces the risk of kickbacks
What's Not To Like
Weighing about 510 pounds, it is heavier than most of the other saws on the list
The fence on this model is slightly different from that on the user manual
There are a lot of good things about this table saw. And while it is heavier than most of its competitors, it is a capable table saw. The safety features included with this jet contractor table saw earn it a high safety rating.
SawStop PCS175-TGP252 1.75-HP Professional Cabinet Saw
The other SawStop contractor table saw on our list is the PCS175-TGP252 cabinet saw. There are a lot of similarities between this, and the other Sawstop saw on our list. Thus you can expect almost the same features.
The first similarity is the t-glide fence. The latter is one of the best things about this saw. It offers precision measurements and lockdown without any deflections. It also provides smooth operation.
Similar to other saws of its kind, it is quite heavy. To address the problem of transportation Sawstop installed two fixed wheels and casters at the base of the saw. These make it easy to move around when necessary.
To prevent the annoyance and hazard of dust particles, it comes equipped with a dust collection port. This eliminates dust particles on the working surface, providing you with a cleaner and safer work environment.
The saw can be used by both professionals and hobbyists thanks to its dual voltage capabilities. For home use, you can plug it into a standard 110 power outlet. For professional contractors, it can be plugged into a 220v power outlet.
Two Thumbs Up For
The saw has a safety feature that automatically shuts off the blade when contact with human skin is detected
Can be plugged into both a standard 110-volt power outlet as well as into a more powerful 220-volt outlet
The cast iron tabletop offers sufficient space and has an extension wing to create more space
The wheels and casters at its base make it easy to transport despite its weight and size
Can work with both a standard 10-inch blade and 8-inch dado blade
What's Not To Like
Compared to some of its competitors it is quite pricey
It is quite large and takes up a significant amount of storage space
The saw's performance and features are exceptional. It does what it is marketed to do very well. Also, the build quality is excellent. There are no plastic parts on this table. This is probably why it weighs upwards of 490 pounds. The inclusion of wheels and casters makes it easy to transport, though.
How To Choose The Best Contractor Saw: Buying Guide
There are undoubtedly very many different kinds of contractor table saws out there, as like the conventional table saw for beginners. And as with any other market not, every contractor saw is suited to your needs. The best contractor table saw will be characterized by certain features. These are the features we want to look at in this section.
Power
A powerful table saw is what you need as a professional contractor. On average, contractor table saws offer a 15 amp motor with 2 Horse Power. This is the minimum, and anything below this will be underpowered for demanding tasks.
Obviously, the amount of power required depends on your needs. The larger or thicker the materials to be cut, the more power is required.
The Blade
The blade is the part of the saw that does the actual cutting. As such, it should be of the right size. For contractor table saws, the most common blade sizes are 10 and 12 inches. The 10 inch is the more common of the two and can cut through almost any type of wood.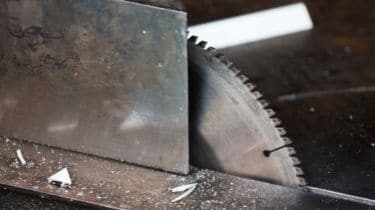 The material used to make the blade also matters. Steel and carbon steel blade are suited for cutting wood. On the other hand, diamond-tipped tungsten blades are suited for cutting harder materials such as metal.
The Fence
The best contractor saw should have a solid fence. The purpose of this component is to keep the cutting material securely in place. Thus a good fence should be reliable and lock down the material being cut and prevent it from moving out of position.
Table size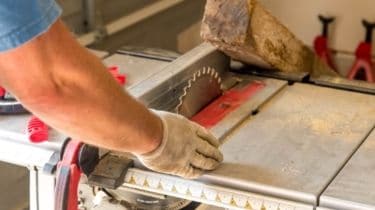 Contractor table saws are usually large and bulky. The reason being that they need to be able to handle larger pieces of wood than portable saws. Thus, the size of the tabletop also matters. However, bigger is not always better. A big saw will take up more space in your garage.
Conclusion
The best contractor table saw will offer the right balance of power and performance. Portability is where these types of saws underperform. However, considering their applications, it is a small price to pay.
When selecting a table saw for large projects, the power and blade are the most important factors to consider. Most are compatible with dado blades increasing the range of things you can cut with the saw.
Overall, a good contractor table saw needs to be able to cut materials of varying thicknesses. As a contractor, you are not limited in regard to the tasks that come your way.