Both the Grizzly G0690 and G1023RL do not come cheap. So it might be impractical to buy both. Which brings us to the all-important question, which is better? While both saws are fantastic, there can only be one winner in this Grizzly G0690 vs. G1023RL battle.
To know which of the two comes out on top, we must compare their features. This means evaluating what each saw has to offer. That being said, let us get straight into it.
Quick Comparison Of Grizzly G0690 VS G1023RL
Table could not be displayed.
Who Are They Built For?
Despite their hefty price tags, both saws are targeted at woodworking enthusiasts. Furthermore, they are bulky, large with a 3HP engine. Meaning they both would make a great addition to any hobbyist's workshop.
The Drive Systems
As stated above both saws are fitted with a powerful 3HP engine. Where they differ is in the drive system. The Grizzly G0690 uses a triple V-belt drive system. This system is exceptionally great at transferring power to the blade.
The Grizzly G1023RL, on the other hand, uses a poly V serpentine drive system. While it is different from the triple V-belt system, it is still an excellent system. Thus, both saws are able to cut thick wood smoothly and quietly.
When it comes to the drive system, it is a tie.
Dust Collection
Dust collection is an important factor to consider when shopping for your next table saw. So how do these two table saws compare in regards to dust collection? While both come fitted with a dust port, the means of dust collection differs.
The underside of the Grizzly G1023RL is connected directly to the dust port. This means the collection of dust is more efficient. Unfortunately, Grizzly G0690 doesn't feature the same mechanism.
It instead relies on gravity for the collection of dust. This is a rather inefficient means of dust collection compared to that of the Grizzly G1023RL. So when it comes to dust collection, the Grizzly G1023RL is the winner.
The Fence
The fence of these two Grizzly table saws is a topic of debate. The G1023RL uses a Shop Fox Classic Fence. It is a popular option, according to the manufacturer. However, a quick look at some of the reviews, and it is clear not everyone is a fan of this fence.
Some users have complained of the back rail where the fence slides not being smooth. The G0690, on the other hand, sports a different fence. While somewhat similar to that of its counterpart, it seems to have fewer complaints.
Choosing which fence is better is difficult due to their similarity. However, since the G1023RL took the previous round, let's give this round to the G0690.
Price
Sometimes choosing the best table saw comes down to price. After all, not everyone has a ton of money to spend on a table saw. When it comes to their costs, both saws cost more than $1,000. However, the G1023RL is slightly cheaper.
Its counterpart can cost upwards of $2,000. Thus, if you are looking to cut down on costs, then the G1023RL is the better option.
Grizzly G0690 vs. G1023RL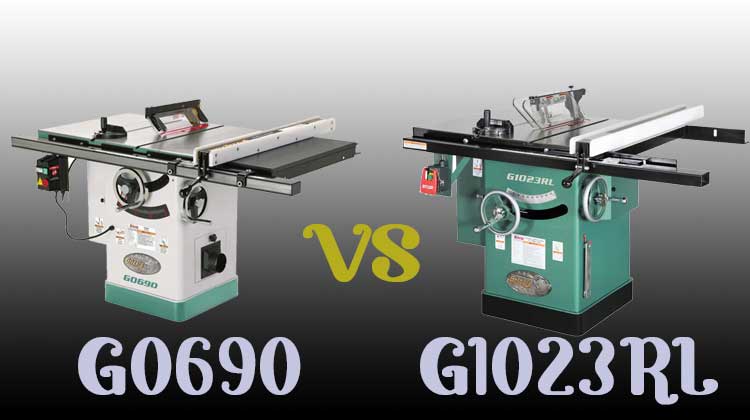 To get the whole picture, it is wise to compare the specs, pros, and cons of both table saws. With that in mind, here is a quick overview of these two table saws, starting with the G1023RL.
Specs Of G1023RL
240V 3HorsePower engine
4200 RPM arbor speed
40 inch by 27-inch maximum table size
5/8 inch arbor size
13/16 inch maximum Dado width
4-inch dust port
3-inch maximum depth of cut
30 inches by 30 inches by 40 inches dimensions
508 pounds weight
Pros & Cons Of Grizzly G1023RL
Pros
Has a quiet and smooth operation with minimal vibration
Offers excellent cutting power and is capable of cutting through hardwood
It is easy to calibrate the table saw
Boasts a solid surface that offers good support
Is fitted with a quick-release riving knife
Comes with a convenient dust collection port
Cons
It is quite large and heavy and is thus difficult to move
The included fence is not the best
The Grizzly G0690 specs
220V 2Horsepower Engine
45 degrees left blade tilt
27 inch by 40-inch table size with extensions
4300 RPM arbor speed
5/8 inch arbor size
3-1/8 inch maximum depth of cut
29-1/2 inch right maximum rip capacity
3/16 inch maximum dado width
4-inch dust port
530 pounds weight
Pros & Cons Of Grizzly G0690
Pros
Has an all-round excellent performance thanks to its powerful engine
Is fitted with a riving knife
Has a quiet operation with little to no vibrations
Features a stylish design that will add a spice of style in your shop
Comes fitted with useful safety features such as the magnetic switch
Requires very little to no adjustment after initial set up
Cons
The process of assembling this table saw is no easy task and may take some time
You may have to replace the blade it comes with.
Conclusion
When it comes to performance, the G0690 slightly edges out the G1023RL. The former has a depth of cut of 3 1/8 inches at 90 degrees. This is somewhat better than the 3-inch maximum depth of cut of the G1023RL.
Which is probably why it costs a bit more than the G1023RL. Nonetheless, when it comes to practicability, the G1023RL is the better saw. For starters, it is lighter than its counterpart; thus, installation is a bit easier.
Furthermore, it costs less. Also, its dust collection system is better than that of its pricier counterpart with is a big plus. Moreover, while the fence on this model is not the best, you can always replace it.
Replacing the fence is easier than replacing the dust collection port configuration. Therefore, for homeowners and woodworking enthusiasts, it is a better option. Nonetheless, this is not to say that the G0690 is a lesser saw.
On the contrary, both saws have excellent performance and would be a great addition to any shop. But if you are on a budget, then the G1023RL will make more sense, due to it being more affordable.