Whether you are a professional woodworker, carpenter, or DIYer, chances are you will need a table saw for one or more projects. So why wait for the need to arise to start shopping for one, when you can start your hunt for the best table saw under 1000 now?
Table saws are used to make straight as well as intricate cuts on different pieces of wood. But not all table saws are worth it. If you are looking to invest in a quality table saw, then you need to know which-
Type of table saw to pick?
Is that Corded or cordless?
What's the Rip Capacity?
Construction
Blade size and so on
We have described the above criteria as well as others that make a table saw a great unit to consider in this price range.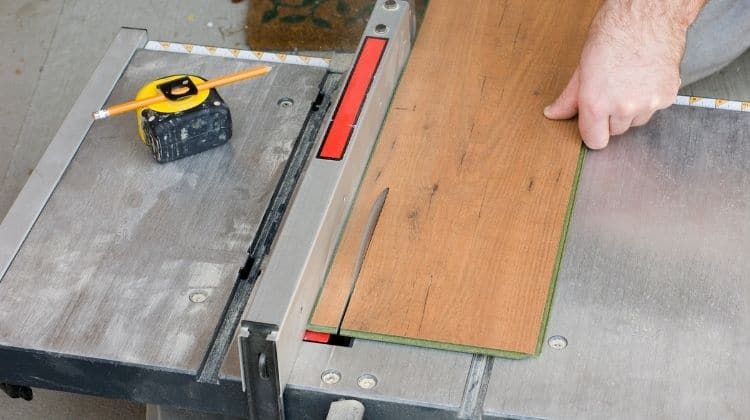 In this article, I have compiled a list of the seven best table saws priced under $1000. These table saws offer excellent performance, hence why they are on the list. That being said, here are my top seven picks.
A Quick Comparison Of My Top Picks
Table could not be displayed.
8 Best Table Saw Under 1000 Reviews
SKILSAW SPT99-11 10" Heavy Duty Worm Drive Table Saw
There are two things you can expect from the worm drive saw, increased output, and speed. Wormdrive table saws are able to complete tasks quickly without compromising on performance. And here is my favorite wormdrive table saw in this price category.
A heavy-duty domestic worm drive table saw with plenty of perks up its sleeve. This is how I can best describe the Skilsaw SPT99-110 worm drive table saw. As such, there is a lot to expect from this model.
Given it uses a worm drive motor as opposed to a direct drive one, you can expect plenty of torque from this model. With its increased torque, this table saw cuts with 2x more speed than a normal direct drive table saw.
This model sports a rack and pinion fence system that is easy to use. The previous Skilsaw models did not have this feature. So it was a pleasant surprise to get a rack, and pinion fence on this worm drive table saw.
As its name implies this is a heavy-duty table saw designed for serious work. Thus don't expect it to weigh the same as a portable table saw. It is large and rather bulky. However, its mobility is excellent thanks to its massive 16-inch wheels.
Two Thumbs Up For
Offers an outstanding performance thanks to its worm drive motor and gear system
This table saw has a higher rip capacity of 30.5 inches than most table saws
There is a dedicated dust collection and emission system included in this table saw
This table saw is compatible with other table saw accessories
Comes with a dedicated and easy to adjust fence system
What's Not To Like
This is quite a heavy table saw
Is a bit pricey compared to other similar products from competitors
Sure, this table saw doesn't come cheap, but the quality has never been cheap. If you are looking to invest in a quality worm drive table saw, I recommend this. It is a heavy-duty saw that can handle any task you throw its way.
Best Hybrid Table Saw Under 1000: Shop Fox W1837 10" 2 hp Open-Stand Hybrid Table Saw
Note: Price can be ups and down for COVID situations
Hybrid table saws are not the most common table saws out there. What they are though is versatile. They offer the performance of a cabinet saw without being too bulky. Thus offer the best of both worlds.
The title of the Best Hybrid Table Saw Under 1000 dollars, in my opinion, has to go to the Best with the Shop Fox W1837. This 243-pound beast is not the most portable on the market. However, it does have caster wheels that improve its mobility.
At the top, it boasts a 40-¼-inch x 27-inch cast iron table that is more stable and durable than the tabletops of all portable table saws. And it does not disappoint when it comes to power output. It is powered by a 2 Horsepower belt drive induction motor.
This motor will be sufficient for cutting almost any material you throw at it. With its 10 inches 40 tooth carbide blade, it turns at speeds of up to 3,450 RPM. The blade can also be tilted at a 45-degree angle.
You have the option of plugging this into a 120v power plug or a 240v power plug. Also, it comes with a dust chute that collects dust. This handy feature helps keep your workstation clean and free of debris.
Two Thumbs Up For
Has a maximum rip capacity of 15 inches to the left and 30 inches to the right
The blade is able to cut maximum depths of 2 ¼ inch at 45 degrees and 3/1/4 inches at 90 degrees
Weighing about 243 pounds, it is lighter than most fully-fledged cabinet saws but is just as powerful
It is fitted with anti-kickback pawls for improved safety when in use
Comes with a two-year warranty
What's Not To Like
It is not as powerful as other fully-fledged cabinet saws or table saws
Is not as lightweight as portable table saws
This hybrid table saw is neither a cabinet saw nor a portable table saw. It is somewhere in between and this is its bestselling feature. It offers the power of a large table saw without the weight problems associated with large cabinet saws.
Best Hybrid Table Saw Under 1500: Grizzly Industrial G0899-10″ Hybrid Table Saw With Riving Knife
The Grizzly Industrial G0899-10″ Hybrid Table Saw with Riving Knife is a high-quality saw that has the capability of cutting through just about any material. I have been using it for years and can say from personal experience that this is one of the best table saws money can buy!
When I first tried out this table saw, my mind was blown by how easy it was to use and operate because of its hybrid design. The electric motor will power through anything you put under it while still running at low noise levels! It also comes with a riving knife, which is perfect for anyone who does any type of cutting.
The Grizzly Hybrid Table Saw with Riving Knife has a powerful 2 hp motor that can produce 4,000 rpm for smooth cutting.
The blade can cut lumber quickly and any straight cut you may need to make without having to pull it through manually. The rip capacity on the left side is 11-3/8 in, while the right side has a larger 31-1/2″ ripping width for even more versatility when needed most! It can also bevel at 3 1/4 inches deep with 90° cuts or 2 1/2 inch depth if you would like 45° angles instead.
It also features an easy-to-use fence system as well as a miter gauge, so your materials stay in place during any operation!
This saw also includes a dust collection port so you can hook up your shop vac to reduce cleanup time after each use.
Finally, safety is always paramount in many people's minds when operating power tools like this hybrid table saw; luckily, the grizzly comes equipped with easy-to-use fence systems designed specifically for such purposes!
There is a quick-change blade guard that covers the upper, lower, and both sides of this saw to keep your fingers from getting caught.
This hybrid table saw also has an anti-kickback device built right in, which prevents any sudden movement during operation, which could lead to serious injury!
If you are looking for the best hybrid table saw under 1500 dollars (price can be slightly ups and down) then this Grizzly G0899-10″ Hybrid Table Saw is the best option for you.
DEWALT DCS7485T1 FLEXVOLT 60V MAX Table Saw Kit
One of the DEWALT (DWE7491RS) table saw's closest competitor is the Dewalt Flexvolt. So we have already seen what that model can do, so what does the Dewalt Flexvolt offer?
Measuring 13 inches tall and 23 inches wide, it is a compact table saw with plenty of power. It weighs 48 pounds and has a handle for easy carrying. It's so lightweight that you can actually carry it with one hand.
It has the same tested and proven rack and pinion fence available in other larger Dewalt saws. And just its Milwaukee competitor it features a 8-1/4 inch blade. Though it's not the stand 10-inch blade we are used to, it is still good enough to cut 1-3/4 inches at 45 degrees.
Its rip capacity of 24 inches is quite impressive for such a lightweight table saw. One interesting and welcome feature of this tool is the on/off switch safety blade guard. To flip the switch on, you have to first flip a red paddle. This prevents accidental turning on of the tool.
Two Thumbs Up For
It maintains the rack and pinion fence system that allows for easy and smooth adjustment of the fence
The 24 inch of rip capacity is sufficient for ripping 4×8 plywood
Can be powered by both 20 volt and 60-volt batteries
There is a power-loss reset feature that prevents accidental re-start after a power outage
Has a metal roll cage that offers more stability than plastic bases
What's Not To Like
The blade height adjustment is not the best
Uses an 8-1/4 inch blade instead of the more common 10-inch blade
There was a lot of expectation heaped on this model being the first of its kind. It is fair to say it delivered and helped usher in an era of cordless table saws. While other models have been released since its introduction, its quality is still there for all to see.
Bosch Power Tools 4100-10 Tablesaw
If you are dealing with thick pieces of wood, then you will need a table saw that can handle it. Not every table saw is capable of cutting through thick wood. For this task, you need the heavy duty table saw and for under 1000 dollar price range we picked Bosch Power Tools 4000-10 jobsite table saw
The Bosch Power Tools 4100-10 table saw is an upgrade from the 4100-09 model. This newer model offers the perfect balance between portability and power. It is portable enough to be regarded as a jobsite table saw.
A large metal surface top with a coated finish allows for a smooth operation. The aluminum surface top is also large enough to accommodate different sizes of materials. It has a right side rip capacity of 25 inches.
The 4100-10 is powered by a 15 amp motor. It has no problem ripping through thick oak. And makes light work of flimsy oversized plywood. This is one of the most powerful table saws of its types.
While it offers plenty of power, it is not big; neither is it bulky. Weighing 58 pounds, it is quite manageable to transport. With the stand and other accessories included, its weight increases to 92 pounds, which is still manageable.
Two Thumbs Up For
Is one of the most powerful table saws of its kind
The included miter gauge is heavier and longer and is of better quality than the miter gauge you get with most table saws
Weighing about 92 pounds, it is not the heaviest and is quite easy to transport
It comes with rough terrain wheels that make it even easier to move
This table saw is compatible with dado blades
What's Not To Like
The ruler guides on this saw are a bit confusing
The rip fence can be a challenge to adjust
If you want power without sacrificing on portability, this is the saw for you. It is one of the most powerful. However, weighing 92 pounds, it is a featherweight compared to some of the other table saw models available on the market.
Metabo HPT Jobsite Table Saw: C10RJS with 10-Inch Fine Finish Blade
Hitachi world-renowned electronic manufactured company now rebranded their power tools under the name of Metabo HPT that's why you may see these two names on the web Hitachi C10RJS and the Metabo HPT C10RJS. But the fact is they are the same product.
You can use this saw for rip sawing and crosscutting of hardwoods, plywood, MDF, or other composites woods. For stability, it comes with sturdy legs, and then the fold and roll design will enable you to set it up easily. It is capable of bevel cuts ranging from 3-1/8 In. (0°) to 2-1/4 In. (45°)
It is powered by a 120v, 15amp motor which you can plug in the residential power socket. Good thing it has an automatic shut down feature for preventing damage if there's any power overloading incident happens. The speed of this table saw is 4500 RPM which more than powerful to cut any wooden material "Like a knife through butter".
The table size is Using the latest soft start and electric brakes to make it quieter and safe for any DIY project. It packs with a 10-Inch 40-Tooth Carbide Tipped fine finish Blade. For reducing the blade vibration it uses Precision tension balancing technology.
Two Thumbs Up For
It's portable
Fold and Roll Designed For sturdy position.
TABLE SIZE: 28-3/4″ x 22″
UL CERTIFIED
Includes all other safety features
What's Not To Like
few users finds difficult to remove the riving knife.
This Metabo HPT C10RJS is perfect for those who don't have space for a cabinet or full-size contractor saw. So if you need a powerful table saw under 1000 dollars this would be a good choice.
Milwaukee Electric Tools 2736-21HD Table Saw Tool
Not all table saws are large and bulky. Some are more compact and lightweight and easier to transport. While they aren't as powerful as their large electric counterparts, they offer sufficient power for on the go use. mikesukee M18 is that type.
Well, there were a lot of claims made by Milwaukee about the M18 Fuel one Key cordless table saw when it was launched. One such claim was that this model is 50% more powerful than its predecessor. Let's see if this model lives up to these claims.
I must confess there is a lot to love about this table saw. Such as the tried and tested rack and pinion fence system. And not forgetting the two miter gauge slots. But what gives it an edge over the competition is the one-key app.
The table saw is connected via Bluetooth to the one-key app allowing you to disable the table saw when not in use easily. Apart from this, Milwaukee swapped the previous models battery with a larger 18-volt battery.
This battery gives the saw plenty of power to easily cut through 2x materials. The battery takes up to 2 hours to charge. So you may want to invest in a second battery for when your current battery is running low.
Two Thumbs Up For
Weighing 45.8 pounds, it is more portable than most table saws out there
The on/off switch on this model is easier to use than that of other similar products
Comes with useful accessories such as a blade guard with riving knife
What's Not To Like
The battery takes up to 2 hours to recharge
Might not be as reliable as electric models
If you are a hobbyist or a pro looking for the best portable table saw under $1000, then this is it. It is surprisingly good at what it does. So much so that it outperforms products from companies such as Dewalt.
DEWALT (DWE7491RS) 10-Inch Table Saw
Jobsite table saws are compact and portable. They are the best option for carpenters and woodworkers who aren't restricted to their workshop. With a Jobsite table saw you can go with the it wherever the job is. So which one is the top jobsite table saw under thousand dollar price range?
That honor goes to the DEWALT (DWE7491RS) 10-Inch Table Saw. Manufactured by the 100-year-old Dewalt Company, it is a work of art. And it is a saw you are likely to find in very many jobsites. So what makes it such a popular choice for woodworkers?
With a maximum cut depth of 3.125 inches and a 32.5 rip capacity, it is capable of ripping through most woods, including plywood. 5/4 inch deck boards did not present a challenge for this 15 amp motor.
Unlike other jobsite table saw, this one comes with a stand included out of the box. With this stand, it is very stable and has very minimal vibrations. The rack and pinion fence system is easy to adjust and is very accurate.
The built-in stand means it is heavier and larger than most standard Jobsite table saws. Lucking for us, the stand has wheels that make it easy to move. Thus it can be just as portable as its more lightweight competitors.
Two Thumbs Up For
It features a powerful 15 amp motor capable of speeds of up to 4800 RPMs
Boasts a mobile stand that makes it portable and sturdier than cheaper and lighter options
The on/off switch on this model has a safety cover to prevent an accidental switching on of the saw
Comes with in-built storage for easy storage of accessories
Has two dust ports for effective dust collection
What's Not To Like
The provided miter gauge is not all that impressive
Does not have a lot of accessories included
While there are lighter and more compact options on the market, none can offer what this Dewalt model offers. With its in-built stand, it is more sturdy and stable than any of the other cheaper and lighter models offered by Dewalt's competitors.
Makita 2705 10-Inch Contractor Table Saw
Benchtop table saws are portable and can easily be placed on a benchtop for use. They are ideal for use in your home workshop or any other setting. They are highly mobile and are a little less complicated than other table saw types.
While benchtop table saws are usually lighter than other table saws, they still need to provide enough power. And when it comes to sheer power, very few benchtop table saws can outmatch the Makita 2705 10-Inch Contractor Table Saw.
This Makita model is powered by a 15 am motor and is capable of speeds of up to 4800 RPMs. This is quite impressive for a benchtop table saw. It is powerful enough to be useful to a professional while being simple to use for hobbyists.
The tabletop is quite spacious and does not have unnecessary instruments or switches to confuse you. It is fitted with a dual side guard for easy measuring of the wood from the blade to the rip. It is also one of the most accurate table saws of its kind.
In regards to safety, this Makita power tool has two anti-kickback systems. This is more than what most similar table saws offer. The on/off switch is quite small, which may seem a bit bizarre but actually helps prevent an accidental switching on or off.
Two Thumbs Up For
It is a compact table saw that does not require a lot of space
Has plenty of power for cutting wood of different thickness
Is one of the most accurate table saws on the market
Unlike other table saws, it comes with two anti-kickback systems
Is made from excellent quality materials
What's Not To Like
May require frequent maintenance
The dust port on this model is not the best
This table saw comes ready to use out of the box. All the accessories you need to start using it are included. These include a 32 tooth carbide blade, a rip fence, a miter gauge, and two blade wrenches.
How To Select Table Saws Under 1000 Dollars
You now know my top table saw under 1000 picks. But before going out spending money on a table saw there are some things you need to know. Key among them what to look for when shopping for a table saw. Below are some of the crucial factors to consider.
Table Saw Type
Table saws come in three main categories, cabinet, contractor, and hybrid. Of the three cabinet table saws are the largest, most powerful, and priciest. They are used in woodworking shops and are usually expensive.
Contractor saws are usually less costly and are more portable. They are easy to carry and are perfect for jobsite use. Hybrid table saws, on the other hand, combine the power of a cabinet saw and the portability of a contractor table saw.
As such, they are not as powerful as cabinet saws and are not as portable as contractor saws. For less than $1000, you are limited to hybrid and contractor saw. For demanding work where mobility is not important, I recommend a hybrid table saw. But for light to medium work, a contractor saw will do.
Corded vs. Cordless: Decide According To Your Convenience
Corded table saws need to be plugged into a power source while cordless are battery-powered. Generally, hybrid and cabinet table saws are corded due to the amount of power they require. Contractor saws, on the other hand, are mainly cordless.
For flexibility, a cordless contractor saw will be ideal. However, if you are looking to use your table saw in your workshop to rip large boards, a hybrid corded saw will be better. Corded table saws can work with either a 220v or a 110v power outlet.
The input voltage of a table saw will depend on the kind of power source you have at your disposal. Most homes use 110v power sockets.
Fence is Important For Safety; Don't Overlook That Feature
The fence is an important factor to consider when shopping for a table saw. A good fence should be parallel with the blade at all times. Additionally, the fence should be easy to adjust. A fence that keeps sliding can lead to dangerous kickbacks.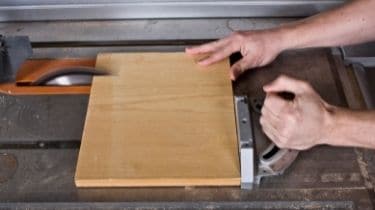 Thus it is important to consider how easy it is to adjust a table saw's fence as well as how well it locks into place.
Check The Dust collection system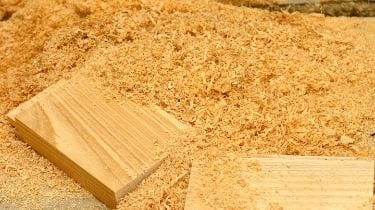 Table saws produce plenty of sawdust. To ensure the gearing system is clean and free of sawdust particles, it is important for a table saw to have a dust collection system. This system helps deal with dust produced by the table saw.
Never spend money on a table saw that does not have a dust collection port.
How powerful the Motor?
The motor is responsible for a table saws power output. Large cabinet table saws have powerful motors that churn out between three to five horsepower. Contractor table saws are not as powerful, but they do offer plenty of power for most general cutting tasks.
How powerful a table saw should correspond with the thickness of the materials you will be cutting. It is important to consider factors such as maximum cut depth and maximum rip capacity.
Aluminum vs. cast iron table tops
The tabletop is the part of the saw where you place wood for cutting. This part can be made from either aluminum or cast iron. Aluminum is preferred for making lightweight contractor saws due to its being lighter.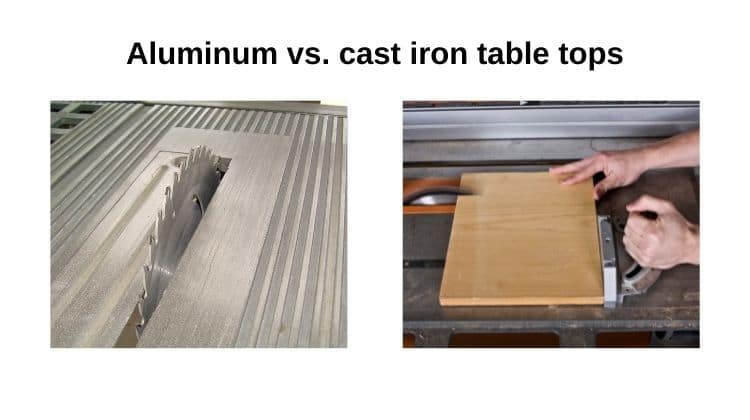 However, in terms of quality, cast iron table tops are more stable and sturdy. And high-end table saws usually feature cast iron tabletops. In the below $1000 price segment, most table saws feature aluminum tabletops.
Thus if you can find a table saw with a cast-iron tabletop in this price range, it will be a better option than aluminum tabletops.
Frequently Asked Questions
What is a hybrid table saw?
A hybrid table saw is a saw that offers the power of a large cabinet table saw without being as bulky as a conventional cabinet saw. These types of saws are usually more powerful than the compact contractor or Jobsite table saws.
Why do table saws have two varying weights?
When shopping for table saws, you may come across a scenario where a table saw has two different weights indicated. For example, the Bosch 4100-10 is indicated to weigh about 60 pounds as well as 120 pounds.
This difference in weight is the average weight of the saw without accessories and its weight with accessories. This is especially for table saws that feature a stand.
Are table saw blades universal?​
Table saw blades are in two main sizes 10 and 12 inches. These are the most common blade sizes in the under 1000 price segment. Different table saws feature different blade sizes. Some are also compatible with specialized blades, such as dado blades.
Conclusion
Woodworking and carpentry are almost impossible without a table saw. Thus, regardless of the size of your woodworking operation, a table saw is invaluable. While there are countless saw brands and models out there, the best table saw under 1000 is the one that suits your needs.